Music You Missed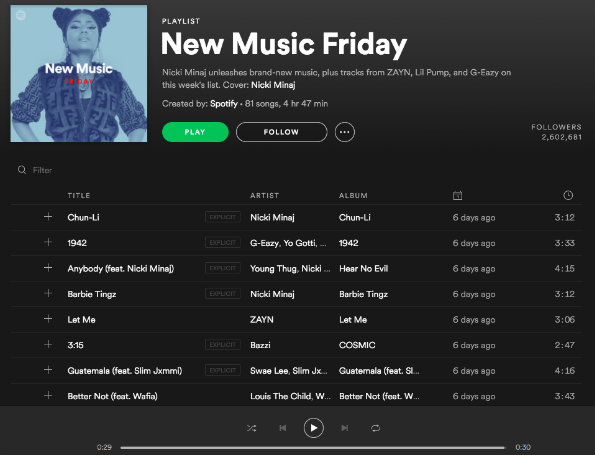 Jenna Chiavelli
April 19, 2018
Every Friday, Spotify generates a playlist filled with new releases. For those of you that don't have the time to shuffle through a playlist consisting of 80 songs, this article has got you covered. Here are the most anticipated songs and albums of the month.
Best New Hip Hop Artist of the Year, Cardi B, just released her debut album titled Invasion of Privacy. Cardi B is mostly known for her platinum hit, "Bodak Yellow". And, although many assumed Cardi would merely be just another one-hit-wonder, her new album will certainly prove critics wrong. The new album features popular artists such as Chance the Rapper, Migos, Kehlani, and many more. Consisting of 13 tracks, Cardi displays her vulnerabilities throughout her music while still maintaining the image of a powerful woman. This album is sure to please and is a very likely contender for Album of the Year – definitely worth the listen.
To continue the trend of powerful women dominating the charts, Nicki Minaj just released two new songs; "Barbie Tingz" and "Chun Li". Nicki's new songs feature an 80s hip-hop beat and an electric sound that assists her famous flow. It's been over a year since Nicki Minaj has announced new solo music and this timing might seem a little too coincidental. Nicki Minaj is known for iconic role as lead female in the hip-hop industry, but will Cardi B take her place? It should be an interesting year as both women rule the music industry.
Additionally, ex-One Direction boy band star Zayn Malik released his new single titled "Let Me". In this love song, Zayn professes his desires to spend the rest of his life with his lover, which is ironic considering him and girlfriend, Gigi Hadid just split. His new single showcases his impeccable vocal range and Zayn's romantic side.
Junior, Alexa Otto admits, "Zayn always had the best vocals in One Direction and I'm excited to see him grow even more as a solo artist".
Zayn is definitely an artist to watch as he has upcoming plans for his second solo album.
Earlier this week, rapper Young Thug released a surprise EP including three new tracks. The EP features collaborations with Nicki Minaj, rapper Lil Uzi Vert, and 21 Savage. As an artist praised for his unpredictability, the EP seemed to fall short of his usual reputation.
Young Thug fan, Viktor Nakev from Pascack Hills stated, "I didn't really think his new EP was that great, I was really excited to hear some new music from him, but I was a little disappointed. The features killed it, but Thug did kind of a bland job, very far from his best work. Being such a talented artist, he could've done better". Many fans agreed with Nakev's statement and overall expected more; definitely a big upset.
Additionally, anything Canadian rapper, Drake, releases is bound to reach the top of the charts, and his latest single is no exception. Drake dropped his new song "Nice For What" and it is currently #4 on the Itunes Top 100. Drake incorporates a sample of Lauryn Hill's hit from 1998, "Ex-Factor", into his chorus. The upbeat track is the perfect song to blast in your car and sing with friends. Once again, Drake is a crowd pleaser.
Although so far the music in 2018 has been quite unfulfilling, April has presented us with a variety of new music that suits anyone's liking. Hopefully the rest of the year can match this month's uplifting hits.