Ugly Love: Book Review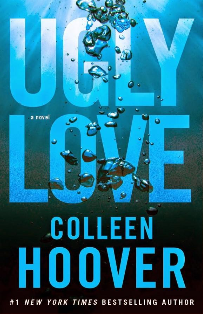 Tate, a 23 year old, has no time for relationships. She's living with her brother, an airline pilot, until she can get her own apartment, all while managing to balance being a full-time student and working as a registered nurse.
Enter Miles, an airline pilot with a troubled past that has no love left to give. Although Tate has no intentions of falling for him initially, she eventually can't resist his gorgeous eyes and perfect body. She knows this isn't love at first sight, and the two wouldn't even go as far as to consider themselves friends. The only thing they have in common is an undeniable mutual attraction.
Ugly Love, by Colleen Hoover, is an immensely captivating story. Once their desires are out in the open, they realize they have the perfect set-up. He doesn't want love, she doesn't have time for love, so that just leaves the physical component. Their arrangement could be surprisingly seamless, as long as Tate can stick to the only two rules Miles has for her: Never ask about the past and don't expect a future. They think they can handle it, but realize almost immediately it's completely out of their realm of possibility. Hearts get infiltrated, promises get broken, rules get shattered, and love gets ugly.
Ugly Love is written with a dual-narrator; Tate's chapters are in the present, while the majority of Miles' chapters are set six years earlier than the story Tate is telling. The present-day Miles Archer is completely dreamy, if you like the distant, closed-off type. The 18-year-old Miles that the reader gets in his chapters is infatuated with his previous girlfriend, Rachel. Obviously, the reason he's so closed-off in the present day is because of something that happens with Rachel that the reader doesn't know until close to the end of the novel. The reason is completely heartbreaking and the reader will understand Miles' motivation to be the way he is. On one hand, Miles is beautiful, charming, and caring. On the other hand, he can be rude, selfish and stuck in his own head.
Most readers are frustrated with Rachel's character, because she takes away from Miles's focus on Tate. Tate is often frustrating as well because she allows herself to be controlled by the lust she has for Miles, despite her great potential to be a feminist icon and stand up to someone that is clearly using her. However, she continuously goes back to him even after he hurts her several times because she is too scared to show Miles that she has developed real emotions for him. And although he is incapable of expressing it, so has he.
While the characters are often frustrating, the reader will be left rooting for Miles and Tates'  relationship to really work. The story will captivate you and leave you wanting more. I read the book in 3 days, if that gives anyone any indication on how truly gripping it is. I advise anyone who picks this book up to make sure they have enough time to read the entire thing in only a few sittings.