Instagram Launches IGTV: Is It A Viable YouTube Competitor?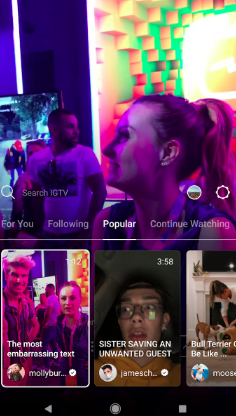 On June 20, Instagram flipped the video-sharing world upside down –– literally –– with the launch of its newest creation: IGTV.
Both an Instagram feature and its own dedicated app, IGTV looks to be the vertical version of YouTube, which could spell trouble for the popular video-sharing platform. Instead of playing videos in a landscape view, as has been the status quo for several years, IGTV opts to have all of its publications displayed vertically. This will make the content more engaging, as according to Instagram CEO Kevin Systrom,  "it's built for how you actually use your phone."
In another break from tradition, all of the video thumbnails are displayed in a carousel and can be tapped on to be enlarged. This is akin to Instagram Stories, which launched in 2016 to compete with Snapchat's success. Instagram is always looking to squash its competition –– this time, however, it appears it could be going after more than one social media service.
The IGTV app is divided into four main tabs; besides that, there aren't many other features. The For You tab displays content that, based on AI, the app thinks you would like. You can tap the Following tab to view the content posted by your Instagram followers; they sync from one platform to the other. Third is the Popular tab, where the day's most viewed videos are available. At the end of the menu is the Continue Watching tab, where you can resume a video you didn't finish.
There is also a search bar and your Instagram icon, the latter which takes you to your channel by tapping. At the moment, you can only upload videos to your channel from your camera roll.
Once you select the thumbnail of the video you want to watch, the menu disappears to give an edge-to-edge display of the content. Buttons to like, comment on, and share the content fill the bottom of the screen and work just as they do on Instagram. Also included is a scrubber to move through the video and a play/pause button.
By hooking popular influencers such as YouTube star Lele Pons, television personality Kim Kardashian, and Fortnite streamer Ninja onto into its platform, IGTV creates a vast environment of content similar to Snapchat's Discover page. At the same time, it allows for videos of up to an hour long to be posted, rivaling YouTube's array of documentaries, vlogs, and more. What's more, Instagram is floating the idea of producing original content and allowing it to be streamed via IGTV, which could compete with Netflix.
When asked if IGTV was a viable YouTube competitor, rising sophomore Danielle Strassberg says that "it's not a bad app, but YouTube still is in my opinion the best place to watch videos. The only thing that could make me use IGTV constantly is if YouTube continues to treat its creators badly."
Despite these opinions, advertisers are joining in on IGTV's fun; Instagram says that ads will soon be integrated into the platform to help its creators make a living. All in all, it looks like they are unsheathing their swords for what could be a messy social media battle.