Backstreet Boys Concert Review
Backstreet's back, alright! At 8AM on a rather sunny Friday, July 13th, The Backstreet Boys performed live on the Good Morning America Summer Concert Series in Central Park, NYC. With choreographed dance moves only boybands could pull off, matching black outfits, and dreamy vocals, it was like 1998 never ended.
Fans started lining up at 5:30AM, and Good Morning America had everyone waiting until 7:20 to see the band rehearse soundcheck. A nice surprise for many who woke up at 3AM or those who slept in the park the night before to get a front row seat to the action. These "seats" meaning general admission with standing room only, but many sat on bleachers or on fences that lined the park. Those who didn't make it onto the line early enough and got turned away sat on rocks outside of the performing area.
The crowd bounced around insanely huge beach balls and cheered for the camera, hoping to make it onto TV. They wore concert shirts from the early 2000s, bringing their old CDs and dragging small children to watch. One mega-fan wore her actual wedding dress complete with a veil, asking Nick Carter to marry her, telling him her husband wouldn't mind.
On a break from their usual Las Vegas Planet Hollywood "Larger Than Life" residency, BSB performed more of a mellow set, consisting of only three songs for television and a secret two song encore for the fans. Although only singing for 45 minutes, they brought the crowd of 5,000 to their feet. Mostly millenials with a few younger fans in the mix (I brought my older sister, who grew up on them, there as a present); there was no problem finding a song to dance to with a mix of old and new.
They performed popular throwback Everybody (Backstreet's Back), Don't Go Breaking My Heart (their newest single), and the ever iconic I Want It That Way for the cameras. Their latest single, an upbeat electronic bop being played on the radio now, is wildly different than their songs from 18 years ago, but the beat got everyone moving their feet. Of course, a BSB concert wouldn't be complete without their high notes and signature heart-throb ballads. The crowd swayed and sang in unison for I Want It That Way, and it brought a few to tears.
The residency in Las Vegas ends April 27th and there are not yet plans for any other tours, so if seeing the BSBs is important, time to book it now! The concert was fun, energetic, and a blast from the past. By the end of the set, everyone was wavin' their hands around like they just don't care.
Backstreet Boys Setlist
Everybody (Backstreet's Back)

Don't Go Breaking My Heart

I Want It That Way
Encore
As Long As you Love Me

Larger Than Life (Remix)
More from the contributor(s):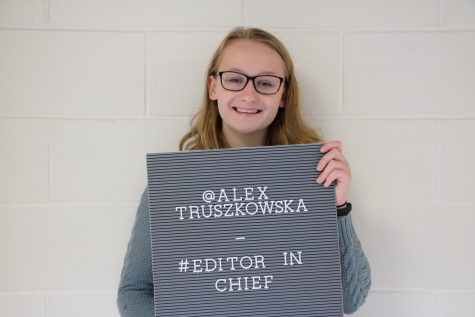 Alexandra Truszkowska, Editor in Chief
Alex is a senior and this is her fourth and final year on The Trailblazer. She was the Arts & Entertainment editor junior year and became Editor in Chief senior year. She is so excited for her last year, teaching the underclassmen, and making this the best year yet!