Music Breakdown of 7/15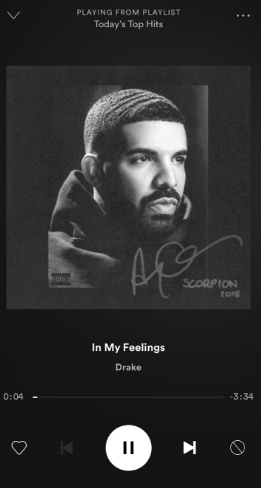 Summer may be halfway over, but success in the music industry has just begun. Drake admitted he has a son in his recently dropped album, Scorpion. Justin Bieber got down on one knee to propose to on-again-off-again long time girlfriend Hailey Baldwin. Smiley-Miley Cyrus deleted every single one of her past Instagram posts. All this drama going on in Hollywood, and with the help of social media, makes us want to listen to the next potential top four songs of the summer.
"Don't Matter To Me" – Drake feat. Michael Jackson
If anyone could make MJ come back from the dead and become #9 on Billboard's Hot 100, Drake takes full responsibility. MJ's sample for "Don't Matter To Me" was actually recorded in 1983, three years before Drake was born. Pascack Hills Senior Jake Goldsmith thinks, "it's so cool how they found Michael Jackson's old recording and put it into the song. Probably the best song on Drake's new album." "Don't Matter To Me" is the tenth song on Drake's latest and fifth studio album, Scorpion.
"No Tears Left To Cry" – Ariana Grande
As the leading single for her fourth studio album, Sweetener, Ariana Grande released "No Tears Left To Cry" earlier in April of 2018. The song debuted as number three on Billboard's Hot 100 and Grande will be releasing the full album on August 17th. In other news, Arianators were pleased when the singer/songwriter got engaged to "Saturday Night Live" comedian Pete Davidson this past June!
"In My Feelings" – Drake
Kiki, do you love me? After going viral on social media, everyone is taking part in the "In My Feelings" challenge where individuals jump out of a moving car and repeat a synced dance to the song's chorus. "In My Feelings" is currently number six on Billboard's Hot 100 and at the rate the challenge is spreading, will most likely make it close, if not to, number one.
"Girls Like You" – Maroon 5 feat. Cardi B
"Who doesn't love old classics and new rap?" said Senior Molly Balsamides when first listening to "Girls Like You." From the creators of your favorite "Sunday Morning" and "She Will Be Loved" sing-alongs, Maroon 5 teamed up with new music sensation Cardi B to produce the number three song on Billboard's Hot 100. The song was released on June 5 and has been climbing up the Hot 100 list ever since. On a side note, congratulations to Cardi and husband Offset on the birth of their first daughter, Kulture Kiari Cephus!
Although July weather has been hot, this summer's music is even hotter. New singles are being released everyday and the Billboard Hot 100 is getting hotter alongside it.