Keep an Eye Out for Queer Eye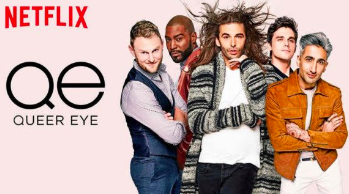 The new reboot reality TV show, Queer Eye, that has only just hit Netflix back in February, is one that has the quality content to stick around.
Following five gay men (aka. The Fab Five) around Georgia, they help men and women who lack confidence in their lifestyle, and are looking to live their best life. From home decor to fashion to overall culture, the Fab Five offers not only tips but uses their own time to change insecurities into self assurance in those who reach out for their help.
One of the reasons Queer Eye, in my opinion, is such a successful show, is due to its dynamic casting. Starring Karamo Brown (culture), Bobby Berk (interior design), Antoni Porowski (food and wine), Tan France (fashion), and Jonathan Van Ness (grooming), each member offers their own perspective and spice to the situation.
Rather than be overwhelmed by the variety of personalities, every member of the cast is diverse enough to have their own moment in front of the camera. For example, Karamo is has a more mature presence as opposed to Jonathan, who is seen as the baby of the group, making the juxtaposition pop on screen.
In addition, although confined in the same state for the past two seasons, every episode is different and no one's story is the same. Whoever the Fab Five decides to help, each person has their own area of insecurities and their own personal goals – from coming out to their family to proposing to their girlfriend of three years. The characterization of these clients and the relatability of some of their situations is able to continue to draw in viewers.
Overall, Queer Eye is a show that leaves the audience with a warm feeling in their heart after watching; unlike many reality TV shows, while there is drama, the drama is each client's internal struggle, and their process to rid of them. Rather than promote unhealthy situations like many other shows such as The Bachelor or Jersey Shore, Queer Eye gives humor, emotion, and relatability without the expense of others.
Being that Queer Eye has been renewed for season three and started filming back in early summer, branching out from Georgia to other parts of the US, it is definitely a show that should be added to the "My List" section of Netflix.