The Men From "The Bachelorette" Are Not Who You Think They Are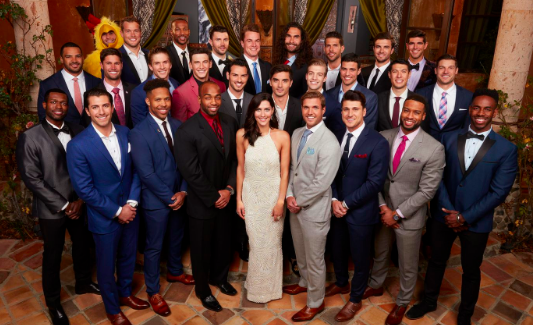 Spoilers Ahead
Bachelor Nation, get ready to eat your heart out because the men behind The Bachelorette aren't who they say they are. As we get closer to the finale (and a possible engagement) of Becca Kufrin's season, the men are starting to expose themselves. From bigoted Instagram likes to a floor pooper, these "eligible bachelors" truly seem like the rowdiest they've ever been.
Colton Underwood, a certified lover of kids and a dreamy ex-football star, isn't who he says he is. During a heart-to-heart with Becca (and the camera crew, as well as the millions who watched on TV), he told her that he wasn't great at relationships – and that he's never even brought a girl home before to meet his family. Although that may have caused a collective "Aww" during the show, fans snooped through history and found a picture that says otherwise.
Underwood was captured with a girl on Christmas Day at his family's ranch. That girl was none other than Aly Raisman, a gold medal olympian, and the group in the photo was ironically or non ironically wearing matching pajamas. The couple first met at in late 2016 and broke up a year later, clearly after meeting Underwood's family and being paparazzied multiple times, but Underwood decided to leave a certain gymnast out of his list of ex-girlfriends while talking to Becca.
Underwood also was caught in drama when it turned out he dated ex-Bachelor star (and a favorite to become the next Bachelorette, until Kufrin grabbed the spot) Tia Booth. He admitted on TV to going on "one date" with Booth before ending the "relationship" but he told Glamour Magazine that he always wanted Booth to become the Bachelorette.
""I'm not going to lie, yeah, I was very upfront and honest, like, 'I hope it's you. I'm just letting you know I'm going on.'"
The only thing that was stopping Underwood from dating Tia longer was his previous commitment to going on The Bachelorette, where he thought they would be reunited. Unfortunately for him, Arie Luyendyk Jr. pulled an infamous engagement cancel on Kufrin and proposed to runner up Lauren Burnham. Instead, a broken-hearted (but great for reality TV) Kufrin was picked – only to dash Underwood's chances with Booth.
Garrett Yrigoyen, also known as the adorable countryside medical sales representative from Reno, NV, stole hearts throughout the season, and it's no wonder he's made it to the final two. He brought Becca home to the Californian vineyards and wooed her after being honest about a past divorce. But, that's where the sweetheart we learned to love suddenly turned into an ultra-conservative, racially charged Instagram liker.
On his old Instagram account (more to be explained further on), garret_yrigs12, he was caught liking posts that called the victims of the Parkland High School shooting "crisis actors," "comedic" posts against feminists, liberals, transgender people, and Mexican children. This was a surprise to many, as Kufrin herself is liberal and has posted a photo flipping off a Trump sign.
Since being called out for his less than PC posts, he's deleted the old Instagram account, created a new one, and sent out a somewhat non-apologetic apology.
"I did not know what to expect once the show aired. I am sorry to those who I offended, and I also take full responsibility for my 'likes' on Instagram that were hurtful and offensive." He stated. "garret_yrigs12 was my former Instagram handle and I decided to take it down and start fresh because I have learned an extremely valuable lesson and am taking steps to grow, become more educated, and be a better version of myself."
An accent can't save personality… or morals! Lincoln Adim shocked all watchers when he argued with the other men that the world was flat – and that he was sure of it. Since then, he's seemed fishy, and with an alleged poop incident and being on a sex offender registry, no one is truly surprised anymore.
Although the poop incident is just a rumor on a reddit thread, a previous coworker of Admin swore he saw Adim poop on the floor, and not the toilet. Clearly, his reputation is soiled already.
If that seemed like the worst of it, you've been mistaken. Adim was convicted of of indecent assault and battery on a harbor cruise ship in May of 2016. He was convicted a month before the premiere of the show, going home with his heart broken, a year in a house of correction and a two-year probationary period. Not only is he left with a criminal record, the sexual assault on the woman leaves him hanging on the sex offenders registry as well.
The producers behind The Bachelor clearly haven't been doing their homework on the backgrounds of some of these contestants. Although they state they "employ a well-respected and highly experienced third party who has done thousands of background checks consistent with industry standards," it seems like ordinary fans of the show can find information on these contestants faster. If sex offenders can slip by the casting crew, the next season may be branded as "The Bachelorette: Jail House."