To All The Boys I've Loved Before Movie Review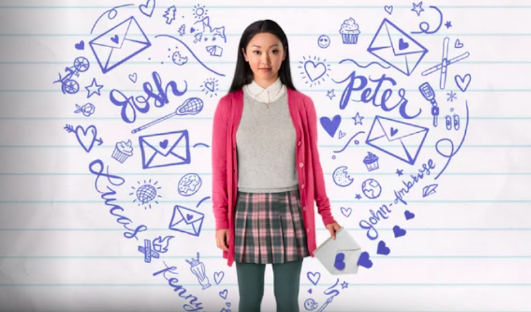 Lately, Netflix has been putting out a lot of new shows and films like the controversial Insatiable with former Disney star, Debbie Ryan. On August 17, the anticipated film called To All The Boys I've Loved Before was released to the public on the streaming site. The movie was based on the young adult novel written by Jenny Han about a young teenage girl and her love story.
To All The Boys I've Loved Before is a story about a Korean-American girl named Lara Jean who writes letters to all the crushes she has ever had and hides them in a teal box given to her by her deceased mother to conceal her feelings. One day, the letters were all sent, and each boy receives their letter, including her sister Margot's ex-boyfriend Josh. In order to avoid Josh, she ends up being in a fake relationship with her old crush Peter, and the two become closer while spending time together. Towards the end, the viewers see LJ acting confused and finally discovering her true feelings.
Recently, the whole movie industry in America has been filled with Asian-American representation thanks to the movie Crazy Rich Asians which is filled with an all Asian cast. The Netflix film brought the representation even further by having an Asian-American actress Lana Condor play the protagonist. In fact, when Han, the author, was trying to find a director who would make film adaption of her book, it was difficult to find a crew who would allow a Asian-American actress play the lead role. Thanks to the production company, Overbrook Entertainment, Han's dream became a reality, and the movie became more relatable with Condor as the actress.
Across America, numerous high school students used Twitter or other social media networks to express how adorable and emotional the movie made them.
Junior Gabe Broadman said, "I saw throughout Twitter a bunch of teenagers using a hashtag after the release of the movie and saying how good and heart-wrenching the movie was. Seeing the tweets and the trailer makes me want to find time to sit and watch it with friends."
Overall, the movie stayed true to the author's wishes as well as the storyline from the book. Although the film does not show Josh and Lara's relationship as much as in the book, the actors were able to portray the tension between the two friends as well as the lost feelings later in the movie. The film is a fun movie to watch with friends, especially if you do not have a Netflix account, and a friend does. If you are looking cute but emotional romance film, To All The Boys I've Loved Before is highly recommended.