Inside The Not-So-Late Show with Stephen Colbert
Weeknights at 11:35 PM, you can catch Washington D.C. native Stephen Colbert host his very own, well, CBS's, The Late Show with Stephen Colbert. By the time the show airs on national television, the taping has already been viewed by an audience of about 400 freezing Colbert fans in the heavily air conditioned Ed Sullivan Theater.
In mid-July, I was presented with tickets to go see The Late Show with Stephen Colbert live. Within seconds, a smile appeared upon my face and I was already mentally figuring out what outfit I would wear in case I ended up on the corner of your family's television (Sadly, I was cut off by a monitor in the theater that blocked my seat, and my seat only).
On the other hand, I was brainstorming how I would convince my parents to let me take a train into the city, by myself, to see a late night show. Contrary to popular belief and unlike most news broadcasts, I was quickly informed The Late Show with Stephen Colbert is not a live broadcast and I would be in and out of the city before dusk.
Before heading into the Big Apple to see the season finale taping of The Late Show with Stephen Colbert, I researched what additional information I would need to know, besides who Stephen Colbert is. The World Wide Web informed me that I should not wear white, bring a jacket, and get to the Ed Sullivan Theater TWO HOURS BEFORE THE TIME ON YOUR TICKET FOR CHECK IN.
What could possibly go on for two hours before an hour-long show? Lots and lots of waiting.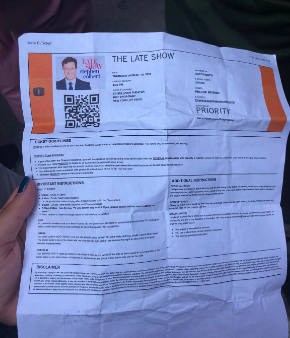 (PC: Melanie Meisner)
We arrived at  1697–1699 Broadway, between West 53rd and West 54th for check-in at 3:02 pm on the dot. Even though check-in opened at 3:00 pm, there was already a line formed around the perimeter of the building. Since we held priority tickets, we were given special wristbands and on a shorter line closer to the entrance of the theater; But, still had to wait outside in the excruciating heat of the concrete jungle. At 4:30pm, check-in finally closed as we were then sitting on the floor in the "foyer" of the Ed Sullivan Theater.
After FINALLY being seated, New York City-based comedian Paul Mecurio entered the stage and made the audience laugh without having the monitors read "APPLAUSE." Once Mecurio was finished producing laughs, The Late Show with Stephen Colbert's band, Stay Human, took the stage to honor the passing of the great Aretha Franklin.
Before the man of the hour took the stage, The Late Show with Stephen Colbert's producer, whom which we called "Mark," warned us how the show would go down. The most important rule we had to abide by was: whenever Mark lifted his arm and spun a piece of paper around, we had to get up on our feet and cheer – no matter if what had happened was funny or not.
At last, Stephen Colbert answered some Q&A, followed directly by the filming of the Cold Opening and ending of the show. He filmed a skit interviewing "Melania Trump" and her response to Omarosa's book.
https://www.youtube.com/watch?v=AjRJzTfjucw
Colbert interviewed the three men of "Pod Save America," Tommy Vietor, Jon Lovett and Jon Favreau, who added a more accurate and comedic response to Omarosa's actions, and more.
https://www.youtube.com/watch?v=_BKWgBXokng
Towards the end, Colbert and lead artist of Stay Human, Jon Batiste, spoke about Aretha Franklin and the impact her voice had in not just the music industry, but the world.
Then at 6:34 pm, the recording was done. Almost the entire audience was shocked since we were told the filming would end at 7:30pm, the earliest. It was advertised for the show that night that the star of "Crazy Rich Asians," Constance Wu, would be interviewed, as well. Unfortunately for us, Wu was interviewed at a different time – but it is clear to those who were there that Colbert appears to be wearing a different neck-tie in his interview with Wu.
Our experience may have been cut short, but the admission was free. To see shows taped live, sign up for an account on 1iota.com. There, you have the opportunity to win tickets to many Late-night broadcasts, award shows, and more!
More from the contributor(s):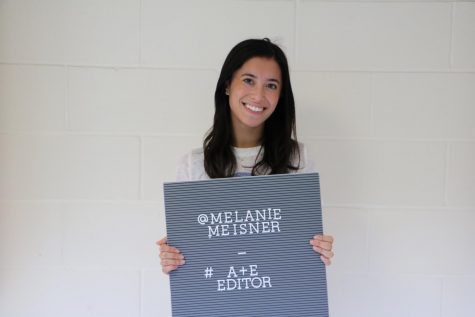 Melanie Meisner, Arts and Entertainment Editor
Senior Melanie was the Life and Style editor last year but upgraded to Arts and Entertainment her fourth year. Melanie loves to help The Trailblazer and is a very proactive journalism student, always offering a helping hand. She's excited for her final year and working on new articles.