Four Songs for the Fall Season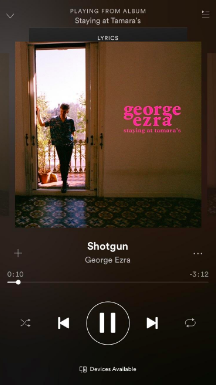 The days of summer have concluded, and school is now in full form. The music industry continued to involve while everybody was sitting on the beach, but with fall on the way, Hills students need some new songs to welcome in the new season. George Ezra, a european sensation, released his new album Staying at Tamara's, and its quickly gaining steam. Pumped Up Kicks is back people, with their hit single "Sit Next to Me." Khalid teamed up with Normani to release "Love Lies," and John Mayer created a new album last year, The Search for Everything with some great hits.
"Shotgun" – George Ezra
This song is everything summer, and it fit the season perfectly. "Shotgun," could be called the "European hit song of the summer." With it reaching #1 on the charts in both Great Britain and Ireland, this song will leave you dancing in your seat with a rhythm that will be in your head on repeat.
"Sit Next to Me" – Pumped up Kicks
The band Pumped up Kicks is back in a big way with their song "Sit Next to Me". The song reached the top 30 in the Canadian charts. Funny fact, the song was actually inspired by Drake and S'mores with Paramore. This is another get up and dance kinda song. Hills Junior Noah Kindler said, "The beat is very catchy. It's a great song overall." Definitely turn up the volume for this one.
"Love Lies" – Khalid
When is Khalid not releasing a new, popular song? Khalid teamed up with Normani to create "Love Lies." The song is listed under R&B and Soul but has a pop like style. Both artists voices switch off very smoothly, creating a very catchy and rhythmically based song. This is another perfect song to add to your playlist, and Junior Ryan Goldstein agrees, "Khalid is so talented. This song is really nice and has a nice feel with Normani."
"Helpless" – John Mayer
John Mayer had been very quiet in the last 5 years. After taking a break from the spotlight for a while, Mayer returned in style last year with his new album The Search for Everything. More specifically, his song "Helpless" is a guitar player's dream. It's fast, rhythmic, catchy and soulful all at the same time, a glimpse at Mayer's earlier days.  
These four songs will bring in the new season in style. Hopefully these songs will be playing through the halls of Hills on Friday afternoons. Now jam out!