A Million Little Things, The Next Big Show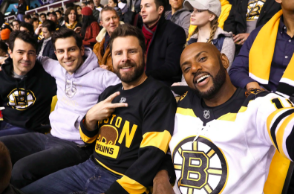 *Contains Spoilers*
With Greys Anatomy, Station 19, and The Good Doctor making their way back on ABC for a season renewal, there are also completely different new shows that are supposed to be the next big talk. Just first airing on September 26th this past week, producers DJ Nash, Aaron Kaplan, Dana Honor, and James Griffiths, released A Million Little Things.
A Million Little Things is about a group of friends that first met in an elevator, and have failed to generate consistent emotions since. Strikingly in the first episode, one of the friends, Jon played by Ron Livingston, while standing on the patio outside of his office, just got off the phone, where he then so horribly killed himself. While all of the friends had been going to hockey games together for years, they are so surprised with why he had done this…maybe the group didn't know Jon as well as they thought they did.             
They all continue to grieve about his death, as they still are holding inside their own issues that they are too scared to share. Gary, played by James Roday, had breast cancer and holds the fear of relapsing, Eddie, played by David Giuntoli, who is having an affair with the widow of Jon and is finding a way to leave his wife, and most importantly Rome, played by Romany Malco, who is a struggling movie director. While Rome's problems may not seem as major as the rest of the crews, he almost commited suicide with a bunch of pills until he got a call from Gary saying that Jon had just died. He quickly spits out two dozen pills.
The viewers still do not know why Jon killed himself. We have witnessed a few clues throughout the rest of the episode. Most commons thoughts are that: maybe Jon knew that his wife was having an affair with his best friend—maybe he lost a lot of money in a deal at work—maybe he had an affair with his quite attractive secretary.
Jared, a sophomore at Pascack Hills, has strong opinions on the show. He says "I wouldn't be surprised if all of these reasons combined were why he killed himself, yet you still never know. The smallest things are what can hurt a person most."
We see the secretary's appearance in the show when Jon let her have her lunch break early. She appears again right when Jon jumped off the patio where she runs as fast as she can to try to stop him. Three seconds laters she is on the floor with tears. There was a note on the table that said Delilah, the name of his wife, and the secretary picked it up and mysteriously hid it in his desk.
At the end of this scene I thought "What does this secretary know? Why did she hide it in the desk instead of just throwing it out?" The mysterious secretary seems like a prime suspect to me.
While we wait to see the next episode next week, there are some interesting subjects to talk about while we wait. The secrets that these friends behold just makes them more depressed. With suicide being the 10th leading cause of death in the United States, we need to understand the causes and signs of this unwanted depression.
About 45,000 people die from suicide each year. We need to prevent suicide before people feel compelled to do so. When people fail to talk about things to others and find someone that will listen, suicide feels like the only solution. A Million Little Things is a show that brings up controversial topics, yet it is still entertaining and has some funny characters to back it up.