The Opportunity of a Lifetime for Musical Theatre Lovers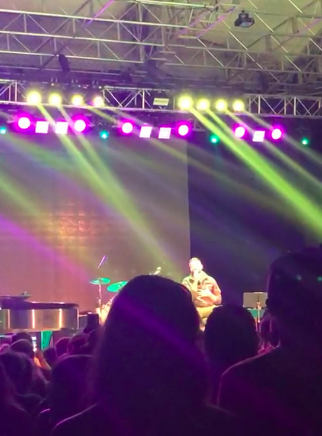 Elsie Fest, a one of a kind musical experience created by Emmy award winner Darren Criss, is a concert combing not only famous singers, but also Broadway stars, up and coming artists from new shows and movies, and television stars that many might not have even known could sing. Since 2015, Elsie Fest has proved to be a way for musical theatre fans of all kinds, no matter their age, race, or sexuality to be a part of something not always offered in the theatre industry.
Hills Freshman and Elsie Fest 2018 attendee, Rachael Lokshin said, "I love that the Broadway community is finally getting their time in the spotlight, and it's fun always being able to sing [the] songs."
Hills student Olivia Rakocy, who also attended the concert, agreed and said, "I think it was a great experience for those who have been a part of the Broadway community for a long time, but, it was also great for those who wanted to try something new and ended up enjoying the songs."
The fourth annual Elsie Fest took place on October 7, 2018, at the Summer Stage venue in Central Park. Much to many out-of-town fans' disappointment, the date of Elsie Fest 2018 was not announced until late August, making it difficult for many to purchase tickets. The event was still well-attended; at 5:00 when the "doors" opened on this outdoor concert, the general admission line was winding all throughout the park.
After waiting on the line, attendees rushed past people in order to get that "perfect spot." From 5:00 to 6:00, before the real event started, Marie's Crisis Cafe provided a fun sing-along with the crowd's favorite Broadway hits, including "Seasons of Love" from Rent, "Circle of Life" from The Lion King, "One Day More," from Les Miserables, "Can't Take My Eyes Off of You" from Jersey Boys, and "Summer Nights" from Grease.
Rachael also commented, "[The] sing-alongs [were] fun because you got to sing with everyone, and if you mess[ed] up it [didn't] matter because you [had] a numerous amount of people there to back you up."
A little after 6:00 pm, host Elvis Duran took to the stage to introduce the first guest: Glee and Once On This Island star Alex Newell, who induced the crowd with his jaw-dropping performances including "Mama Will Provide" from Once On This Island. While the stage was being set up for the next act, Marie's Crisis came back on for some more sing-along.
Following Alex Newell's performance was the cast of the upcoming movie-musical Anna and the Apocalypse, who sang their extremely catchy song, "Hollywood Ending." The movie is due in theaters this November.
Joshua Henry, a Broadway star who has appeared in Carousel, Shuffle Along, Violet, Bring It On, Porgy and Bess, The Scottsboro Boys, American Idiot, In the Heights, and the touring production of Hamilton, was the next performer to take the stage. He wowed the crowd with Michael Bublé's "Feeling Good," "Memory" from Cats, "Let It Sing" from Violet, and even an original that he accompanied on guitar.
The cast of new Broadway musical, The Prom, was next. With an emotional but fun storyline of a high-school girl desperately wanting to take her girlfriend to her prom, their opening number sung by the entire cast. A passionate duet between the two leads was a highlight of the night.
Coming up after The Prom, another big Broadway name took the Elsie Fest stage: Broadway and television star Sutton Foster, who sang "Stars and the Moon," by Jason Robert Brown, "Up On the Roof" by The Drifters, and "Gimme Gimme" from Thoroughly Modern Millie.
Another group number to perform was the highly-anticipated and soon to be Broadway show, Be More Chill. Started in a community theatre in New Jersey, less two hours away from Pascack Hills, Be More Chill gained thousands of fans and has climbed its way to stardom. It recently ended its Off-Broadway run and stopped by Central Park to perform fan-favorite "More Than Survive," and for emotional power-house George Salazar to sing his heartbreaking solo, "Michael In the Bathroom."
Rachael was extremely enthusiastic about the upcoming shows that performed at Elsie Fest, and said, "I want to go see them, [especially] Be More Chill!"
Next came the act that everyone was waiting for, and that was Darren Criss himself, whose first set included a surprise duet with special guest Zachary Levi of Frank Sinatra's "Fly Me To the Moon."
The second half of the show included the much anticipated special guests. The first Riverdale star Casey Cott, who performed a jaw-dropping Greatest Showman melody.
After Cott's set, famed Broadway writers Benj Pasek and Justin Paul made an appearance to promote their Dear Evan Hansen novel, set to release the following day. With Criss's help, they announced the next performance, which was Pasek and Paul's own "Sincerely, Me" performed by Criss; Dear Evan Hansen alum and current Be More Chill star, Will Roland; and The Flash himself, Grant Gustin. Gustin stayed on the stage to perform another song of Pasek and Paul's: "Running Home to You", from the episode "Duet" of The Flash.
Olivia added that she loved the entire concert, but emphasized that "Grant Gustin's performance was amazing!"
Next up was The Little Mermaid, A.K.A. Jodi Benson, who emotionally performed the classic "Part of Your World," as well as "Disneyland" from the movie Smile. After this emotional performance, the crowd received an energy booster from Glee star Matthew Morrison's almost ten-minute long Hairspray medley, complete with choreography and audience sing-alongs.
The last planned special guest was singer Rufus Wainwright, whose highlight was a rendition of "Tomorrow" from Annie, dedicated to his daughter.
The audience received a surprise when Criss announced there would be another guest. Screams filled the park when former Jonas Brother, Nick Jonas, walked onto the stage to sing a duet of "Brotherhood of Man," with Criss; the song is from How to Succeed in Business Without Really Trying, which the two both starred in.
The last set of the night was a solo-set by Criss, who performed Olivia Newton John's "Hopelessly Devoted to You"; a song from the new movie A Star is Born; "To Have a Home" from Criss's own A Very Potter Musical; and hits from singers whose stories have been turned into Broadway shows, including those from Paul Simon, Cher, and Green Day.
Overall, the event was an exciting experience for all theatre and music lovers. Every single act at the show was amazing. Montvale mom Kari Solomon included, "It was like Lollapalooza for theatre geeks!"