The Sincere A Star is Born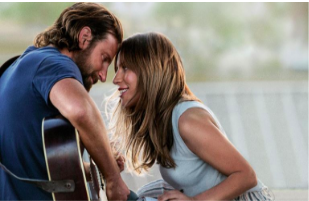 *Contains Spoilers*
Stefani Joanne Angelina Germanotta, more commonly known as Lady Gaga, has been pursuing her dream of becoming a star since she was just a child. From playing the piano when she was only four, to producing her own original ballads at the age of 13, Lady Gaga worked extremely hard from the start. After releasing her last album in 2016, Lady Gaga takes a break from her music to focus on her new hit movie, A Star is Born.
Released on October 5th, A Star is Born currently has 91% Rotten Tomatoes. This film brought up controversial topics for the viewers and also gave great music to the ears. With 19 catchy songs, the movie showcased the powerful voices of Lady Gaga and Bradley Cooper.  
Shallow, preformed by Lady Gaga and Bradley Cooper: https://www.youtube.com/watch?v=bo_efYhYU2A
In the movie, Bradley Cooper plays the role of the famous hot shot, Jackson Maine, while Lady Gaga plays the role of a self conscious women called Ally. Maine, a rowdy country singer, wanted to get a drink after his show. He went to a local bar where he saw the breathtaking Ally performing a French song beautifully. The song was called La Vie En Rose. This was the start of the unstoppable bond that the two had for each other and each other's talents.
La Vie En Rose: https://www.youtube.com/watch?v=s8zZlP7s2NY
Pascack Hills principal Glenn deMarrais said, "The first hour of the movie was the most engaged I have been in a long time in a theater. The second hour was phenomenal as well." He continues to explain how he walked out of that theater feeling amazed.
The movie continued with the romantic relationship of Jackson and Ally Maine. Jackson works on boosting Ally's confidence and tried to make her talent into something real. He does this by pulling her on stage during one of his concerts where she sang an original song. While denying to enter the stage at first, she sang the song beautifully…this was the first time she was noticed by a real crowd.
As Ally's status moved on up in the world, Jackson's career slowly subsided. Jackson suffered from Tinnitus, where a person suffers from hearing a ringing sound all of the time, along with hearing loss. This affected his current music.
Before anything else, alcohol seemed like the first solution to answer Jackson's problems. Jackson went to rehab to recover so he can try to go back home to his wife. He wrote a song about Ally while in rehab. This was the last time the audience saw him happy. After, Ally was supposed to go on tour in Europe, until she found out that she could not bring Jackson. So, she canceled her tour to be with her husband, leaving Jackson left with guilt from holding her back.
Jackson felt he had no place in this world anymore. He went into his garage and hanged himself to end his problems. Sophomore Caity Parkes said, "I already knew the ending of the movie before I even walked into the theater, yet I still cried."
A Star is Born is definitely a movie worth seeing. It has the comedy, the tragedy, the romance, and more. Relatable to most, this movie can change the mind of one and help the mind of another. This is not the first time this story has been told, but Lady Gaga and Bradley Cooper made the audience feel moved.