Bohemian Rhapsody: The Astonishing Resurrection of Freddie Mercury
Are you ready, hey, are you ready for this? Premiering in the U.S. on Nov. 2, nothing will prepare you for the music-movie sensation, Bohemian Rhapsody.
With a timeline starting in the 1970s, the film follows the swift rise and revolutional success of British legendary rock-n-roll band, Queen – more specifically, lead singer Freddie Mercury.
The movie shows the transition of Freddie Mercury (played by Rami Malek) from a confused, long-haired student going against his family's religious and ethnic values, to a rock god in the eyes of millions around the world.
Mercury first met bandmates, guitarist Brian May (Gwilym Lee) and percussionist Roger Taylor (Ben Hardy), after their lead singer had quit following a gig. Bassist John Deacon (Joseph Mazzello) joined later. The four men together positively affected the hippies of 70s, and are still expanding their fan base to-day.
"Whoever the casting team was did an amazing job of filling the roles of Mercury and the guys. Although not everything was exact, like Malek's eye color, their portrayals were almost identical and really made it feel real," Eric Traub, a huge Queen fan, included.
"I grew up in the 70s. I went to high school from '70-'74 and went to college from '74-'78, so the 70s is my music. I loved Queen, we all loved Queen they were phenomenal…
"I would say that if a Queen song came on right now, the kids of today would thoroughly enjoy it and would probably listen to it. It's classic rock that never dies, and Queen will always live on," Robert Buccino, who has been part of the Pascack Hills community for 40 years said.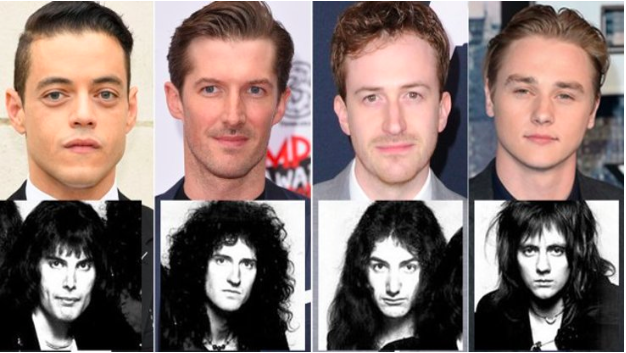 (PC:gazeteduvar.com.tr)
In the film, when asked what Queen is, Mercury responded by saying, "Now we're four misfits who don't belong together, we're playing for the other misfits. They're the outcasts, right at the back of the room. We're pretty sure they don't belong either. We belong to them."
From the beginning, the musicians of Queen felt Under Pressure when they were told they would not get played on the radio with the same rock music as every other band. To avoid complications, they decided it was time to get experimental.
"They're so unique. Freddie, just his voice was so phenomenal – he had so many ranges of where he could sing from. They were just fantastic…" Buccino included, as well.
Mercury wrote the rock-opera Bohemian Rhapsody, and quickly got shot down by producer Ray Foster (Mike Myers).
"We need a song teenagers can bang their heads to in a car. Bohemian Rhapsody is not that song," said Foster. Little did Foster know, the six minute hit is still blasting in teenage-driven cars across the nation, if not world.
"I was shocked when he [Foster] said no teenagers would jam out to Bohemian Rhapsody. That's, if not the first, one of the first songs that my friends and I play when wanting to sing along in the car," Sophie Mazzei said.
"[When I was a student] Queen was big, I mean you had kids walking around the hallways wearing Queen shirts…There's a bunch of songs you can put on that I guarantee you now students will be able to sing along to it," Nick Evans in his 10th year as a student from 2004-2008, coach, and aid at Hills, stated.
Besides Mercury screaming Ay-Oh for a reflective response from an audience of thousands, May found it necessary to interact with their fans as much as possible.
"I wanna give the audience something that they can perform," May stated. The scene was followed by Queen's 1980 performance at Madison Square Garden, where an audience of 22,000 fans stomped and clapped along to the beat of We Will Rock You.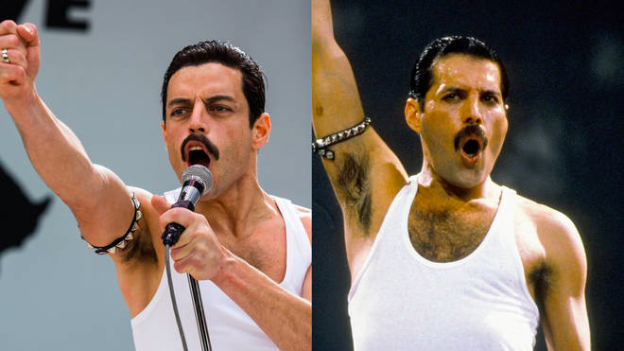 (PC: Smooth Radio)
Throughout his life, Mercury – who had a 4-octave vocal range – had secretly struggled with identifying his sexuality, keeping steady relationships, and maintaining his health.
For many years, Mercury was in long-lasting relationship which resulted in marriage to Mary Austin (played by Lucy Boynton). Several songs were written about Austin, including Mercury's most famous, Love of My Life.
The relationship was broken when Mercury told Austin his true sexualtity. Mercury and Austin remained best friends, as Mercury was the godparent of Austin's first son.
Mercury once again fell in love in 1985, but this time with a man named Jim Hutton (Aaron McCusker). Hutton loved Mercury until Mercury's dying last days.
On November 23, 1991, Mercury publicly announced that he had AIDS. Before this, the only people who were aware he had the disease were his bandmates, Austin, Hutton, and few others.
The next day on he had passed away at the age of 45 due to bronchial pneumonia related to his AIDS.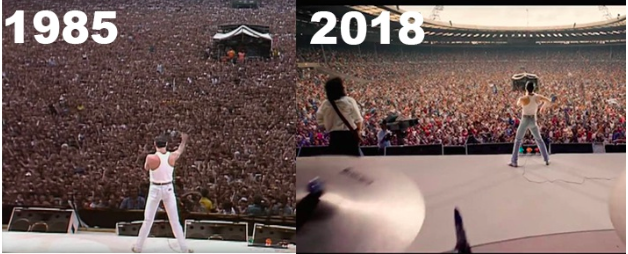 (PC: Mashable)
The two hour and 14 minute masterpiece concluded with 70,000 fans waiting to rock at Wembley Stadium during Live Aid on July 13, 1985. The most ambitious rock concert of the era was a benefit concert to raise funds for relief for the famine that was going on in Ethiopia.
Queen made history, marking their performance as one of the most legendary rock concerts of all time, "…they transcended music in the 70s," (Evans). Their 21 minute set list included…
Bohemian Rhapsody
Radio Ga Ga
Ay-Oh
Hammer to Fall
Crazy Little Thing Called Love
We Will Rock You
We Are the Champions
Is This the World We Created…?
Make sure to grab some popcorn and a box of tissues, because this performance will leave you emotional 'till the tears run down from my eyes. Open your eyes, look up to the sky and see Bohemian Rhapsody before it leaves theaters. If i'm not back again this time tomorrow, it's probably because i'm seeing Bohemian Rhapsody, again.