Remembering Stan Lee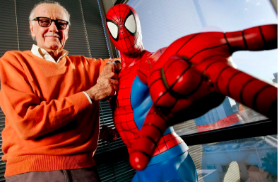 Anna Fatovic
November 19, 2018
On November 12th, the iconic editor, publisher, and writer of Marvel Comics Stan Lee passed away. He was ninety-five years old. Lee is remembered for the joy his stories and characters brought its readers  that have been transformed into a part of pop culture and our lives that will live on forever.
When one thinks of Stan Lee, the recent success of Marvel is the immediate thought. After all, the recent Marvel movies produced under Disney have amassed billions and billions of dollars, and hold spots as some of the highest-grossing films of all time and all rooted in Lee's ideas. But it is imperative to note the duration of Lee's success, he began working for Timely Comics in 1939. Originally hired as an office assistant, Lee, then known as "Stanley Lieber" stuck at the company and under the pen name "Stan Lee" began writing his own pieces when they made the transition to Marvel.
Senior Sophia Mazzei says, "My favorite Stan Lee quote is 'I don't really see a need to retire as long as I'm having fun.' I love this quote because you can really see how much he loved what he did; it's inspiring."
He created Spiderman, the Fantastic Four, the Hulk, Iron Man, Silver Surfer, Thor, and X-Men. Lee's creativity inspired a whole generation beyond just his comic books that taught heroism and valor but created pop culture. He was a key subversive artist in a time of extreme censorship in America and always stayed true to his voice.
English teacher Alexandra Pfleging added, "It's crazy, because my freshman classes were just talking all about Stan Lee a few weeks ago. I had an assignment where students had to cast their Of Mice and Men movies, and a lot of them casted Stan Lee as Candy."
He was able to add more mature elements and advanced storytelling techniques to the superhero genre that generated mass appeal. He was able to make superheroes human and almost practical role models we can all look up to despite being fantasy characters.
As we mourn Stan Lee, it is important to remember the spirit he left in all his work – lively, full of courage, honest, and inspiring. Childhood memories filled with seeing Lee make his infamous cameos in the Marvel films will not be forgotten. The wonder he inspired in all of us through his characters and stories showed us that anyone can make a difference in our world, whether they have superpowers or not will live on.