Will Stranger Things End After the End of the Third Season?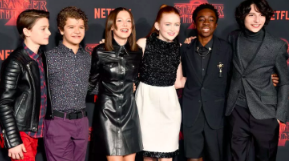 Stranger Things' cast is scaring fans after their recent rap of season three.  The cast members have been saying their goodbyes, leaving fans of the show wondering whether or not these emotional messages are because the show is ending permanently after the third season.  
Several cast members, including Millie Bobby Brown (Eleven) and Sadie Sink (Max), were vocal on social media applications Instagram and Twitter throughout the past week. While the reason for this could be that they finished shooting and would not see each other until they started filming the next season, some fans speculate that they are posting as an indication that the show is ending overall.  
Sink tweeted, "that's a wrap on El and Max.  Love you so much @milliebobbybrown Thanks for all the memories."  Additionally, Brown posted a picture of her and her co-star on Instagram with the caption, "As we said goodbye, I gave my best friend the biggest hug and told her I loved her so much, my sister forever."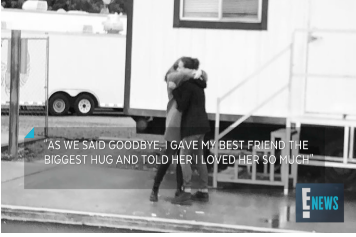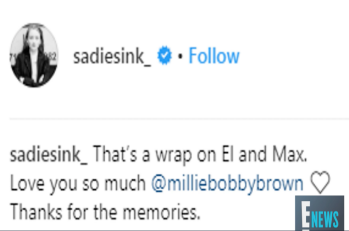 (PC: ET News)
Whether or not the show is ending or these comments on social media have just been because of the conclusion of the third season leave Stranger Things, fans from Hills forming their own opinions and making it difficult for others to figure what all the signs from the cast and producers mean.
Freshman Juliana Winograd says that, "they keep saying 'that's a wrap' on Instagram which makes me think that the show could possibly end after the season they just finished filming.  I really love the show and i'm really sad that it might be over. I just wish that they would confirm whether or not the show was officially ending because I really want to find out."
Another Hills Freshman, Dream Maywether, thinks that this will be the last season.  She claims, "I've heard a lot of theories about how this might be the last season because of the way the other season ended.  When El closed the gate there was a new monster and it might be the final battle and the final battle means the final season. If this is the last season though I think that it will be one of the best seasons yet."
The third season will not be uploaded to Netflix until around the start of 2019, and once the episodes are released the fans will form a better idea on whether or not the show is coming to a close.  The creators of the show know exactly how they are going to carry out the rest of the episodes all the way to the end of the series. In an interview with CNET, one of the Duffer brothers, a co-creator of Stranger Things, admitted, "I feel very proud of that because we're not going to get sort of lost in our story and leave these strands.  We're going to tie things up."