Remembering Stephen Hillenburg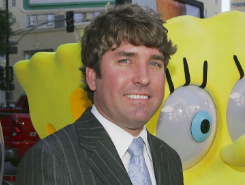 Stephen Hillenburg, the talented creator of the Nickelodeon animated show "Spongebob Squarepants" passed away on Nov. 26 at the age of 57 after a battle with Amyotrophic Lateral Sclerosis (ALS).
Hillenburg began his career as a marine biologist and teacher at the Orange County Marine Institute which is now the Ocean Institute in Dana Point, California. While teaching, he attended several animation festivals where he gained his interest in the field.  He then quit his job to pursue his interest in art.
His knowledge combined with his creativity resulted in one of the most popular shows, entertaining the "56.1 million people" who watched "SpongeBob SquarePants" (Post Gazette).  
"It's so sad, I loved Spongebob as a little kid for a long time and it was and still is a great show," said Juliana Winograd.
The news of him losing his battle to ALS has surprised everyone, but regardless the successes of his show will not be forgotten.  
"I think it was very sad for a creator of something so wonder to pass away like that, especially when it had such an effect on our childhoods," said Michael Blackford.   
ALS is a disease that progressively attacks nerve cells and pathways to the brain and spinal cord.  As cells die, the ability to move that part of the body weakens until the patient becomes paralyzed completely.  
Most patients can live about two to five years from diagnosis, and about 20% of people can live between five to ten years with the disease.  Hillenburg admitted his diagnosis to the public last year.
"It's so horrible that he passed away.  I grew up watching Spongebob and everything he put into the show was great.  He will be missed and his accomplishments will continue to positively impact all the people who continue his legacy," said Dream Mayweather.   
Stephen Hillenburg has made an incredible impact in the entertainment industry with his ideas that are still famous today.  "Spongebob Squarepants" has been popular for over a decade and continues to entertain its fans. Even though he lost his fight to such a deadly disease, his accomplishments and his success will live on.