"The Man. The Music. The Show."
Hit movie-musical The Greatest Showman spent over 30 weeks at the top of Billboard's 200 album chart. Selling more than possibly any album in the United States in 2018, the new release of the Greatest Showman: Reimagined album, has climbed its way to the top once again.
Tony Award-winning actor Hugh Jackman, whose portrayal as P.T. Barnum has catapulted himself and his co-stars into stardom, is taking The Greatest Showman to new heights. Jackman will be touring the world under the name, "The Man. The Music. The Show."
The show will start in Hamburg, Germany on May 13, 2019, and will travel through Europe until July 20 to Los Angeles. Greatest Showman co-star Keala Settle, who plays the Lettie Lutz – The Bearded Lady, will be joining Jackman at a number of his tour locations. The Bearded Lady has been a source of inspiration for many with her anthem, "This Is Me," which represents a triumph over adversity.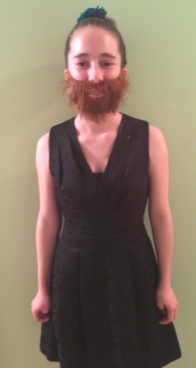 Riley Solomon as The Bearded Lady for Halloween.  
Because of the intense amount of production going into the tour, most of the tickets are around $150-$200. No matter the price, what is for sure is that Hugh Jackman's performances are going to be covered in all the colored lights.
"He's going on tour?," said Heather Fusco when told about it. Fusco commented that she hadn't heard anything about Jackman going on tour.
Others were extremely enthusiastic about the prospects of getting to see Hugh Jackman in concert. "It should be fun, and I'm really excited about the tour," said Hilary Siegel.
So tell me do you wanna go see Hugh Jackman in concert? This tour is sure to be a truly GREAT spectacle!