Kevin Hart Steps Down as Oscars Host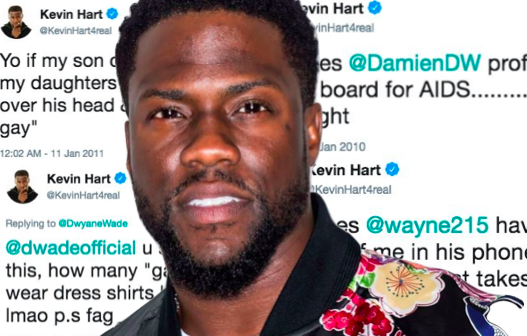 Jenna Chiavelli
December 17, 2018
In just about two months, the Oscars will have its 91st annual premiere, but there's one problem: who will be hosting it? 39 year old comedian Kevin Hart was originally selected to host the awards show, but stepped down due to his controversial tweets regarding the LBGTQ community.
After announcing his commitment to hosting the Oscars, tweets from 2009 and 2011 started resurfacing and many began to question Hart's authority to host such an influential show.
In one of the tweets from 2011, the comedian stated, "Yo if my son comes home & try's 2 play with my daughters doll house I'm going 2 break it over his head & say in my voice 'stop that's gay.'"
These tweets resulted in social media turmoil, as people rallied together and signed petitions to repeal Hart's invitation to host.
Ultimately, Kevin Hart responded to the chaos by stepping down from hosting the Oscars. He released a statement on Twitter declaring, "I have made the choice to step down from hosting this year's Oscars. This is because I do not want to be a distraction on a night that should be celebrated by so many amazing talented artists. I sincerely apologize to the LGBTQ community for my insensitive words from my past. I'm sorry that I hurt people… I am evolving and want to continue to do so. My goal is to bring people together not tear us apart. Much love & appreciation to the Academy. I hope we can meet again."
In a society, that is is working on becoming more and more inclusive to those discriminated against, Hart's words have truly impacted the way people perceive him.
"2011 wasn't so long ago. Especially for a grown man that should know better. It's disappointing that someone with such a strong influence would speak such hateful words. I think it was right of him to step down from hosting," said Alexa Otto when asked about the recent controversy.
This isn't the first time Kevin Hart has been under the spotlight for controversy. Last December, Hart admitted to cheating on his pregnant wife, Eniko Parrish.
As for the Academy, executives are struggling to find a replacement. According to Jimmy Kimmel, who hosted the Oscars in 2012, 2016, 2017 and 2018, the paycheck is absurdly low. Especially for the revenue the Oscars raises, $15,000 to host the show is not very appealing to potential candidates.
Could this be the first Academy Awards without a host? Tune in to ABC on Feb. 24th, 2019 at 8:00 PM EST.