Battlefield V Game Review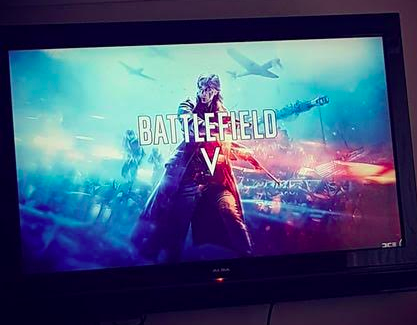 Mohamed Oueslati
December 20, 2018
Battlefield V is a game that expands upon what Battlefield 1 revolutionized in 2016. The game is almost similar to its predecessor, however the game introduces new gameplay mechanics, plus a wide range of new content such as the new grand operations mode, and immersive soldier movement. The game also brings back the good old content such as conquest, team deathmatch and much more.
When it comes to single player content, the War Stories from Battlefield 1 make a return, and it's better than ever. When you first start Battlefield V, it begins with the prologue of the War Stories. The prologue is an experience I will never forget. It combines narration, with action, and unforgettable music from the soundtrack. The prologue delves into the horrors of World War 2, by putting you in the shoes of a British soldier raiding a port in Narvik, a Nazi tank driver making a final breakthrough at Tobruk, a French recon soldier behind enemy lines at Kasserine Pass, A Luftwaffe pilot intercepting an RAF 114 squadron over Hamburg, and finally a British soldier making a final defense at Nijmegen Bridge.
In the aftermath of the prologue you have the option to continue playing the War Stories or jump straight into the multiplayer. This is good, because it gives players that level of freedom to set out on their own path through World War 2. In the first war story, Under No Flag, it is 1942, and you take on the role of a British criminal by the name of Billy Bridger, who has been picked to be with a band of brigands known as the the Special Boat Division to sabotage a Luftwaffe airbase in Africa.
This War Story allows for freedom of choice for every approach, you can choose to do it quietly, without alerting anyone or go in loudly, by alerting everyone. Not only that but unlike the other War Stories, this one has a lot of humor in it. It is very funny. In the second War Story, Nordlys, it is 1943, and you take on the role of a young Norwegian resistance fighter by the name of Solveig, who is fighting to free Norway from Nazi occupation, save her family, and discover the secret of the Nazi's nuclear project. This War Story also gives you freedom of choice for every approach, however stealth is more emphasized since the beginning sequence is at night.
This War Story includes emotional moments by delving into family relationships. In the third War Story, Tirailler, it is 1944, and you take on the role of a French colonial soldier who trying to liberate France from the south end. This War Story is all out war with Nazis, stealth is less emphasized. This War Story delves into heartwarming relationships with the main character's fellow soldiers. When it comes to the multiplayer aspects of this game, it offers a substantial amount of content. A new mode makes its debut in this game, Grand Operations is a mode where you tackle specific objectives to push through or defend territory from your enemy, in all out warfare.
New movements are featured in this game, such as animations for almost everything you interact with, animations for when you land on the ground from a certain height, and animations from when you survive an explosion and get thrown against something. Customization is largely improved for this game.
Not only do you get to customize your weapon this time, but you can now choose what outfit you are wearing and what gender you are. Not only that, but weapons now have skill upgrades which is a nifty addition to the game. This game also has massive potential, this fact is proven to be true seeing  as how more content will be coming in December and 2019, such as a practice range, fixes to the game, the Tides Of War live service, the country of Greece.
Battlefield V is the most unique Battlefield game of the series, it's new innovative touches to it's gameplay and other features solidifies the fact that Battlefield will never be the same, but in the good way. In my opinion this is the best Battlefield game to date.