The gift of Broadway
Here's a comprehensive review of both current and upcoming shows that aren't Hamilton or Dear Evan Hansen for people who want to go to Broadway but don't know where to start.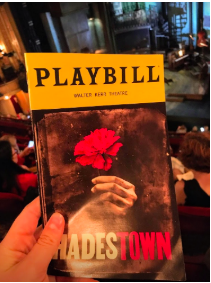 With Woodcliff Lake and Montvale both so close to New York City, tickets to Broadway are great last-minute gifts for the theater fan in your life, especially with the holidays just around the corner. 
"Theater is such a unique experience and everyone is so talented, everything is live and you get to see the magic unfold before your eyes," says Grace McGory, a prominent member of theater at Hills. 
But with so many shows on Broadway, it can be hard knowing which ones to spend money on. Here's a comprehensive review of both current and upcoming shows that aren't Hamilton or Dear Evan Hansen for people who want to go to Broadway but don't know where to start. 
Come From Away
Come From Away is a touching musical based on a true story about a small town in Canada, whose tiny airport was home to thousands of planes landing during the closed U.S. Airspace immediately after 9/11. It's a feel-good story about different people coming together in the face of a crisis and human nature. With great dancing, fun music, and touching lyrics, Come From Away is a great choice for someone who wants to leave the theater feeling like a better person then they did when they entered. 
Hadestown
Hadestown is a musical about the Greek myth of Orpheus and Eurydice, two lovers who get separated through a twist of fate and their struggle to find their way back to each other. Hades and Persophone are also main characters with their own parallel storyline and with appearances from Hermes and the Fates, this musical is perfect for any mythology lover. Hadestown also won 8 Tonys including Best Musical, but tickets are on the pricier side given its popularity. 
Heather Fusco, a senior at Hills and upcoming star in the production of Curtains, said, "I would love tickets to Hadestown. The soundtrack is amazing, and everyone in the cast is insanely talented." 
West Side Story
West Side Story is the classic Stephen Sondheim musical that tells the story of a "modern" Romeo and Juliet, Maria and Tony, and their budding romance as the fighting between their rival gangs escalates. West Side Story opens on Broadway February 6th, so fans of more classical theater should look forward to that.
Moulin Rouge! The Musical
Moulin Rouge! is a jukebox musical set in 1900s France. Based on the 2001 film, Moulin Rouge! takes hits from today and combines them with an upbeat and original track, creating mashups and flawlessly weaving together modern songs with the forbidden love story of poor writer Christian and Moulin Rouge worker Santine. Unique and showy, Moulin Rouge! will be a sure hit for any fan of jukebox musicals. 
Beetlejuice
Beetlejuice is the hit musical based on the 1998 Tim Burton movie sharing its name. While the original movie starred Michael Keaton as the scary and strange poltergeist Beetlejuice, Alex Brightman (School of Rock) headlines this show with Sophia Anne Caruso as a goth girl Lydia Deetz. Beetlejuice is a major hit with the Box Office, but unfortunately, the show will be leaving June 6th, so be sure to get tickets before then. 
The shows listed above are some of the lesser-known out there, but nonetheless as amazing as major hits like Waitress or worldwide phenomenons like Hamilton. If you're looking for a last-minute gift, then the musical theater is the way to go. 
"It makes a great gift," says McGory. "You really can't go wrong."