Hills students miss movie-going experience but find ways to fill void
Treating your at-home experience like an in-theater one can be the key to getting the most out of your screening.
For most movie fans, 2020 has been difficult. Theaters have closed, long-awaited releases have been postponed, big-budget movies made for big-screen viewing have gone straight to streaming or pay-per-view platforms, and the smell of fresh buttered popcorn paired with the excitement of seeing a blockbuster on opening day is becoming a faint memory.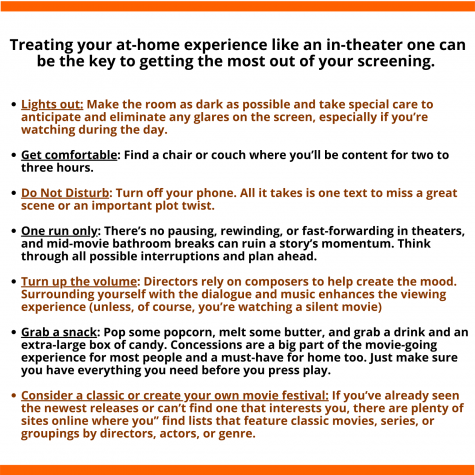 Some movie theaters in the tri-state area have opened with safety measures in place — like strict cleaning protocols, mask mandates, social distancing observance, limitations on audience size, and concession bans—the lack of big releases and the fear of being indoors with crowds of strangers seems to have discouraged audiences. With Covid cases back on the rise, the possibility that some movie theaters will be forced to extend their closures or even shut down permanently for financial reasons seems like something out of a horror or science fiction movie. 
Recently, Hills students were asked to complete a survey about their moviegoing habits and, more specifically, whether or not they miss the (pre-pandemic) movie theater experience or if they have found comparable alternatives for screenings. 
Of the students who responded, 15.3% attended movies regularly (pre-pandemic), 57.6% said they visited theaters "sometimes," 25.4% said they rarely went to the movies, and 1.7% said they never watched movies in theaters. When asked what they missed most about going to the movie theaters, the overwhelming majority of respondents said they missed "the whole experience: the darkness, the big screen, the audience, the food, the trailers, the "escape."
"I think that seeing movies in the theater is much more fun than at home. It's cool to feel like you're seeing a hit movie before anyone else has seen it on TV. It's still nice that movies are coming out on streaming services in quarantine this year, but the experience in the theater is much more enjoyable." sophomore Josh Gura explained. 
Typically, theaters are given 75 days to show a film before it debuts on a streaming service. Sending movies straight to streaming may help studios financially, but it affects the movie-going experience for fans.
"I would rather watch a new movie in a theater than on my couch. I feel more connected to the movie in a movie theater. But I feel because of the circumstances we are facing at the moment streaming services are a good middle ground," sophomore Jack Torrente added.
When theaters closed at the beginning of the pandemic, the most popular alternatives for respondents' movie-watching were streaming services: 91.5% of the respondents relied on streaming services such as Netflix, Hulu, or Prime Video, only 8.5% relied on cable/satellite TV, and 0% relied on drive-in theaters. Of those who did attend drive-in movies, the majority noted that the movie was a re-showing of an older release. 
Sophomore Jordana Brief was one of the few who attended a drive-in movie. She said of her experience, "I thought it was an adaptive change to viewing movies. I liked the idea and concept. However, due to the delay in new movies coming out, the movie I was at was Grease and the aspect I enjoy the most when going to the movie theaters is viewing new movies".
Can streaming services sustain the momentum or will movie studios still rely on theaters for new releases?
Streaming services and cable/satellite TV have definitely stepped up to fill the void left by darkened movie theaters, but it's unclear whether or not they can replace them. The Hills students who said they relied on streaming services and cable/satellite TV for new releases were asked if they think the online and streaming platforms will run out of content as COVID cases rise again. An overwhelming 69.5% of students said, "No, if organizations like the NBA can create a safe bubble, movie studios should be able to do the same," while 30.5% said, "Yes, it is too difficult to keep a movie set COVID-free."
Movie studios are trying their best to move forward with new (pre-pandemic) projects and have delayed others for theatrical release, but time is money. Movies such as The Batman and Jurassic World: Dominion tried to film with expensive and strict COVID protocols in place, but were still affected by positive cases on set. While The Batman is still in production, Jurassic World: Dominion has finished filming although, both releases have already been postponed and it will be interesting to see if enough movie theaters will be open in time to show to big audiences or if the movies will go straight to streaming. 
Movie fan Jack Torrente went on to say that "a lot of movie studios are saying that they are focusing their revenue into streaming services to make back some of the money they've lost by not showing films in theaters."
Christopher Nolan's long-awaited big-budget movie, Tenet, was originally delayed for theaters but then was only able to open in a limited number of them in the US. It failed to meet its original projections, losing a ton of money. The movie was finally released to home screens earlier this month, but only via Blu-ray and on-demand platforms. The hope is that it will follow to a streaming service soon. 
Can we hope for movie theaters to fully open and return to business as usual?
According to a recent article by Pamela McClintock on hollywoodreporter.com, "Nearly 30 percent of U.S. consumers surveyed by leading Hollywood marketing and research firm NRG say they don't plan on going back to the movies until there is a vaccine." 
Hills students seem to share the feeling. When asked if they would go to a theater that was currently open (with safety measures in place), only 2.4% said, "Yes, without hesitation." The larger 33.9% said "No, I'm not comfortable with the idea yet," while 27.1% responded that they would only go "for a movie I'm excited to see." One respondent went as far to say, "No, because it is unsafe to be in a room with many people who could be infected," but another countered, "It's torture to sit and have a mask on for 2 hours when you can sit at home without one and watch [a movie]."
In another article for hollywoodreporter.com, McClintock interviewed media analyst Paul Dergarabedian who explained, "COVID-19 has presented a modern-era challenge unlike no other and weathering this storm will be no easy task, but if history tells us anything it's that the movie theater experience is an essential component of the entertainment ecosystem and thus will find a way to survive." 
On December 3, 2020, Warner Bros. made an unexpected move and announced that the studio would release several of its upcoming movies simultaneously on HBO Max and in theaters that are open. After a month, the movies will remain in theaters but will be removed from the streaming service. The experiment will run for one year. 
In an article by Julia Alexander for The Verge, Warner Bros. CEO Ann Sarnoff said, "We're living in unprecedented times which call for creative solutions, including this new initiative… No one wants films back on the big screen more than we do. We know new content is the lifeblood of theatrical exhibition, but we have to balance this with the reality that most theaters in the U.S. will likely operate at reduced capacity throughout 2021."
The announcement was divisive; it upset industry insiders who worry about the long-term effects of such a big decision. Others are cautiously optimistic: With the recent news that vaccines are expected to roll out in the coming months, movie theater owners and film buffs may still hang onto hope that the movie-going experience will feel "normal" again in the near future. 
Leave a Comment
More from the contributor(s):