Utah theme park sues Taylor Swift over album name
According to the theme park's lawsuit, Taylor Swift's album pushed the park's site off of the first page of Google when  "Evermore" is searched. 
Evermore Theme Park, located in Utah, filed a lawsuit against the global superstar Taylor Swift for her new album, Evermore. The theme park is claiming that Swift breached her trademark when she released her album on Dec. 11, 2020.
Located in Pleasant Grove, Utah, Evermore is a theme park based on a mystical village. At the park, guests can meet characters, go on quests, and explore the village of Evermore. Evermore is a place filled with mythical creatures and magic. The park is based around the idea of mythical creatures and a wonderland village.
On the other hand, Swift's album, Evermore, is an alternative, indie-style record with songs mostly about family members and past relationships. The album does not have mythical creatures and magic like the theme park. Evermore Park and Evermore give two different vibes to their consumers.
Although the two are different, Evermore Park is continuing to sue Swift for copyright infringement. The park is claiming that since Evermore has been released, they have experienced a drop in activity on their website. According to the lawsuit, the album pushed the park's site off of the first page of Google when  "Evermore" is searched. 
Evermore Park also said in the lawsuit that the design of merchandise has also been infringed. Swift sells merchandise with pictures of her album and song lyrics, while the park sells items with dragons or their logo.
Legal disputes are not uncommon for the theme park as they have been involved in five while they have been in business. Evermore Park CEO Ken Bretschneider and Evermore Park owe millions of dollars to construction, mechanical, and landscaping workers. The park has yet to pay many of their workers and are in need of millions of dollars to do so. Swift releasing an album with the same name was the perfect opportunity for the park to receive publicity and make money from a lawsuit. It is hard to tell if this lawsuit is a strategy to obtain money or if they are serious about the allegations.
Representatives on Swift's team have called this lawsuit "baseless… frivolous and irresponsible." Swift's team believes that Evermore Park does not have a solid argument against the album and Swift. They firmly believe that this lawsuit will not veer in favor of Evermore Park because the album and park are not similar whatsoever.
Swift has not made any statements regarding the lawsuit of Evermore Park.
Leila Dhawan, a Swift fan and a sophomore at Hills, said "the theme park is trying to make a profit off of Taylor's new album… I don't think it was Taylor's intention to hurt a business through the title of an album." 
This lawsuit is evidently not hurting Swift's album, because it is still charting on the Billboard 200 chart. Evermore by Taylor Swift gives listeners a peek into Swift's personal life, and Evermore Park gives customers a make-believe experience. Evermore and Evermore Park are quite different, and the park's lawsuit appears to be an attempt to receive an abundance of money.
Sources
https://www.cnn.com/2021/02/04/us/taylor-swift-theme-park-lawsuit-trnd/index.html
https://www.theguardian.com/music/2021/feb/04/taylor-swift-lawsuit-utah-theme-park-evermore
https://www.evermore.com/what-is-evermore
More from the contributor(s):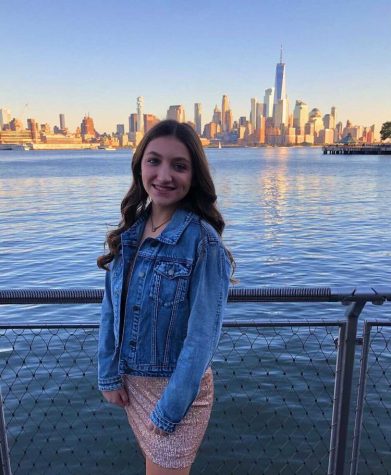 Rebecca Lovett, Life and Style Editor
Hills junior Rebecca Lovett is excited to be part of the Trailblazer for a second year. When she joined her sophomore year as a staff writer, Lovett wrote for sections such as Life and Style and Arts and Entertainment. This year, she is looking forward to editing the Life and Style section along with Julia Bang.

Fun fact: Lovett loves to sew and make her own clothes.