'WandaVision': A show unlike any other on television
The Disney+ series hooks viewers in with its sitcom-style combined with dark and mystical elements.
The new Disney+ series "WandaVision" is a must-see. The show follows Wanda Maximoff (Elizabeth Olsen), a member of The Avengers, and her husband Vision (Paul Bettany), after the events of Endgame. As viewers prepare for the final episode of the series, now would be the perfect time to catch up or even start it. 
The show isn't like anything seen from Marvel before. They have taken a big risk by going away from their hard-core action scenes and they have taken a dive into something much deeper. Both Wanda and Vision seem to be in a sit-com type show. However, the audience is soon to figure out that nothing is what it seems. It is perfect for a variety of ages due to the many easter eggs and hidden messages that make "WandaVision" seem so nostalgic. The episodes travel from sit-coms in the 50's all the way to today. Shows like "I Love Lucy," "The Dick Van Dyke Show," "Bewitched," "The Brady Bunch," "Family Ties," "Malcolm in the Middle," "Modern Family," "Full House," and so much more are heavily referenced in the show.
"WandaVision" does a great job in seamlessly combining comedy, action, romance, and a sob story all in one. The audience is able to see a side of some of their favorite characters they never got to see before, along with new characters. 
This show introduces Agnes (Kathryn Hahn), their next-door neighbor, who is there to guide Wanda with any problem she may encounter. Kathryn Hahn is able to steal the show with her lines. She brings charismatic energy to the show along with a mysterious and eerie one too. 
Viewers also get to see an older Monica Rambeau (Teyonah Parris), from Captain Marvel, alongside Darcy Lewis (Kat Dennings) from the Thor movies and Jimmy Woo (Randall Park), from the Ant-Man movies. These three together have such great chemistry that really shines through. 
Don't shy away from this show just because you haven't watched every Marvel movie. Although watching previous Marvel movies may add the experience of watching the show, it isn't needed. Disney+ provides a short video summary of the two main characters, Wanda and Vision. The show is called "Legends," and it explains everything you need to know prior to watching "WandaVision" in five to seven-minute videos. Jessica Villamarin, a freshman at Hills, says, "I was able to understand the show without watching all the other Marvel movies". However, if you want to watch some, a good place to start would be watching Avengers: Age of Ultron where Wanda Maximoff and Vision are first introduced, along with Avengers: Infinity War and Avengers: Endgame, which leads straight into the "WandaVision" series. 
"WandaVision" truly is something that Marvel fans and new viewers alike have never seen before. It starts off very light-hearted, but by episode four, viewers learn dark truths, and as more secrets are revealed, the story shifts. The show allows the audience to theorize and discuss and since new episodes are released every Friday, it becomes a big topic of conversation while the audience waits for the next episode. 
All in all, the show hooks viewers in with its sitcom-style combined with dark and mystical elements. Although the series does start off very confusing and the episodes are short, it seems that all the questions are slowly being answered and those that haven't will definitely be in episode nine of "WandaVision" out now.
Leave a Comment
More from the contributor(s):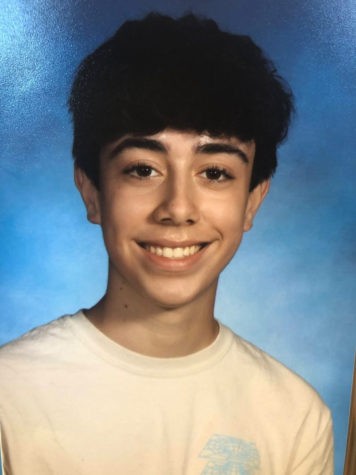 Sam Goldstein, Life & Style Editor
Sam Goldstein is a junior at Hills. He joined the Trailblazer his freshman year as a staff member and has written articles for various sections over the past two years. This year, Goldstein is excited to be a Life & Style Editor with Rebecca Lovett.

Fun fact: Goldstein's favorite T.V. show is "Stranger Things."