"Dune," the movie we need right now
In a complicated world plagued by COVID and uncertainty, Denis Villeneuve's sci-fi epic proves in glorious fashion the importance of film as artistic escapism.
When COVID lockdowns struck the world last spring, the very fabric of day-to-day life was altered. Over a year later, we're still in the midst of recovering. Taking a few hours to relieve stress and immerse ourselves in an engaging world vastly different from our own should be considered a necessity. Enter "Dune."
Based upon Frank Herbert's 1965 novel, "Dune" tells the story of Paul Atreides (Timothée Chalamet), a talented young man with a noble destiny in front of him, who must travel to the desert planet Arrakis in order to protect his family and followers from the vicious foes that lie ahead. The supporting cast includes Zendaya, Oscar Isaac, and Jason Momoa.
Director Denis Villeneuve had already made himself an established figure in modern cinema, having been at the helm for sci-fi stunners Arrival and Blade Runner 2049. His unwavering ambition led him to take on some of the genre's most influential material, with Herbert's original book serving as inspiration for familiar works like "Star Wars."
Unlike "Star Wars," however, "Dune" is more of a slow burn. Most of the film is dedicated to establishing locations and developing characters, and while some might complain about the lack of action, it ultimately works in the movie's favor. The film's setting is incredibly vivid, making for a fantasy world that is still tangible.
"It's really just two hours and 30 minutes of world-building," said Hills junior Gunner Ferrall, "but it's still an amazing movie."
The characters enhance the realism, spouting impressive dialogue from every direction. Still, for those dissatisfied with the elaborate world-building, Timothée Chalamet and his lack of shirt in particular scenes may be what inspires viewing.
The riveting shots of armies and explosions in the trailers aren't misleading though, and the narrative isn't entirely devoid of action. Mesmerizing cinematography of infantries descending from the intergalactic heavens and mammoth worms emerging from the sandy terrain will stick in your mind long past when the credits roll.
Whether intimate or bombastic, the cast manages to pull off every moment. While only in his mid-20s, Timothée Chalamet effortlessly matches skills with those twice his age. 
Instead of taking the easy route by tapping into his natural charisma that comes with being one of Hollywood's attractive young faces, he plays into the darker ambience Villeneuve established. Without sacrificing likability, Chalamet delivers his lines in a serious tone, another factor that contributes to the believable nature of the world.
"I love him in everything he does," said junior Alessia Turelli on Chalamet, one of her favorite actors. "He's usually in dramas, and while [Dune] is very different from those, he still does a great job."
If there's one praise for "Dune" that stands above all, it comes more as an instruction to the audience. Films like this don't come around every weekend, which is why it's important to understand the following: "Dune" is not meant to be watched, but rather "experienced."
The cinematography is a feast for the eyes and the epic soundtrack, courtesy of composer Hans Zimmer (The Dark Knight), is rich with emotion. The movie is an audiovisual odyssey, a masterpiece in those regards. While it may be available to stream on HBO Max, experiencing the true extent of what it has to offer is only possible in the comfy seat of a movie theater. And if you have the chance to see it in IMAX, take it.
Whatever variety of film fan you are, "Dune" provides something for everyone. Audiences that frequent cinemas for the latest blockbuster will stare in awe at the sheer scale of the story whereas those who pay attention to a feature's greater nuances will be floored by the craft Villeneuve has on display.
There's no better way to escape the trials and tribulations of the everyday world than by finding a completely new one. "Dune" offers a fantastical getaway, a two-and-a-half hour journey through a dynamic universe. And with a sequel set for 2023, the time to book tickets for a return trip to Arrakis will arrive soon enough.
Leave a Comment
More from the contributor(s):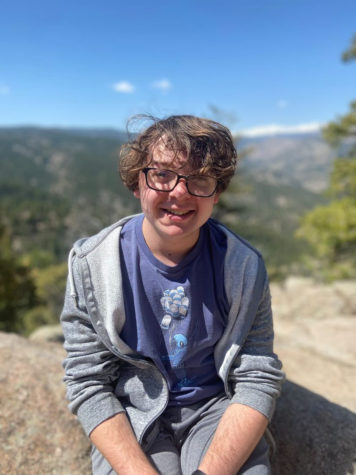 Ethan Kaufman, Arts & Entertainment Editor / Assistant Sports Editor
Hills senior Ethan Kaufman is excited to be a part of the Trailblazer staff for another year. He wrote for the publication a few times his freshman year but became more involved his junior year as a staff member. This year, Kaufman is looking forward to editing the Arts & Entertainment section and assisting in editing for the Sports section.

Fun fact: Kaufman watched 671 movies in the span of a year.