Betty White's 'golden' legacy
In addition to "The Golden Girls" and "Betty White's Pet Set," White has worked on "The Mary Tyler Moore Show," "Hot In Cleveland," and "Saturday Night Live." 
On Jan. 17, actress Betty Marion White Ludden (commonly known as Betty White) would have celebrated her 100th birthday. However, on Dec. 31, she passed away before 9:30 a.m. in her sleep, which was confirmed to multiple news sources such as PEOPLE and Entertainment Tonight by her agent Jeff Witjas. 
One television program that White acted in is "The Golden Girls," which is about widowed women in their "golden" years of life who live together in Miami, Fla. She portrayed Rose Nylund, a naive woman from St. Olaf who always told stories from her childhood. 
In an interview with Outsider from March 22, 2021, White discussed the first table read for the show. She had one of four lead roles and acted alongside Estelle Getty, Beatrice Arthur, and Rue McClanahan. 
"It was the most exciting [read]," she told Outsider, "We all began to look at each other because there wasn't any first reading feeling about it. It was like we had been working together forever."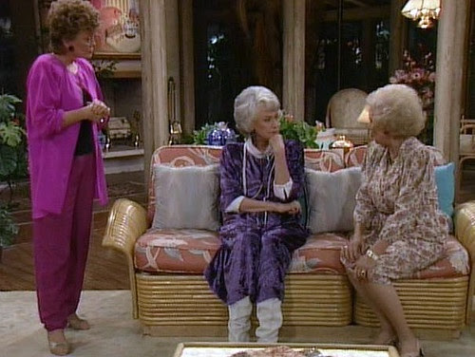 Although White was the oldest out of the four actresses, she was survived by Getty, Arthur, and McClanahan. They passed in 2008, 2009, and 2010, respectively due to health causes. 
While filming the show, the actresses discussed topics that were often seen as controversial for the time, including the AIDS epidemic and LGBTQ+ rights. Many critics express how the topics are still relevant today, and continue to leave an impact on people around the world. 
"Throughout my career, I've always portrayed characters that were humorous, but also weren't afraid to speak their minds, especially when it came to racy or controversial topics," White said in an interview with Frontiers LA from 2011.

Outside of characters she's portrayed, White stood up against things that were seen as controversial. In "The Betty White Show," she allowed Arthur Duncan, a Black tap dancer, to perform. After it received backlash, she invited him back, resulting in the show's cancellation.
"I'm sorry, but, you know, he stays," she told the Washington Post according to an article from Insider. 
The actress also spent a large part of her life supporting animals, and had a series called "Betty White's Pet Set." It was originally released in 1971, and featured White alongside wild animals such as lions and snakes. 
"What a time! It remains one of my favorite shows even 50 years later," White told the Associated Press in an interview on Feb. 23, 2021. 
One student from Pascack Hills commented on White's work with animals throughout her lifetime.
"My favorite part about Betty White is how she supported animal rescue charities. She will be remembered as a lifelong champion for animals," said freshman Miranda Maglio. 
In addition to "The Golden Girls" and "Betty White's Pet Set," White has worked on "The Mary Tyler Moore Show," "Hot In Cleveland," and "Saturday Night Live." 
When the news announced White's death, many celebrities expressed their condolences on social media platforms such as Twitter. They also recalled shared moments that they've had with White. 
"Betty White was the perfect guest–interested, playful, and funny…she always knew how to hit her mark and deliver the joke," said late-night talk show host Jimmy Fallon.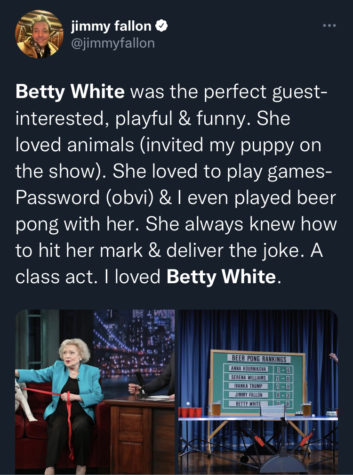 Actor Ryan Reynolds said, "She managed to grow very old and somehow, not old enough. We'll miss you, Betty."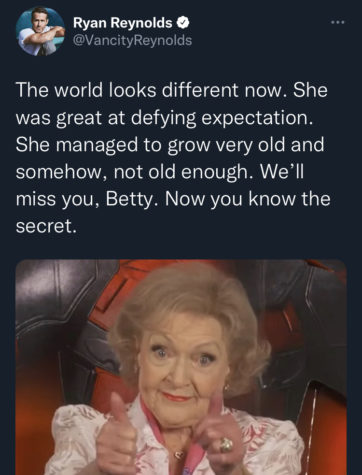 President Joseph Biden also tweeted about the actress's death.
"Betty White brought a smile to the lips of generations of Americans. She's a cultural icon who will be sorely missed," he said.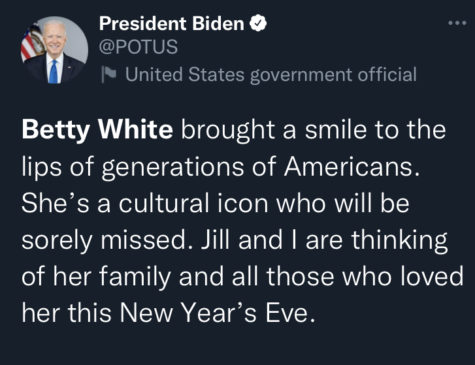 White was often asked how she felt about death. She told PEOPLE in 2012 that she has "no fear or dread of death" because her mother told her that it is a secret that nobody knows except for those who have passed. 
"We know we have managed to find out almost anything that exists, but nobody knows…what happens at that moment when it's over," she recalled her mother telling her. 
After she passed away, celebrities took comfort in this. 
"Now you know the secret," Reynolds said. 
Sources:
https://www.etonline.com/betty-whites-agent-jeff-witjas-looks-back-on-her-final-days-shuts-down-rumors-about-her-death 
https://people.com/tv/betty-white-fans-beloved-before-death-friend-agent-jeff-witjas/ 
https://outsider.com/news/entertainment/golden-girls-betty-white-reaction-receiving-shows-script-for-first-time/ 
https://www.cheatsheet.com/entertainment/golden-girls-estelle-getty-jokes.html/ 
https://www.losangelesblade.com/2021/12/31/iconic-actress-longtime-lgbtq-ally-betty-white-has-died-at-99/ 
https://www.google.com/amp/s/www.insider.com/betty-white-rejected-stop-featuring-black-tap-dancer-1954-duncan-2022-1%3famp 
https://apnews.com/article/betty-white-the-pet-set-27872bd17c78b917dfed61959493470e 
https://people.com/tv/how-betty-white-viewed-the-aging-process-and-had-no-fear-of-the-secret-of-death/ 
Leave a Comment
More from the contributor(s):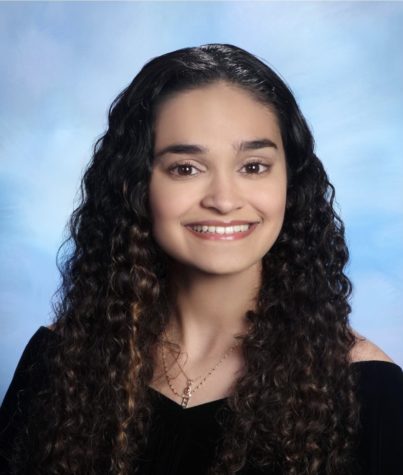 Briana Keenan, Editor-in-Chief
Briana Keenan is a senior at Hills. She joined the Trailblazer her freshman year as a staff writer and edited for the In-Depth and School News sections her sophomore and junior years, respectively. This year, Keenan is looking forward to being the publication's Editor-in-Chief and continuing to write, edit, and manage stories for the Hills community.

Fun fact: Over the summer, Keenan went to the School of the New York Times for two weeks.