Euphoria's season two premiere underwhelms, but excitement for the show's future remains
Over two years of anticipation for the Zendaya-led drama's second season left its first episode feeling lackluster, though HBO's first batch of episodes has audiences willing to stick around.
Written by Sam Levinson and produced by film studio A24 (Moonlight, Lady Bird), "Euphoria" smashed onto the TV scene in June 2019, quickly becoming one of the most acclaimed shows that year.
Based on the Israeli miniseries of the same name, it follows "a group of high school students as they navigate love and friendships in a world of drugs, sex, trauma, and social media" [HBO].
One of the many common praises of the show was how it gave an unfiltered look at youth culture, opting to keep the cameras rolling in situations when some might have wanted them not to.
"The first season felt real," said Hills junior Arianna Malcolm. "It set itself apart from other shows and didn't shy away from tougher moments."
The show's graphic content went in numerous unexpected directions during its initial eight-episode run and the raw drama of its authentic characters drove up anticipation for season two, which was announced before the first had even finished airing.
"The characters are genuine and similar to people we see in our everyday lives as teenagers, or sometimes within ourselves," senior Dasia Jarvis noted. "There's a beautiful range of emotions on this show, which is so rare for TV today."
Two special episodes were released last winter, both garnering as much acclaim as the series proper, so with a premiere of January 9 marked on the 2022 calendar, audiences were going into the new season expecting a lot.
In short though, the newest episode unfortunately fails to live up to any and all predecessors. What really stings is how this doesn't seem to just be a case of overhyping something that could never fulfill expectations. Sam Levinson and HBO's creative team seem to have a new vision for the show, and it isn't anything fans wanted to see.
"I thought the episode was pretty senseless in how it dealt with [language, drugs, etc.]," said junior Jake Levin. "The first season dealt with heavier topics in a really sincere way but the Season Two premiere kind of lost that sharpness."
Season One rode a fine line between impactful entertainment and edgy melodrama, but it always stayed on the right side. In the series's latest, the script takes a nosedive into messy territory that appears more concerned with how many f-bombs can fit into an hour of programming than telling an engaging story.
While there isn't anything unrealistic about profanity, many teens using it abundantly around friends, the script for S2E1 contains an excess amount, distracting the viewer from the story.
The drastic increase in over-the-top nudity and doubling down on explicit drug-related content sacrifices the riveting flair of a well-constructed narrative, with some key characters essentially playing no part. TV shows have more than enough rights to switch up their style in an attempt to break new ground, but this feels more like an identity crisis than anything else.
Still, some sparks of what made it stand out initially are there. Visually, "Euphoria" remains as compelling as ever, with dazzling cinematography that makes even mundane actions look artful. The "new direction" of Season Two also loops into that, with the first season being flashy and energetic with its editing whereas the new one is more grounded, a quality that goes against its own flaws.
"I think the cinematography looks really interesting, in a different way than before, and I'm excited to explore new themes the show seems to be setting up," Levin continued.
Season Two looks to be bringing the characters down to rock bottom, with Rue (Zendaya), Nate (Jacob Elordi), and Fezco (Angus Cloud) worse off by the end of the episode than they ever have been before. And with seven episodes still to go, everything points to this merely having scratched the surface. The show's current phase has only just started, and like the first, will likely improve as it goes on.
"I'll definitely keep watching," Levin said, "and I'm sure the season is building to some more poignant moments than what we got this past Sunday." "Euphoria" is available to stream on HBO Max, new episodes Sundays @ 9 p.m.
Leave a Comment
More from the contributor(s):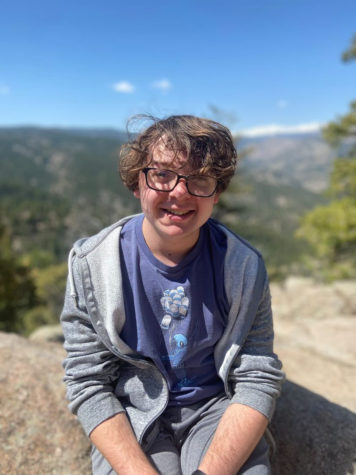 Ethan Kaufman, Arts & Entertainment Editor / Assistant Sports Editor
Hills senior Ethan Kaufman is excited to be a part of the Trailblazer staff for another year. He wrote for the publication a few times his freshman year but became more involved his junior year as a staff member. This year, Kaufman is looking forward to editing the Arts & Entertainment section and assisting in editing for the Sports section.

Fun fact: Kaufman watched 671 movies in the span of a year.