The most anticipated movies of 2022
"Spider-Man: No Way Home" got us back in movie theaters. Now, here are some of the films that will keep us there.
"Spider-Man: No Way Home" got us back in movie theaters. Now, here are some of the films that will keep us there.
"The Batman," March 4
The "Dark Knight" of DC Comics has been adapted onscreen multiple times over the last several decades, with actors such as Christian Bale and Ben Affleck donning the costume. However, director Matt Reeves seems to be approaching the character from a new angle. After three gritty trailers, Robert Pattinson's take on the Caped Crusader is one to look out for.
"Doctor Strange in the Multiverse of Madness," May 6
Doctor Strange has been a highlight of the Marvel Cinematic Universe for several years after strong appearances in "Avengers: Infinity War" and "Spider-Man: No Way Home." His second solo film has been teased as the "scariest" in the superhero franchise so far, which makes sense given director Sam Raimi having previously worked on both the "Evil Dead" and "Spider-Man" trilogies, horror and superhero respectively. With Elizabeth Olsen reprising her role as the Scarlet Witch, the first MCU project of 2022 already has a lot to love.
"I'd say Doctor Strange 2 is the [MCU film] I'm looking forward to most this year," said Hills senior Jacob Charnow. "All the Disney+ shows from last year have basically been building to it so I'm excited to see where it goes."
"Scream," January 14
The original film in the "Scream" franchise blew audiences away with its meta commentary on the horror genre back in 1996. With familiar heroes as well as a new face behind the mask, the saga's latest installment looks like a thrilling kick-off for the new year's cinematic catalog.
"Spider-Man: Across the Spider-Verse (Part One)," October 7
2018's "Into the Spider-Verse" quickly became one of the most critically acclaimed animated films of the last decade. With "No Way Home" delivering more on Spidey's multiverse, it's clear fans are looking for as much content featuring the wall-crawler as they can get. Producer Chris Miller claims the sequel's new visual techniques will make the first look "quaint" in comparison, so it's definitely an exciting ticket.
"Thor: Love and Thunder," July 8
Taika Waititi's take on the God of Thunder in "Thor: Ragnarok" brought some much needed action and comedic relief to the character. He returns to direct this next installment, with Chris Hemsworth leading a star-studded cast that brings back the likes of Natalie Portman and introduces Christian Bale as the hero's latest threat. "Thor 4" has been garnering anticipation since its announcement, and all signs point to it surpassing expectations.
"After what happened in [Avengers] Endgame, I'm really excited to see where they take Thor," said junior Alessia Turelli. "I think it'll be a lot of fun based on the announcements."
"Mission: Impossible 7," September 30
The pioneer action franchise has been consistently one-upping itself since the mid-1990s. Crazy set pieces and death-defying stunts have been its staple, Tom Cruise having scaled the world's tallest building for "Ghost Protocol" and jumping out of a plane in "Fallout." The sheer novelty of asking what insanity he can possibly conquer next is every reason to put this on your watchlist.
"Black Panther: Wakanda Forever," November 11
After the tragic passing of Chadwick Boseman, fans of the MCU are aching to get a satisfying send-off for the character. Not much is currently known about the sequel to smash hit "Black Panther," but it will undoubtedly touch on T'Challa's legacy and hopefully offer another great addition to the universe.
"The Northman," April 8
After directing "The Witch" and "The Lighthouse," Robert Eggers has cemented himself as one of the most innovative forces of modern horror. His third film centers on a Nordic prince seeking revenge after his father's death, with an exhilarating official trailer earning lots of conversation.
"I'm really looking forward to [The Northman]," said junior Ben Hoffman. "Eggers usually has a unique vision and a way of going out and doing what he wants to."
"Lightyear," June 17
When it comes to quality animation and storytelling, Pixar is one of the most beloved studios in the game. Their upcoming project tackles the origin of "Toy Story" icon Buzz Lightyear and his adventures throughout the galaxy as the hero that would inspire the toy. Chris Evans will bring his voice to the character, and the movie's teaser trailer offers a promising experience.
"Nope," July 22
While plot details and trailers have yet to see the light of day, Jordan Peele's return to the director's chair is something to get excited about. Part of comedy duo Key & Peele, he burst onto the horror scene with "Get Out" in 2017, which revolutionized the genre using smart social commentary. After a successful follow-up feature, "Us," audiences are wondering what he'll pull off next.
The last two years have been tough for reasons that need no introduction, and with the continual rise of video streaming services, movie theaters are becoming more obsolete. However, 2022 will hopefully be home to some much-needed theatrical entertainment, as these movies and more have the potential to make a trip to the cinema well worth the price of admission.
Leave a Comment
More from the contributor(s):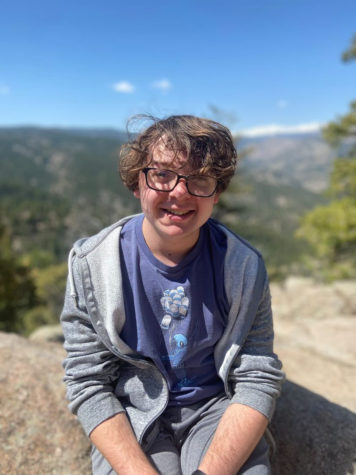 Ethan Kaufman, Arts & Entertainment Editor / Assistant Sports Editor
Hills senior Ethan Kaufman is excited to be a part of the Trailblazer staff for another year. He wrote for the publication a few times his freshman year but became more involved his junior year as a staff member. This year, Kaufman is looking forward to editing the Arts & Entertainment section and assisting in editing for the Sports section.

Fun fact: Kaufman watched 671 movies in the span of a year.