Every Kanye West album ranked
With a Netflix documentary and a new album scheduled for release by the end of the month, let's take a look back on the hip-hop icon's discography so far.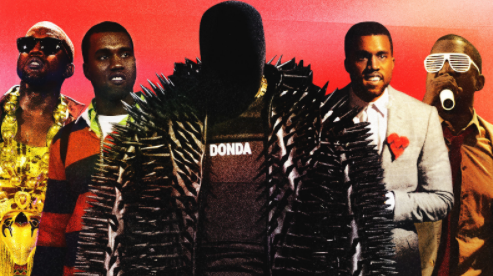 Kanye West has been a leading artist in the music world since he dropped his debut back in 2004. On top of numerous controversies and celebrity drama, 11 albums have followed, each with their own distinct sounds. With the first part of his documentary event, jeen-yuhs, set to hit Netflix within the week and his new album, "Donda 2," also lined up for February, it seems as good a time as ever to compare and contrast his current catalog.
#12 : JESUS IS KING
Even Kanye's worst album is by no means terrible, a testament to his skill, but JESUS IS KING rings of a general lack of inspiration. The album does little besides express West's love for God, which isn't much of a problem on the surface, though he isn't able to do enough with the instrumentals to justify its concept.
"Hands On" includes the lyric "Said I'm finna do a Gospel album," and for the artist to summarize this entire record in one simple adjective should speak to how few layers it has. Regardless, it has a couple good tracks and a breezy length of 27 minutes.
#11 : ye
Ye covers themes of mental health that none of Kanye's previous albums up to this point had done, setting it apart instantly. Still, it feels derivative. Multiple albums on this list were revolutionary in shaping the hip-hop scene, but this one appears to be following trends more than setting them.
Its topics are promising, but the project is ultimately too short to reach its full potential. "Ghost Town" and "Violent Crimes" close out the album well, but much is still left to be desired.
#10 : Donda
The most recent album in Kanye's discography, Donda was released after several delays. Anticipation built up heavily over many weeks, and when it came time to listen, the project might have been seen as underwhelming.
In contrast with the lower-ranked entries, Donda clocks in at 108 minutes, proving to be far too lengthy, but the overarching subject matter may make it worth the listen. Named after and dedicated to Kanye's late mother, the album succeeds as an inspired tribute.
"Donda is a spiritually intimate experience to listen to," said Hills junior Austin Sibley. "I can truly feel my soul rumbling when I hear Kanye rapping about his mother."
The album's sound is consistently inconsistent but the context behind what West set out to accomplish with it helps to enhance the listening experience.
#9 : Watch The Throne
Popular online music critic Anthony Fantano described Watch The Throne as Kanye's "victory lap" following the commercial and critical success of My Beautiful Dark Twisted Fantasy, which is the best way to put this album. A collaboration with fellow hip-hop innovator Jay-Z, it's an album more concerned with having fun than being good.
Songs like "Otis" contain excellent sampling and "N****s In Paris" has an instrumental for the ages, the verses on the latter chock full of excitement. "Who Gon Stop Me" ventures too far into the realm of dubstep and the album is fairly frontloaded, but Watch The Throne's low placement doesn't do justice to how entertaining it is.
#8 : Graduation
Reinventing a genre of music is no easy feat, but Graduation did exactly that. The traditional rap is imbued with catchy pop hooks and a more mainstream sound, a big factor in why hip-hop is so popular today. The fresh production adds to many praiseworthy tracks.
"I like all of [Kanye's] albums because of the versatility that he has," said freshman Josh Baskin, "but Graduation stands out to me because of just how many phenomenal songs are on it."
"Good Morning" sets a wonderful tone, "Stronger" presents some of the best sampling of Kanye's career, and "Homecoming" acts as a glorious homage to his home city of Chicago. There are a couple misses, namely "Barry Bonds" and "Drunk and Hot Girls," both of which feature lazy songwriting, but it's easy to see why over 40% of surveyed students listed this as their favorite Kanye record.
#7 : The Life Of Pablo
Plain and simple, The Life Of Pablo is a mess, but in the hands of someone like Kanye West, it's a mess that works on many levels. The final product is sloppy, but every choice made is deliberate, and it's a culmination of what happens when an artist becomes such an icon that they're given free rein to play around with whatever they want to.
Pablo is even more uncensored than the typical effort from West. Lines like the infamous "Famous" lyric "I feel like me and Taylor might still have sex / I made that b**** famous," a reference to his controversial interruption of Taylor Swift's acceptance speech at the 2009 VMAs, prove that he has no intentions of keeping a positive public image. This album screams that rather than hinting at it like his past projects had mostly done.
The untidiness and lack of a clear instrumental direction keep it from hitting top-tier, but it might be the greatest embodiment of Kanye embracing his iconography.
#6 : KIDS SEE GHOSTS
Another collaborative album, this time between the title artist and Kid Cudi, KIDS SEE GHOSTS is short in length but riveting in quality. There isn't a single song that sticks out as a low point and it's probably the best piece of work to contain the "new sound" Kanye has had for many of his most recent albums.
The only thing holding KIDS SEE GHOSTS back from a higher placement is simply the fact that it's only been around for a few years, meaning it may still take time before it becomes more important to his discography as a whole. But if the ethereal feeling of the instrumentals have anything to say, it will likely be remembered among the better.
The recent falling out between Kanye West and Kid Cudi begs the question of whether or not the two will ever share a song again, but based on the general reception of this album, if that were the case, it would be a duo sorely missed.
#5 : 808s & Heartbreak
Once again, Kanye reinvents himself. The one-two punch of the loss of his mother and the end of a long-term relationship sparked 808s & Heartbreak, the most emotionally charged album on the list. West called the experience of working on the project "therapeutic," which makes sense given the difference between it and his first three LPs.
Instead of quick-witted verses in the style of hip-hop, Kanye took to singing his lyrics, then added heavy splashes of autotune. The shift in everything down to genre initially garnered a lot of criticism from fans, but with a decade and a half to breathe, listeners have come around.
"[Kanye] was willing to go places other artists would never go," Baskin commented on the change in pace.
Tracks such as "Say You Will" and "Love Lockdown" have had clear influences on the hip-hop scene today with rapper Juice WRLD naming 808s his favorite album of all-time and other artists like Drake, The Weeknd, and Travis Scott citing it as a major influence.
"808s inspired a new generation of music," said senior Nick Rakocy, "and Kanye was years ahead of everyone else."
#4 : Late Registration
One quality album in The College Dropout might have been beginner's luck, but Late Registration, West's sophomore effort, proved that wasn't the case. Like its predecessor, it shares much in common with hip-hop artists of the 90s and early 2000s, though it does more with those sounds than other rappers were able to accomplish.
"I really like the consistency of the album with its tone and sound," said junior Ben Hoffman. "I also think it has some of Kanye's best bars and hooks, and it contains some amazing features as well."
When it comes to sampling, Late Registration might be Kanye's peak, drawing from a variety of influences. Jamie Foxx's Ray Charles reimagining on "Gold Digger" is nothing short of iconic, "Bring Me Down" has a beautiful hook with soul influences, and the Curtis Mayfield sample from "Touch The Sky" is exciting enough to kick off every episode of Hills' own Bronco's Breakdown.
#3 : The College Dropout
The College Dropout and Late Registration are practically equal in quality, but the former has slightly higher highs to justify its placement on the podium. Not only does it hold up more than well 18 years after its initial release, but it laid the groundwork for everything Kanye would become, which, after Graduation and 808s, shaped the entire industry.
"Spaceship," "Breathe In Breathe Out," and "Get Em High" all thrive on their rather simplistic beats that, like the many tracks to follow, expertly take advantage of sampling techniques. In addition, "Jesus Walks" has fantastic lyrical flow and holds a hard-hitting hook, made even more timeless by its usage in the trailer for the jeen-yuhs documentary event.
Because of the artist West decided to become, the sound established by this album wouldn't stick forever, but from the get-go, he created something worth returning to.
#2 : Yeezus
Angry and experimental, Yeezus was highly divisive upon its release, and remains that way more than any other album here. However, in having more freedom after his aforementioned "victory lap," Kanye's confrontational personality and boundary-pushing music clashed in an unforgettable project.
"On Sight" will immediately turn traditional audiences away with its chaotic, glitchy instrumental before "Black Skinhead" brings pounding tom drums and grumbling distorted audio to the already energetic atmosphere. "New Slaves" stands as one of West's most powerful songs, with verses that brilliantly deconstruct systemic racism before completely changing its sound three minutes in.
Yeezus is much more of an acquired taste than something anyone can enjoy, but it breaks new ground in a way different from any other Kanye album.
#1 : My Beautiful Dark Twisted Fantasy
Kanye's magnum opus is everything a listener could want out of a hip-hop album and loads more. Following the divisiveness of 808s and the VMAs outrage, My Beautiful Dark Twisted Fantasy didn't just recalibrate the music industry to once again place West at the center, but it did so in glorious fashion.
Publications like Billboard, Slant Magazine, and The AV Club have all listed MBDTF as the greatest album of the 2010s, the latter naming it the artist's "apex," and with over two billion total Spotify streams, that appears accurate. From its opening track, Kanye expresses the colossal triumphs, artistic values, and all-around playfulness his music has become synonymous with.
"POWER" acts as the ultimate hype song and moments like "All Of The Lights" sound like what stadium concerts were made for. On top of Kanye himself, the feature list is superb. Cudi's part on "Gorgeous" and Nicki Minaj's "Monster" verse contain spectacular vocal presence to heighten the LP's ambition further.
The last decade of Kanye West's career has gone off in a new direction, and while most of his latest projects still spotlight the qualities that make him a key figure in music and general pop culture, his contributions are seen no clearer than here.
Where to next?
The opening months of 2022 have been tumultuous for Kanye at best. Recent drama between him and estranged wife, Kim Kardashian, specifically the custody dispute over their four children and her new relationship with Pete Davidson, have led to a series of frenetic Instagram posts over the weekend. The most notable was a photoshopped poster of "Captain America : Civil War" featuring the likes of Davidson, Cudi, and even Taylor Swift facing off against him.
It looks like rock bottom, but if the chorus of "Reborn" is any indication, West plans to "keep moving forward" with his upcoming projects. jeen-yuhs seems to be offering a deep journey into Kanye's psyche over the course of his career, so fans can look ahead to that. There's also Donda 2, which is expected to drop on Feb. 22.
"Donda 2 will definitely be one of my favorite [Kanye albums]," said freshman D'angelo Rodriguez. "It's supposed to have some crazy features so I think it'll be a really great album."
All in all, Kanye West has always had something worth sharing, and despite the media's constant spotlight on his popcorn-worthy headlines, nearly every new release from him is worth celebrating.
Act 1 of jeen-yuhs : A Kanye Trilogy debuts on Netflix on February 16.
Donda 2 will be available to stream on Spotify, Apple Music, and more on February 22.
Leave a Comment
More from the contributor(s):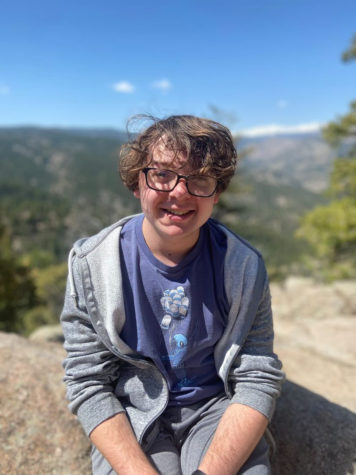 Ethan Kaufman, Arts & Entertainment Editor / Assistant Sports Editor
Hills senior Ethan Kaufman is excited to be a part of the Trailblazer staff for another year. He wrote for the publication a few times his freshman year but became more involved his junior year as a staff member. This year, Kaufman is looking forward to editing the Arts & Entertainment section and assisting in editing for the Sports section.

Fun fact: Kaufman watched 671 movies in the span of a year.