Bridgerton season one overview prepares viewers for season two premier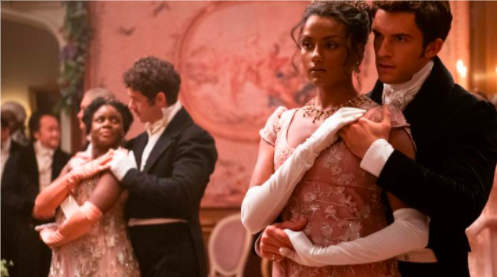 Before the new season of Bridgerton premieres on March 25, fans might need a recap of all the events that occurred in the last season. 
Season one was based mostly on Daphne Bridgerton's love story with the mysterious Duke of Hastings, Simon Basset.  After being named the Diamond of the Season, Daphne has countless suitors lined up to propose, including the Queen's nephew, Prince Friedrich. 
Despite this, Daphne finds herself drawn to the attractive but also the emotional Duke of Hastings. The two grow closer, and eventually share a kiss in the garden, which Daphne's brother (Anthony) witnesses. After they share a kiss, Anthony demands that Simon will marry Daphne. 
After Simon protests, he and Daphne tie the knot in a simple church ceremony. Their marriage is rocky because Simon doesn't want to have kids due to him growing up with an abusive father. Even so, Daphne did give birth to their first child, a baby boy. 
When Anthony's and Daphne's father died, Anthony acted as a protector throughout the social season, protecting her from the unfavorable suitors. While he closely observes Daphne's actions, he is in a secret relationship with an Opera singer named Siena Rosso. 
The couple have a fair share of ups and downs as Anthony grapples with his love for Siena and his duty to his family to find a partner. Though he's willing to give it all up to be with Siena, she eventually breaks up with him and tells him to move on. At the end of the season, he informs his family that he will find a wife next season. 
While Lady Whistledown circulates rumors about "The Ton",  Elosie spends most of the first season attempting to uncover the author's identity. Even one time, she teams up with Queen Charlotte, who also wants to uncover who's behind the column. While Elosie gets close to unveiling Lady Whistledown's identity, she changes her mind and lets the author go free, suspecting that the Queen betrayed her. 
As Penelope goes through with the social season, she harbors secret feelings for her longtime friend Colin Bridgerton. As a result, Penelope is heartbroken when Colin pursues her distant cousin Marnia Thompson. She learns later that Marina is pregnant and in love with a man named Sir George Crane, so she does everything to keep Marina and Colin from being together. 
Eventually, the two got engaged, which even makes Penelope more jealous. Marina and Colin's engagement is later derailed after Lady Whistledown publishes Marina's Secret. At the end, Sir Phillip Crane arrives to tell Marina that George, his brother, has died in a battle and offers to marry her instead. In one of the episodes, she decides to tell Colin her true feelings, but before she does that, Colin announces that he is leaving to tour the world. In the last scene of the season, fans learned that Penelope has been Lady Whistledown this whole time. 
Netflix is releasing a second season of "Bridgerton" soon! This new season was filmed in the Spring of 2021, but production paused in mid-July due to a covid outbreak on the set. It will be released on March 25, 2022.
Fans were hoping the new season would be released on Christmas Day, but Netflix debunked this rumer and announced that it wouldn't come out until 2022. A trailer dropped on Valentine's Day and hints that the romance between Anthony Bridgeton and Kate Sharma will be the main focus of Season Two.
Daphne and Simon Basset will no longer be the main characters on the new season, their conflict now resolved as they are starting a family at the Clyvedon Castle. Kate's sister, Edwina (who plays a main role in Anthony's love story) will be portrayed by Charithra Chandran. Actress Shelley Conn will play Lady Mary Sharma, and Calam Lynch will play the unruly printer's assistant, Theo Sharpe. 
A new character joins Season Two named Jack who will be played by Rupert Young. There will also be returning characters including Lady Whistledown, Queen Charlotte, and Penelope Featherington. Since the death of Lord Featherington, fans are wondering how this event affects the fortunes of Penelope and her two sisters.
"Bridgerton" fans won't have to wait long for more seasons to come out, as Netflix announced that they are working on an expanding series that mainly focuses on Queen Charlotte and origin story. The series will most likely cover the early stages of her marriage to King George III and how she came to rule Britain. 
"I am hoping that Season two will be fairly good as Season One." stated Hills Freshman Michael Beutel. 
Showrunner Chris Van Dusen had said that there could be eight seasons of "Bridgerton," each focused on a different Bridgerton sibling including Anthony, Benedict, Colin, Daphne, Elosie, Francesca, Gregory, and Hyacinth. Netflix has also confirmed that "Bridgerton" has been renewed for seasons three and four. 
While "Bridgerton" fans wait patiently for the new season to come out on March 25th, they can check out the eight "Bridgerton" books written by Julia Quinn. The author also wrote other books about the character Lady Whistledown. Season One of "Bridgerton" is now streaming on Netflix and the second season is coming soon!
View the season two trailer here!
Leave a Comment
More from the contributor(s):