"Percy Jackson and the Olympians" completes main trio
This news gathered a large response from the fans across several social media platforms. 
The news is out! The beloved "Percy Jackson" universe, part of the best-selling series by Rick Riordan, is in the process of gaining a new television show titled "Percy Jackson and the Olympians." And last week, the main trio was completed.  
In early April, Walker Scobell was introduced as the protagonist, Percy Jackson. This news gathered a large response from the fans across several social media platforms. 
More of the young heroes were announced on May 5. Leah Sava Jeffries will star as Annabeth Chase and Aryan Simhadri will play Grover Underwood, two of Percy's best friends. 
Jeffries is portraying a curious, strategic, and headstrong female protagonist. Annabeth has spent the last few years at Camp Half-Blood, a training facility for demigods. With her vast knowledge of the mythological world, she trains Percy to survive his treacherous quest and gains a friend in the process. 
"Leah is exactly the way I imagined Annabeth in the books," said Riordan on his blog. "Smart, strong and courageous, a true daughter of Athena who has zero patience for the foolishness of a certain Seaweed Brain. Watching her act with Walker and Aryan, I saw Annabeth Chase come to life."
Grover is a satyr, half boy and half goat, who just wants to protect his best friends. He is kind hearted, curious, and puts others before himself – this combination of characteristics was perfectly seen in Simhadri's acting, Riordan claimed. 
He continued, "In his auditions for Grover Underwood, Aryan won our hearts. He had me laughing out loud with his delivery and timing. He has a mixture of sweetness, humor and internal toughness that is perfect for our favorite satyr."
To read the full blog, click here. 
"Percy Jackson and the Olympians" follows the title character as a 12-year-old demigod, half mortal and half god. While trying to handle his newfound powers and coming to terms with his new identity, Lord Zeus accuses Percy of stealing the master lightning bolt. Although reluctantly, Percy must now go on an adventure of a lifetime with his friends to retrieve the bolt, prevent a war, and restore order to Olympus.  
The trio faces hardships, monsters, and dangerous quests on their journey to save the world. 
"I used to read the books all the time when I was younger," said Pascack Hills sophomore Gururoop Kaur, "I can't wait to watch the show."
As stated by Riordan on his website, filming is set to begin this summer. Fans can expect to see Scobell, Jeffires, and Simhadri on the Disney+ screen sometime in 2023.
Leave a Comment
More from the contributor(s):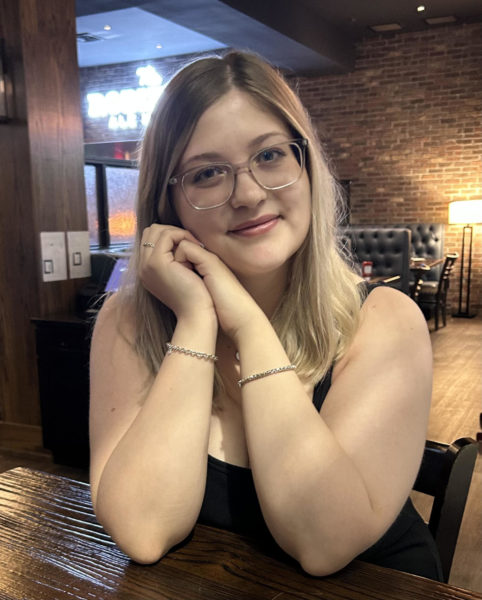 Kaitlyn Verde, Editor-in-Chief
Kaitlyn Verde is a senior at Hills. She joined the publication her freshman year as a staff writer and edited for the Arts & Entertainment and School News sections her sophomore and junior years, respectively. This year, Verde is excited to be the Trailblazer's Editor-in-Chief alongside Olivia Ge and report for the community with Hills Pride.

Fun fact: Verde enjoys reading in her free time, and her favorite book is "The Invisible Life of Addie LaRue."