Did "Multiverse of Madness" live up to its title?
Following the record-smashing success of Spider-Man : No Way Home, the MCU's latest project promised to be a scary detour for fans of the genre, but may have promised more than it could handle.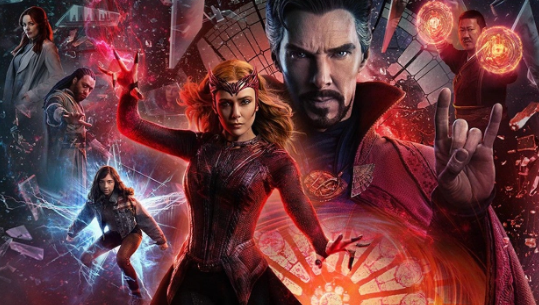 WARNING : The following article contains spoilers for Doctor Strange in the Multiverse of Madness.
It was six years ago that Benedict Cumberbatch first appeared as Doctor Strange in the Marvel Cinematic Universe, and in that time, fans of the franchise have been treated to several noteworthy supporting appearances. Playing a pivotal role in Avengers : Infinity War as well as his welcome outings in the latest Thor and Spider-Man movies, anticipation had been building for another Doctor Strange solo film since its announcement at Comic Con back in 2019.
Excitement grew when the movie was labeled by executive producer Kevin Feige as the first "scary Marvel film" and Sam Raimi was brought on to direct, having established roots in the superhero genre with his Spider-Man trilogy and horror with the Evil Dead franchise. Shocking visuals and fan-favorite cameos littered the trailers, fueling the hype even further.
Unfortunately, Doctor Strange 2 had so much going for it that expectations may have been built up too high. For a movie calling itself "Multiverse of Madness," there seemed to be a surprising lack of it.
"The movie's use of the multiverse was alright," said Hills junior Gunner Ferrall, "but I would have liked to see more than just the three main universes it explored."
Sophomore Sam Goldstein echoed this, claiming "it didn't live up to the hype" and "the concept of the multiverse could have been used much better."
In regards to the cameos, which also promised surprise and some epic movie magic (according to promotional material and some early reviews), there was much to be underwhelmed by. Patrick Stewart's return as Professor X would have been an incredible surprise had the main trailer not revealed it in advance and the remaining appearances still left something to be desired.
"I loved Patrick Stewart as Professor X and John Krasinski as Reed Richards, but when you have a lot of fan service, it's all too easy to miss those chances to build," said junior Jake Levin. "I honestly don't believe the cameos, or the movie for that matter, added much of anything to the MCU canon."
Marvel's Infinity Saga, which lasted a whopping 11 years, was undoubtedly an ambitious story with overarching consequences throughout. But after the demise of Thanos by the end of Avengers : Endgame, the MCU has struggled to come up with new ways to pose legitimate threats for ultra-powerful heroes. The concept of the multiverse has been the dominant force so far, also making strong appearances in Loki and No Way Home, but there's an argument to be had against it.
Many student criticisms revolve around the multiverse concept being "so vast that the characters' actions no longer matter to the story". The destruction of the universe is obviously a high stakes conflict, but it becomes weightless when heroes can hop from universe to universe, avoiding the fallout from any decisions. Conflict is what drives a story, and if there's none present, the film's quality may suffer.
There is one piece that stands above the rest though, which is Sam Raimi's directing. Raimi infuses the script with his signature style, finally bringing some worthy horror aspects to the MCU.
"I loved all the crazy effects and horror elements," said senior Riley Solomon. "It was like nothing I've ever seen in a Marvel movie!"
The experimentation of Phase 4 of the MCU has been one of its defining characteristics, and Raimi's contribution to this film in particular might be the greatest example of it. One student claimed it was "easy to love the horror additions because Marvel has never taken that route before," building on the idea that experimentation and quality tend to be synonymous when it comes to the MCU.
The film's compelling visuals and more mature atmosphere set it apart from most and are definitely enough to keep it as a worthwhile addition to the franchise. However, as one of the more heavily anticipated releases on Marvel's calendar, it's tough not to call the bar it set too high.
Overall, Doctor Strange in the Multiverse of Madness feels like a middle-of-the-road project. Even 34 movies and shows deep, it contains some of the highest highs and lowest lows of the MCU, really defining itself as inconsistent when looking at quality. On base level, it experiments fully, which is more admirable than can be said about many releases today. But with other multiverse films like Everything Everywhere All at Once also in theaters, taking those necessary story moves to become an all-timer, the higher-ups at Disney seem to lack a hold on the concept.
Multiverse of Madness is ultimately serviceable, but it comes at a point when fans should be finished asking if Strange is strange enough.
Doctor Strange in the Multiverse of Madness is now playing in theaters.
Leave a Comment
More from the contributor(s):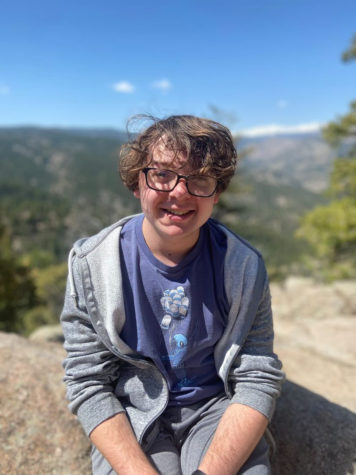 Ethan Kaufman, Arts & Entertainment Editor / Assistant Sports Editor
Hills senior Ethan Kaufman is excited to be a part of the Trailblazer staff for another year. He wrote for the publication a few times his freshman year but became more involved his junior year as a staff member. This year, Kaufman is looking forward to editing the Arts & Entertainment section and assisting in editing for the Sports section.

Fun fact: Kaufman watched 671 movies in the span of a year.