Beyoncé albums ranked
The release of her seventh studio album, "Renaissance," quickly approaching, it's time to look back on Beyoncé's career so far.
Ever since her part in the late 1990s girl group Destiny's Child, Beyoncé Knowles-Carter has become one of the most recognizable figures in music with each passing year. Commonly praised as the greatest performer of her generation, she's taken her solo career in new directions that aspiring singers could only dream of. It's been over six years since her last album, but with "Renaissance" on the horizon, it's time to break down her current discography.
#6 : "Dangerously In Love"
While it remains a solid debut, "Dangerously In Love" rings of an early 2000s R&B sound that's too familiar for its own good. At its core, it's a project full of conventions rather than anything that would set Beyoncé apart from her genremates.
Opener "Crazy In Love" kicks things off with immensely high energy but as the album continues, it struggles to match that. However, as a vehicle that got her solo career off the ground, it succeeded, paving the way for ridiculous potential down the line. And while it fits snugly into those conventions, it does the routine well.
#5 : "I AM…SASHA FIERCE"
Despite being ranked second-last, it's crucial to note the number of memorable tracks off this album. "Single Ladies (Put a Ring on It)" made waves in 2008 with its music video and inspired arguably the most infamous pop culture moment of the century. "Halo" remains Beyoncé's biggest hit when looking at streaming numbers. But while the highs of "I AM…SASHA FIERCE" might be legendary, there aren't quite enough to call it consistent.
In essence, it's a concept album. The first eight tracks contain slower tempos whereas the latter half sees the artist transform into her alter ego, Sasha Fierce, to deliver a more upbeat, confident tone. By no means a poor idea, but it comes off as Beyoncé skating around a more natural attempt at tackling both sides of her personality. It also doesn't help that outside the more timeless 2000s pop classics, the project has a sound that feels even more dated than her debut five years earlier.
That transformation into a more confident self is here, but not authentically realized yet. Some of the best moments of her career spring from this tracklist, but the hits aren't the majority, so it's tough to rank any higher.
#4 : "B'Day"
While its release comes before "SASHA FIERCE", the second album from Beyoncé's catalog resolves many similar issues. Here, things are consistent. None of the songs really stand out as highlights of the album, and while some might see that as unfortunate, it also means there aren't any low points either. The production is also not as heavy as "Dangerously In Love," allowing her vocals to shine more.
"B'Day" has a brisk length too, clocking in 20 minutes shorter than the two previous albums. Rather than lacking substance, that runtime is more a signal that it doesn't overstay its welcome. There's a similar tone to her debut, but the scaling back allows Beyoncé's power as an artist to be felt more. Again, the listening experience for this one is no roller coaster, but there's a lot more clarity.
#3 : "4"
Not the most ironic position for an album called "4," but that's only because it makes the podium.
After announcing a career hiatus in early 2010 and ending her business partnership with her father (who acted as the singer's manager since the '90s), Beyoncé eventually returned with her aptly-titled fourth studio album. With a more uplifting tone than fans had seen prior, it cemented itself as her best full-length release so far.
Between the boisterous horns on "Countdown," the inspiring chorus of "Best Thing I Never Had," and the sheer danceability of "Love On Top," "4" not only proves Beyoncé can make a consistent record, but one where the energy is prevalent throughout.
#2 : "BEYONCÉ"
If the status of Beyoncé as a music powerhouse was ever called into question, the release of her self-titled album should fend off all doubts. In lieu of a conventional album rollout, complete with announcements and singles leading up to the release date, she dropped it without warning, popularizing the "surprise release" format in the process. Despite the complete lack of promotion surrounding it, "BEYONCÉ" quickly became the best-selling album in iTunes history and marked the artist's fifth consecutive number-one album on the Billboard charts.
The music itself has a more mature sound compared to anything predating it, falling into more of the "alternative R&B" genre than something more poppy. Comparisons could be made to other artists like Frank Ocean (who happens to be featured on "Superpower"), but it remains a project that's very uniquely hers. The tracklist has fabulous momentum and the album remains the biggest step forward in Beyoncé's discography so far.
#1 : "Lemonade"
There's a vulnerability to Lemonade that sets it apart from Beyoncé's other albums. Following a dark period in her personal life marked by the infidelity of husband Jay-Z, she channels her musical talents into a 50-minute art-pop project which acts as an emotionally complex release from the tensions. Put in simple terms by music-based YouTuber Alfo Media, "we've all heard plenty of breakup albums before, but how many times have we gotten a 'my husband and father of my children cheated on me… but we're working through it' album?"
Studding incredible features with the likes of Kendrick Lamar and The Weeknd, hopping from R&B-fused pop tunes to country ballads with ease, and containing hard-hitting lyrics that wear their inspirations on their sleeve, every aspect of the album lines up and culminates in what is far and away Beyoncé's magnum opus. The title is no accident. "Lemonade" is a prime example of taking what life gives you, no matter how sour, and turning it into something sweet.
Where from here?
Since the release of "Lemonade," Beyoncé has been anything but quiet. Her performances at Coachella in 2018 inspired a Netflix concert film the following year, the release of which was accompanied by a live album. She also voiced Nala in Disney's live-action remake of "The Lion King," going on to contribute to the film's soundtrack and make a visual album, "Black Is King," released on Disney+ in 2020. To top that off, she received a Best Original Song nomination at this year's Academy Awards for "Be Alive," made for "King Richard."
Her upcoming album, "Renaissance," was announced last month, the single "Break My Soul" following later in the week. Set to release on Friday, it will mark the first studio album from Beyoncé since 2016, a hiatus years longer than fans have ever been through. The tracklist was recently revealed on her Instagram and will include features from Drake, Jay-Z, Skrillex, and more.
Despite only turning 40 last year, Beyoncé has already built up legendary status as a musician, live performer, and key figure in this century's pop cultural movement. An inspiration to many artists now entering the scene and a trendsetter who's defined new ways for presenting yourself in art, her reputation precedes her and shows no sign of de-escalating. It's unclear where she intends to take things after Renaissance (the "act i" signifier would indicate future plans in store), but whatever the case, she's proven it can be looked forward to.
"Renaissance" will be available to stream on July 29.
Leave a Comment
More from the contributor(s):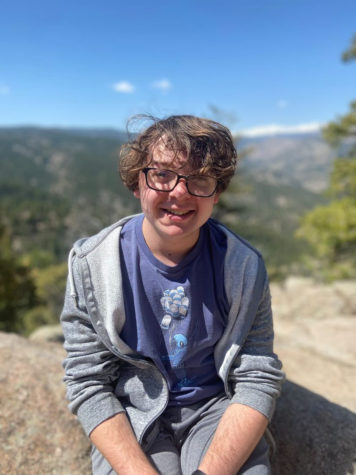 Ethan Kaufman, Arts & Entertainment Editor / Assistant Sports Editor
Hills senior Ethan Kaufman is excited to be a part of the Trailblazer staff for another year. He wrote for the publication a few times his freshman year but became more involved his junior year as a staff member. This year, Kaufman is looking forward to editing the Arts & Entertainment section and assisting in editing for the Sports section.

Fun fact: Kaufman watched 671 movies in the span of a year.