Is Taylor Swift's performance with HAIM in London the start of a new project?
Taylor Swift recently joined HAIM on stage and performed at a concert for the first time since 2018.
HAIM, a three-sister pop band from Los Angeles, recently began their "One More HAIM Tour," with stops in North America and Europe. Special guests planned to join the trio such as the British multi-instrumentalist and songwriter Georgia; however, no one in the audience was prepared for Taylor Swift's appearance on stage. 
Swift joined the band on stage on July 21 to perform a mash-up of her hit single, "Love Story," and HAIM's 2020 hit song, "Gasoline." 
"I heard that my girls were playing in London at the O2, (the arena where Swift and HAIM performed) and I thought, 'I'm gonna have to see that,'" Swift announced while on stage during the concert.
This is the first time Taylor Swift has performed on stage at a concert since 2018 at her "Reputation" Stadium Tour. 
Swift has been known for choosing what the paparazzi is able to see. When she is spotted after being in "hiding," it usually means that she is working on increasing her social presence before announcing or releasing a new project. 
A well-known example of this behavior is associated with her "Reputation" album. After months of drama with Kim Kardashian and Kanye West, Swift paused posting on all social media platforms and was not spotted in public for six months. On Aug. 24 in 2017, Swift released her "Look What You Made Me Do" single which was followed by the rest of her "Reputation" album. 
While Swift has not been completely remote, she has been quieter on social media and has not been spotted in public since February of this year. However, after the surprise performance in London, she has been more active on social media. 
After she performed with the trio on stage, Swift posted a Tik Tok to her account of all the girls getting ready for the showing in matching monochromatic black outfits. The following day, Selena Gomez shared a birthday post of her and Swift out to dinner with the caption "30, nerdy and worthy." 
Following those posts, Swift posted a Tik Tok showing the nominees for the VMA "Video of the Year," where her "All Too Well (10 Minute Version) (Taylor's Version)" has taken a spot in the "Best Longform Video" category. 
Recently, Swift re-recorded "Fearless" and "Red" in order to obtain complete ownership of her music. Determining what album will be next has proven to be difficult to Swift's loyal fans; however, many think it will be, "Speak Now," "1989," or both. Based on the pattern of Swift's behavior, one can assume that the next "Taylor's Version" (T.V.) will be making its appearance in the near future. 
Another possible result of Swift's behavior could be the relighting of her tours and concerts, where her up-to-date T.V. songs could be heard by millions of fans.  
Whether or not new projects surface, seeing Taylor Swift on stage performing for the first time in years is certainly exciting. What the future holds is a mystery for many; for all we know, HAIM could be making a special guest appearance at one of Taylor Swift's concerts in the near future!
Do you think that Taylor Swift will release a new project soon?
Sorry, there was an error loading this poll.
Leave a Comment
More from the contributor(s):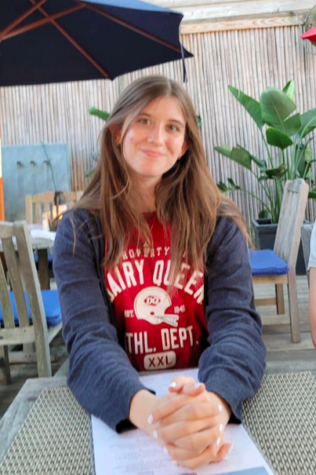 Rily Alexander, Arts & Entertainment Editor
Rily Alexander is a sophomore at Hills. She joined the Trailblazer her freshman year as a staff writer and primarily wrote for the Life & Style and Arts & Entertainment sections. This year, Alexander is looking forward to being an Arts & Entertainment Editor alongside co-editor Ethan Kaufman and assistant editor Jordana Brief.

Fun fact: Alexander loves ketchup and can eat it with anything.