A tribute to Olivia Newton-John
The famous actor and singer-songwriter passed away at age 73 due to a 30-year battle with metastatic breast cancer.
On Aug. 8, Australian British singer-actress, Olivia Newton-John was announced dead by her husband, John Easterling. Newton-John had been fighting breast cancer since 1992 when she had first been diagnosed. In 2017, she announced the sickness had reappeared and was spreading.
During the years of her battle, she advocated for cancer research and started the Prevent Cancer Foundation in her name located in her hometown, Melbourne, Australia. 
On Sept. 26th, 1948 in Cambridge, England, Brinley Newton-John and Irene Born gave birth to a baby girl: Olivia Newton-John. Decades later, she changed hundreds of lives and touched thousands of hearts.
Newton-John became a successful singer-songwriter and actress known best for her movie "Grease" and hit 80s single "Physical." 
Newton-John was most known for her work in the music and movie industry. In her early career days, she was often compared to actresses such as Dorris Day and Sandra Dee for their "clean" reputations. This was later referenced in her role as Sandy in the 1978 movie musical "Grease;" in the song, "Look at Me I'm Sandra Dee" Stockard Channing's character, Rizzo, impersonates Newton-John's character and compares her to both actresses. 
After performing her role in "Grease," her title of 'the girl next door' quickly changed. As her character switched from a ponytailed sweetheart to a black leather profligate so did Newton-John. 
The movie's soundtrack became the second best-selling album of the year with two No.1 hits: "You're the One that I Want" sung by co-stars, Newton-John and John Travolta, and "Summer Nights." Plus, her ballad, "Hopelessly Devoted to You," earned the movie its only Oscar nomination for best song.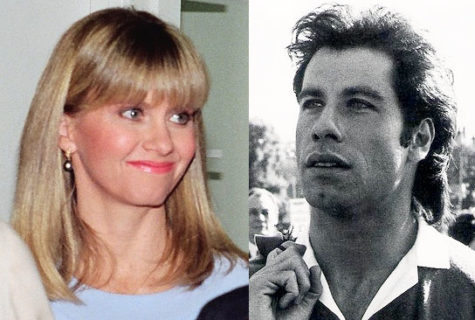 Following the movie's trademark look for Sandy, Newton-John posed for the album cover "Totally Hot" in a head-to-toe leather look. The album was released at the end of 1978 and soon went platinum. 
While her sales dropped after the release of her 1978 album, it was not long before she was at the top of the charts once more with her 1981 single "Physical." The song spent 10 weeks at the top of the Billboard charts and was later declared the biggest song of the 80s by the magazine. 
Through her activism and music, Newton-John impacted millions, leaving many devastated from the news of her passing. John Travolta, her co-star in "Grease" shared an Instagram post that was especially touching considering their relationship within and outside the entertainment world. 
"My dearest Olivia, you made all of our lives so much better. Your impact was incredible. I love you so much." Travolta said, "We will see you down the road and we will all be together again. Yours from the first moment I saw you and forever! Your Danny, your John!"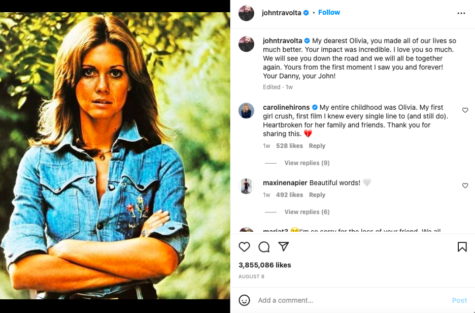 All Newton-John has accomplished will remain for years to come. Her impact on the entertainment world and on breast cancer research will never be lost by the people whose lives have improved thanks to her generosity. Neither her nor her work will be forgotten. 
What are your thoughts on Olivia Newton-John?
Sorry, there was an error loading this poll.
Leave a Comment
More from the contributor(s):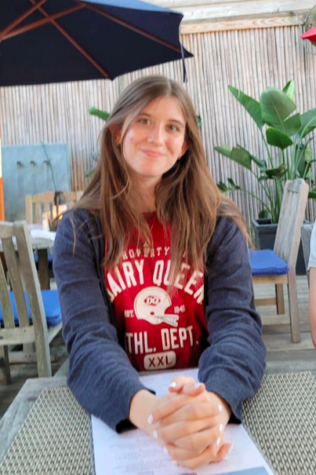 Rily Alexander, Arts & Entertainment Editor
Rily Alexander is a sophomore at Hills. She joined the Trailblazer her freshman year as a staff writer and primarily wrote for the Life & Style and Arts & Entertainment sections. This year, Alexander is looking forward to being an Arts & Entertainment Editor alongside co-editor Ethan Kaufman and assistant editor Jordana Brief.

Fun fact: Alexander loves ketchup and can eat it with anything.