Oscar nomination predictions: Films to look out for
Nominees for the 95th Academy Awards ceremony are on the horizon; here's a list of the films likely to make the cut.
Oscar season is approaching. Speculation on which movies would take home the biggest awards began as soon as last year's telecast wrapped, but now that the nominations are mere weeks out and many critics groups have already made the call on 2022's finest films, predictions are less of shots in the dark and more educated guesses.
While the British Academy Film Awards (BAFTAs), Critics' Choice Awards, and Golden Globes may not leave a mark the way the Academy Awards do, they are often good indicators of what movie fans can expect to see up for Best Picture come Oscar night. When the nominees are announced on Jan. 24,  don't be surprised to find these selections among the top contenders.
"Everything Everywhere All at Once"
Often referred to as "the little indie that could" during its success at the box office, that statement continues to hold true as A24's genre-blending multiverse adventure appears to be leading the charge to the Dolby Theater. It's incredibly rare that an April release can endure the long year and remain a frontrunner all the way to the Academy's voting period, but the unique brand of comedy and emotion in the Daniels' screenplay has kept it going, nabbing key nominations across the board.
For the Oscars, nominations for Best Picture and Best Director are practically locked, the film a strong favorite if not the definitive frontrunner. Michelle Yeoh and Ke Huy Quan are also almost guaranteed nominations for their performances in the categories of Actress and Supporting Actor respectively.
Original Screenplay also seems more than likely, with at least one (if not two) Supporting Actress nods rounding out the major categories. There's strong competition in the technical categories to where Editing is the only surefire bet, but "Everything Everywhere" should still look great on paper once the nominations have been announced.
"Top Gun: Maverick" and "Avatar: The Way of Water"
Equally rare as an April release winding up the big frontrunner is seeing the top two highest grossing films of the year join it in the Best Picture race, but that's what looks to happen. The long-awaited sequels to "Top Gun" and "Avatar" hit it out of the park with critical and commercial reception, together generating over $3.2 billion worldwide and receiving universal acclaim from audiences and critics alike. The Oscars desperately need smash hits like these racking up nominations as incentive for the general public to tune in, and this blockbuster duo will be making waves.
On top of likely being a Best Picture lock, the biggest success of Tom Cruise's career might nab him his fourth acting nomination. The top three contenders for Best Actor make for an uphill battle, but nothing is out of the question. Also, if any film is going to sweep the techs this year, it's "Maverick." Brace yourself now for Cinematography, Editing, Sound, and Visual Effects nominations.
"Avatar 2" has a slightly different path, but will similarly be a juggernaut in those technical categories. Cinematography, Production Design, and Sound nominations would all be good calls. Editing is less likely and it'll be a tussle for that fifth slot, but if "Babylon" isn't wowing the Academy as it intended, count it in. And of course, given how revolutionary its VFX were, it goes without saying that "Way of Water" is the frontrunner for Visual Effects. James Cameron also looks to be eying a nomination for Director, another battle for the fifth spot, but one he'll probably wind up winning.
"The Banshees of Inisherin" and "TÁR"
Moving on from a pair of box office giants, we have a pair of limited releases. Despite not being released wide enough to truly make a splash financially, these two are some of the most critically renowned of the 2022 catalog and just like "Top Gun" and "Avatar," they're both locks for the biggest award on the table. "Banshees" especially has been dominating critics groups lately, though both are sure to be named repeatedly during the announcements.
"The Banshees of Inisherin" will be a wrecking ball in the acting categories. Bet on Colin Farrell for Actor, Kerry Condon for Supporting Actress, and two Supporting Actor nods in the form of Brendan Gleeson and Barry Keoghan. If Stephanie Hsu for "Everything Everywhere" can't make the cut for Supporting Actress, "Banshees" would be the only four-time acting nominee of the year. Writer/director Martin McDonagh eyes recognition for both his credits and as a cherry on top, Original Score also seems likely.
Aside from Picture, "TÁR" also looks to be getting in on the major categories. Cate Blanchett has been the frontrunner for Best Actress for months now, so her nomination is all but certain. Like with McDonagh, Todd Field's name should be one of the five for both Director and Original Screenplay. That's about it though, as a strong year in technicals makes it unlikely "TÁR" takes any below-the-line nominations.
"Elvis"
In recent years, Hollywood has had an obsession with music biopics. Some of these, like "Bohemian Rhapsody," go on to sweep the Oscars whereas others, "Rocketman" the obvious mention, get lost in the crowd and fall victim to snub. "Elvis" is the former.
While it won't be the biggest winner of the night like Freddie Mercury's dramatization was when it won four awards back in 2019, Baz Luhrmann's take on the King of Rock and Roll should be happy bathing in nominations at the least. Best Picture is probable, and Austin Butler remains one of the Best Actor frontrunners for his portrayal of Elvis.
Technicals are really where the number soars though. Whether or not it will actually win any is irrelevant, because Costume Design, Editing, Makeup and Hairstyling, Production Design, and Sound boost its tally to seven. For a movie so bombastic, its stamp on the awards can rival its energy.
"All Quiet on the Western Front" and "Glass Onion: A Knives Out Mystery"
Netflix has had two films nominated for Best Picture for three consecutive years, but it's a streak that looks to be over. With the pandemic winding down and more films releasing exclusively in theaters, this year is really a toss up as to which one will make the cut.
The German-language remake of "All Quiet on the Western Front" has been picking up steam recently. As a war film, it has some great potential among the techs, with Sound and Cinematography nominations looking promising. It's also the frontrunner for Best International Film, so it can count on that. Looking at recent trends, the Academy usually has one foreign language feature among the Best Picture nominees. Since the 2019 ceremony, we've seen "Roma," "Parasite," "Minari" (technically an American film, though more than half the dialogue is Korean), and "Drive My Car." By this logic, "All Quiet" would fit that quota.
On the other hand, the sequel to "Knives Out" has been a major success, seeing roughly 35 million households tune in to watch in just the first few days. "Glass Onion" can expect a mention in the Adapted Screenplay category, an award more valued than any of "All Quiet's" three below-the-line predictions. Beyond that is rough though, as it appears unlikely (but not impossible) the film will nab Production Design or Supporting Actress for Janelle Monáe.
All this considered, "All Quiet on the Western Front" is the safer choice for the tenth Best Picture slot, but nothing is guaranteed.
"The Fabelmans"
The two biggest awards of the night are Picture and Director, and Steven Spielberg's autobiographical drama is one of the few films locked in for both. The filmmaker has already received two awards for his directing, but seeing as "Fabelmans" specifically is his most personal work to date, plus it's been hailed by critics as another of the year's greatest achievements, there's nothing against it for those top nominations.
Acting-wise, the movie is relatively strong. Michelle Williams getting a Best Actress nomination is practically a lock and while the race for Supporting Actor holds some competition, Paul Dano is probably a safe prediction. The big question is whether or not Judd Hirsch comes through in that same category, which would mean the five nominees for Best Supporting Actor would come from just three films. Brad Pitt's performance for "Babylon" could edge him out, but at least for now, the odds are with Hirsch.
"Fabelmans" will take a mention for Original Screenplay, and while the BAFTA shortlists completely snubbed it in most technical categories, it still looks to be a heavy hitter. Nominations for Cinematography, Costume Design, Editing, Production Design, and Score all appear to be in its future. Its chances at winning the top accolades might be in question, but that shouldn't affect its potential to rack up the nominations.
"Women Talking" and "Babylon"
There was a point earlier in the year when both these films were prospective Oscar frontrunners, but as early releases like "Everything Everywhere," "Top Gun," and "Elvis" seem here to stay and the nomination pool continues growing, chances are slimmer. Will "Women Talking" and "Babylon" both make the Best Picture lineup? Chances are, yes, but they would be slots eight and nine respectively, hardly a guarantee.
"Women Talking" was lined up to take several acting nods, but much of the cast has been performing poorly in other award circles, so Jessie Buckley's turn for Supporting Actress is the only one likely to take off for the Academy voters. Writer/director Sarah Polley has an Adapted Screenplay nomination in the bag and is narrowly holding out for Director. If James Cameron can't secure his spot for "Avatar," she'll be the one knocking him out. Outside of those, Original Score is probably its only chance.
Damien Chazelle is no stranger to Oscar love, but while his previous efforts on "Whiplash" and "La La Land" were met with open arms, the cold reception to "Babylon" may hinder it. It's the only Best Picture contender to be "rotten" on Rotten Tomatoes and having bombed hard at the box office, audiences don't seem all too invested in its success.
Margot Robbie and Brad Pitt both have paths to acting nominations, but the competition seems strong enough to keep them at bay. On the upside, it'll crush in the tech categories. Cinematography, Costume Design, Makeup and Hairstyling, Production Design, Score, Sound, and if the Oscar mentality of "Best Editing means most editing" holds true, possibly Editing. While pretty unlikely, there's a world where "Babylon" is the only Best Picture nominee with no other above-the-line mentions.
Other contenders
There are more than just the Best Picture locks vying for acknowledgement at the Academy Awards. As tends to be the case, movies that might not even have a chance at the gold will still get in on strong performances and technical achievements.
Brenden Fraser's comeback in "The Whale" has been making headlines and will easily land him a spot among the Best Actor candidates. His compelling transformation into 600-pound Charlie required, on top of serious acting chops, intense prosthetics, which also places the film as a frontrunner for Makeup and Hair. The script should additionally nab Adapted Screenplay.
Speaking of, Adapted Screenplay is an interesting category this year, "Women Talking" likely to go down as the only nominee with Best Picture attached. Biography drama "She Said" and period-set "Living" should round out the top five, the latter of note as a Best Actor hopeful for Bill Nighy. Strong contenders for Actress include Danielle Deadwyler for "Till" and Viola Davis for "The Woman King." If things play out as expected, it would be the first ceremony to have three non-white Best Actress nominees.
For the Marvel fanatics, "Black Panther 2" is expected to break through the superhero barrier as its predecessor did and take some nominations. Costume Design, Makeup and Hair, Production Design, Original Song, and Visual Effects can be anticipated. While "Wakanda Forever" won't be on the list for Picture like the original was, it will make history as the first Marvel Cinematic Universe (MCU) film to be nominated for an acting Oscar. If Angela Bassett's win at the Golden Globes this week speaks to anything, it's that her name can be expected with the Best Supporting Actress announcement.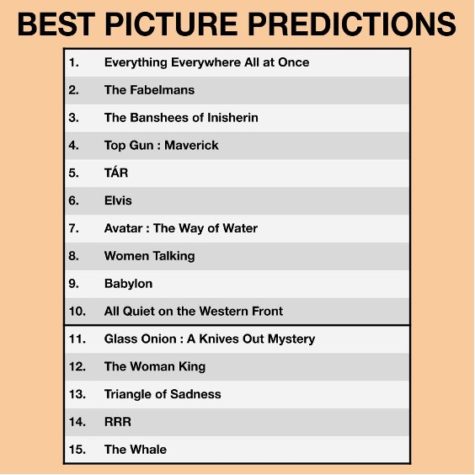 Rounding it out are three more honorable mentions. "Triangle of Sadness" won the Palme d'Or at the Cannes Film Festival (the same award that started "Parasite" on its Best Picture path) and should scoop up a nod for Original Screenplay, plus a possible Supporting Actress credit for Dolly De Leon if Stephanie Hsu doesn't make it.
Guillermo Del Toro's "Pinocchio" is far from the definitive Netflix movie of the year, but appears strong enough to take three nominations for Best Animated Feature, Original Score, and and Original Song. Finally, while India didn't submit the smash hit crowdpleaser "RRR" as their entry for Best International Feature, the Academy might be in the mood to show it some love. Hot off its Best Original Song win at the Globes (defeating Taylor Swift, Rihanna, and Lady Gaga), that category is a lock. Picture and Director are both incredibly unlikely, but anything is possible.
In conclusion…
There are a lot of moving parts when it comes to the Academy. The greater awards season underway lends itself well to predicting the odds, but until Jan. 24, much is up in the air. When those nominations are announced, it'll be a game of strong campaigning to see which films could go the distance and which were merely contenders primed to give the winner some competition. May the best films get their due, and be sure to check back for further speculation once the nominees are revealed.
Leave a Comment
More from the contributor(s):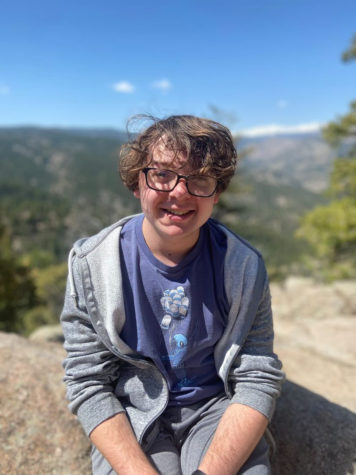 Ethan Kaufman, Arts & Entertainment Editor / Assistant Sports Editor
Hills senior Ethan Kaufman is excited to be a part of the Trailblazer staff for another year. He wrote for the publication a few times his freshman year but became more involved his junior year as a staff member. This year, Kaufman is looking forward to editing the Arts & Entertainment section and assisting in editing for the Sports section.

Fun fact: Kaufman watched 671 movies in the span of a year.