The Oscars: Predictions for the 2023 ceremony
These are films estimated to win at the 95th Academy Awards.
Editor's note: This article is predicting the outcome of the 2023 Oscars and does not reflect what will happen. The opinions in this article do not reflect those of the entire Trailblazer staff.
The 2022 awards season is coming to a close, but not before its most notable leg. The Oscar race has been a highly contested battleground for months, and that will all come to a head on March 12. Several films are vying for top accolades, but with all major precursors out of the way, this final week before the red carpet is prime time for predictions. 
Best Supporting Actress
The nominees: Angela Bassett ("Black Panther: Wakanda Forever"), Hong Chau ("The Whale"), Kerry Condon ("The Banshees of Inisherin"), Jamie Lee Curtis ("Everything Everywhere All at Once"), Stephanie Hsu ("Everything Everywhere All at Once")
This can be arguably the most chaotic race of the acting awards. Off of film festival buzz, Kerry Condon of "Banshees" looked to be the early favorite, but as last year's winner put it best, "Angela Bassett did the thing." Award circles have been less favorable toward "Black Panther 2" compared to the original, but Bassett's performance broke through the noise. She took the Golden Globes, Critics' Choice, and looked promising for the Oscar, until recently.
Two of the most important precursors for acting are the British Academy of Film and Television Arts (BAFTAs) and Screen Actors' Guild Awards (SAG). While they didn't line up this year, neither went for the frontrunner. The BAFTAs gave it to Condon and SAG went for a surprise move by picking Jamie Lee Curtis for "Everything Everywhere All at Once." Given these are the last two major awards before Academy voting, Bassett's momentum getting cut short is a massive blow.
That being said, if it's not Bassett, Kerry Condon? She's relatively new to the industry, doesn't stand out amongst the other performances in her film, and while her acting chops are more than solid, they didn't lend themselves much to a knockout Oscar clip. Bassett may not have a Best Picture nominee behind her, but there's enough in her column to pencil her name in. A wild card win for Curtis seems unlikely (though possible) and Stephanie Hsu would be great to see, but in uncertain waters, Supporting Actress is still Bassett's to lose.
Prediction: Angela Bassett (Runner-up: Kerry Condon)
Best Adapted Screenplay
The nominees: "All Quiet on the Western Front," "Glass Onion: A Knives Out Mystery," "Living," "Top Gun: Maverick," "Women Talking"
This is a conversation surrounding two movies. "Glass Onion" has had less luck than its predecessor; "Living" has had no luck anywhere outside of nominations, and "Top Gun" was lucky to even be among the five. Before things really got going, Sarah Polley's screenplay for "Women Talking" was the one to beat. Unfortunately, the film as a whole began fizzling out pretty early in the Oscar race.
Its nomination for Best Picture was surprising considering no recognition for the actors and with a late theatrical release that was too limited to reach the masses, a push from audiences was nowhere to be seen. With so much working against "Women Talking," pulling out a win in a major category would be a serious uphill battle. Add to that the momentum of "All Quiet," which took this award at the BAFTAs and has been gaining more industry love every day.
Still, outside of Best Picture, "Women Talking" isn't up for anything else. It's an indicator there's genuine passion for it, even if only for Adapted Screenplay. With "All Quiet" projected to bag at least two other awards, this would be a way to spread the love. Missing out on Director, Polley has taken heavy damage over the last few months, but a win for her still looks to be in the future.
Prediction: "Women Talking" (Runner-up: "All Quiet on the Western Front")
Best Original Screenplay
The nominees: "The Banshees of Inisherin," "Everything Everywhere All at Once," "The Fabelmans," "TÁR," "Triangle of Sadness"
In a previous article, Original Screenplay was "a showdown between 'Banshees' and 'Everything Everywhere.'" Nothing has changed. Despite three Best Picture hopefuls present, this has been a two-horse race for quite a while. Martin McDonaugh's script for "Banshees" earned him a Golden Globe and BAFTA, the Daniels having won Critics' Choice for "EEAAO." In precursors alone, "Banshees" has the edge, but looking at the movies themselves, a different story unfolds.
"Everything Everywhere" is the movie on top this year. Coming off its record-breaking sweep at the SAG Awards, its success at the Oscars looks titanic to say the least. The screenplay was one of its most praiseworthy aspects and considering how much it's leading the Best Picture race by, it's difficult not to call it the winner on that alone. Bring to that the fact that it's already made a dent in other award circles and one begins to wonder if betting against it here would be a total lapse in judgment. Here's the thing… it isn't.
Despite being up for nine awards, "Banshees" could feasibly walk away empty handed. While it's true there's usually one sucker among the most nominated films that doesn't bag any wins, the film still being a top contender even in Best Picture argues that it'll land something. The Daniels will get their due in other categories and "Everything Everywhere" is winning enough as it is. Screenplay might be where it takes the hit to prevent a full-on sweep. It'll be narrow, but time will tell.
Prediction: "The Banshees of Inisherin" (Runner-up: "Everything Everywhere All at Once")
Best Supporting Actor
The nominees: Brendan Gleeson ("The Banshees of Inisherin"), Brian Tyree Henry ("Causeway"), Judd Hirsch ("The Fabelmans"), Barry Keoghan ("The Banshees of Inisherin"), Ke Huy Quan ("Everything Everywhere All at Once")
There are only two surefire things going down on Oscar night: lame jokes courtesy of host Jimmy Kimmel and a Supporting Actor win for Ke Huy Quan. Say for the BAFTAs, where Barry Keoghan won out in a decision that has no real bearing on the Academy votes, Quan has swept practically every critic circle, guild, and industry award there is, major precursor or otherwise. On top of the performance itself, an undeniably effective blend of comedy and emotion, he's got the career narrative in his corner.
Before "Everything Everywhere" hit screens nearly a year ago, Quan was best known as a child actor from various '80s hits, namely "The Goonies" and the second "Indiana Jones" film. His career dried up early in the '90s due to lack of opportunity and given how warmly his big-screen return has been received, it's made for several emotional acceptance speeches, Golden Globes and SAG being notable. He has the narrative, the charisma, the top-quality performance, and the Best Picture frontrunner backing him up. He can't lose.
Even if the Academy did something completely out of left field, there aren't a ton of alternative options. Keoghan's win at the BAFTAs would seemingly make him the runner-up by default, but even then, between the "Banshees" boys, it was Brendan Gleeson who was faring better before nominations were revealed. Keoghan was never a lock for the five. Any argument for someone besides Ke is a reach and regardless of whatever happens in other categories, him not taking it would be the surprise of the night.
Prediction: Ke Huy Quan (Runner-up: Brendan Gleeson)
Best Actor
The nominees: Austin Butler ("Elvis"), Colin Farrell ("The Banshees of Inisherin"), Brendan Fraser ("The Whale"), Paul Mescal ("Aftersun"), Bill Nighy ("Living")
A lineup of all first-time nominees, the Best Actor race is a close one. Colin Farrell was part of the "core three" through the new year, but as more of the major precursors have held their ceremonies since, he's fallen out of it. The praises for "Banshees" appear to be more deeply rooted in the screenplay rather than the acting and despite his Golden Globe speech being an audience favorite from that night, his performance seems too unconventionally reserved for Best Actor and doesn't fit the bill of what the Academy typically goes for.
That leaves Austin Butler and Brendan Fraser. They've both had good hauls so far, Butler taking the Globe and BAFTA with Fraser landing Critics' Choice and SAG. Fraser has a leg up when you add the context of their respective careers, "The Whale" acting as a comeback for him in a similar fashion to Ke Huy Quan, while Butler is relatively new to the industry. Fraser's speeches have also been well-received whereas Butler has been the subject of scrutiny for continuing to use his Elvis voice. However, Butler's name is attached to a Best Picture contender.
The category is called "Best Actor," yes, but like it or not, every performance is associated with the movie it's in. "The Whale" came out of nomination morning with just three while "Elvis" bagged eight, and it's worth noting that every movie to win Best Actor since 2011 was also nominated for Picture. Butler's take on Elvis is also highly comparable to Rami Malek's win in 2019 for "Bohemian Rhapsody," another rock music biopic. To put it cleanly, Academy habits point to Butler while Fraser wins the narrative. It's too close to call, but one can try.
Prediction: Brendan Fraser (Runner-up: Austin Butler)
Best Actress
The nominees: Cate Blanchett ("TÁR"), Ana de Armas ("Blonde"), Andrea Riseborough ("To Leslie"), Michelle Williams ("The Fabelmans"), Michelle Yeoh ("Everything Everywhere All at Once")
We now go from one knife fight between the top two contenders to another. Cate Blanchett vs. Michelle Yeoh has been the Oscar battle this year. Both were universally praised for their performances, each winning a Golden Globe, and remain neck-and-neck in the final week before the ceremony.
Getting the obvious out of the way first, "Everything Everywhere" being the overall frontrunner immediately gives Yeoh a push. Her surprise win at SAG showed that she's very clearly still contending despite Blanchett having dominated precursors, and as has been the case with most acting categories, having the better narrative absolutely plays a factor. Yeoh has never even been nominated whereas Blanchett has already won twice (and lost four times). The win would be a culmination of her extensive career and it's not like Blanchett won't be back at least one more time before the decade is out.
Still, the differences between the performances are worth mentioning. Yeoh's versatility in "Everything Everywhere" might ultimately work against her, with Blanchett delivering more full-force dramatics for "TÁR." Also, the former movie is the more well-rounded one buzz-wise while Blanchett has been the clear highlight from her film. In an acting category, standing out is crucial, and due to the maximalist nature of practically every aspect of "EEAAO," Yeoh is put at a disadvantage in that regard. But with a sweep on the horizon, who's to say?
Prediction: Michelle Yeoh (Runner-up: Cate Blanchett)
Best Director
The nominees: Martin McDonagh ("The Banshees of Inisherin"), Daniel Kwan & Daniel Scheinert ("Everything Everywhere All at Once"), Steven Spielberg ("The Fabelmans"), Todd Field ("TÁR"), Ruben Östlund ("Triangle of Sadness")
Back in the late weeks of 2022, this was Spielberg's award for the taking. Things have changed though, and as has been the case in practically every category, "The Fabelmans" has sort of fallen out of Oscar conversation. In theory, one of the most well-respected filmmakers of the last 50 years getting personal and making what basically acts as a feature-length autobiography piece should garner immense love from every member of the Academy, but it just hasn't been taking off the way a certain other movie has.
The Daniels were in a tug-of-war with Spielberg last time this category was addressed, but they've widened the gap significantly since then, now shoo-ins for the Best Director award. "Everything Everywhere" is nothing if not a creative vision, and all the praise for its originality can be made out directly to Kwan and Scheinert. From the striking balance of hard-hitting drama and zany humor to the visual style, which rivals blockbusters with a wholly effective use of the small $25 million budget, it's fair to say none of that comes together without this duo at the helm.
For the final product to come out coherent, let alone strike an emotional chord with so many people, is a feat that many award circles have already acknowledged. Daniels came out on top at the PGA and DGA Awards (Producers' and Directors' Guilds of America) as well as Critics' Choice. DGA is the best precursor here for the Oscar since it's the directors that vote on directors, and considering the Academy has only diverged from them twice in the last two decades, it's tough to bet against the odds.
Spielberg isn't down for the count yet, but it's probably not too early for Kwan and Scheinert to start celebrating here, especially if Screenplay doesn't go their way.
Prediction: Daniel Kwan & Daniel Scheinert (Runner-up: Steven Spielberg)
Best Picture
The nominees: "All Quiet on the Western Front," "Avatar: The Way of Water," "The Banshees of Inisherin," "Elvis," "Everything Everywhere All at Once," "The Fabelmans," "TÁR," "Top Gun : Maverick," "Triangle of Sadness," "Women Talking"
For the last major category, we have the biggest award of the night, and only one movie to really talk about. All Oscar talk over the last few months and a vast majority of precursors have pointed to "Everything Everywhere All at Once" cleaning house come March 12. A24's first feature with a nine-digit box office haul has remained in the conversation despite its strong competition and everything appears to be lining up.
There are only two things actively working against it. First is the infamous "frontrunner curse," where the film leading the Best Picture charge tends to gain too much momentum prior to the ceremony and ends up underperforming. We saw this in recent years with "La La Land," "1917," and "The Power of the Dog." Still, and this is being blunt, but those were contested. The amount of momentum "Everything Everywhere" has is flat-out ridiculous, more than anything else the Oscars have seen since possibly the 2000s. At least in regard to the frontrunner curse, it's too powerful to be taken down.
The second reason is much more legitimate. The Oscars use a preferential ballot system to decide Best Picture. As put cleanly by the LA Times, it's a "celebration of the least disliked." Despite their steps to diversify in the last few years, many Academy members still fall on the older side, and given the outlandish concepts and chaotic nature of "Everything Everywhere," a decent chunk of voters may not go for it the way others have. "EEAAO" could realistically come away with the most number one placements but fall near the bottom of some lists, leaving the door open for "Banshees" or "Fabelmans" to snag a surprise victory simply by being number two or three on more.
Unfortunately for the competition, it would take a flat-out miracle for the chips to fall anywhere besides the frontrunner's corner. "Everything Everywhere" was released late last March, and despite having more than half a year extra for the hype to die out compared to fellow nominees, it's now stronger than ever. "Banshees" is not the feel-good flick Best Picture tends to land on and with "Fabelmans" fumbling the ball on every play, no alternative really looks possible. The odds are in its favor across several above-the-line categories. A sweep is all but inevitable, and the only question is how big it'll be.
Prediction: "Everything Everywhere All at Once" (Runner-up: "The Banshees of Inisherin")
In conclusion
The Oscars always have a surprise in store. Whether it be a massive snub not even the experts saw coming or Chris Rock getting smacked in the face, every ceremony has at least a few bumps in the road. Most of the acting races have been remarkably close this year and there's a ton of room for things to go in a different direction than expected. Regardless, there's no reason not to try predicting.
The minor awards also offer exciting competition. Costume Design, Makeup & Hair, and Documentary Feature are full-on toss-ups at this point, and blockbuster films like "Top Gun: Maverick" and "Avatar: The Way of Water" will get their dues in the technical categories. March 12 is fast approaching, and after a long, grueling season of speculation and precursors, it's almost time to see which movies will come out on top. Be sure to check back in after the ceremony for a full breakdown of Hollywood's annual winners and losers.
Leave a Comment
More from the contributor(s):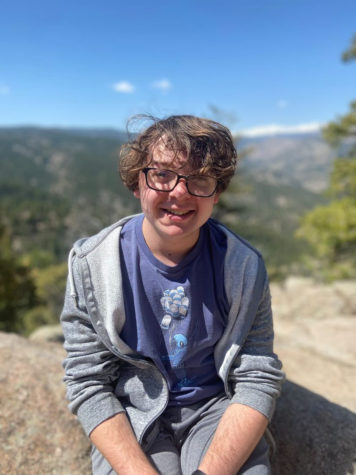 Ethan Kaufman, Arts & Entertainment Editor / Assistant Sports Editor
Hills senior Ethan Kaufman is excited to be a part of the Trailblazer staff for another year. He wrote for the publication a few times his freshman year but became more involved his junior year as a staff member. This year, Kaufman is looking forward to editing the Arts & Entertainment section and assisting in editing for the Sports section.

Fun fact: Kaufman watched 671 movies in the span of a year.