Every Lana Del Rey album ranked
In honor of the new Lana Del Rey album on the horizon, here is her current discography, ranked.
For over a decade, Elizabeth Grant, better known by her stage name, Lana Del Rey, has been a key figure in the pop culture scene. A musician wholly planted in sonic aesthetics, she's one of the few to have gained such high popularity and acclaim but still be willing to take risks with her sound, always toeing the line between person and persona with her songwriting. An upcoming album is quickly approaching, so here's the breakdown of her current nine releases.
#9: "Lust For Life"
Nothing is a greater testament to an artist's consistency than their worst album still being a solid project. "Get Free" is a fantastic closer and tracks like "Cherry" more than live up to some of Lana's greatest hits. What holds it back are two things: runtime and features.
"Lust For Life" is 72 minutes, making it her longest album to date, and with a tracklist that's heavily frontloaded, it can be easy to lose interest after a while. The LP also has features across the board, everyone from A$AP Rocky and Playboi Carti to The Weeknd and Stevie Nicks. There's talent among those names, absolutely, but with so many guests, Lana begins finding herself lost in the shuffle on her own album.
The Weeknd's voice is instantly recognizable, pulling attention away on the title track. Carti's rapping especially is so far from Lana's style that "Summer Bummer" collapses in on itself. So much focus on these features means the album can never come into its own and all of the sudden, the individuality that's made her such a compelling artist is gone. "Lust For Life" remains a serviceable collection of tracks, but considering how bloated and messy it can be, added to that the quality of many other albums on this list, it's bottom-tier in the end.
#8: "Chemtrails Over The Country Club"
While "Lust For Life" threw a lot at the wall for only some of it to stick, "Chemtrails" plays it remarkably safe. Following the success of her 2019 project, "Norman F***ing Rockwell!" ("NFR!"), Lana's next album cycle was a less adventurous retread of what made "NFR!" work. The soft folk rock sound admittedly suits her well, she just isn't doing much with it here.
The tracklist is generally consistent across the album. The title track is a superb ballad and "Dark But Just A Game" mixes the traditional guitars with effective R&B undertones during the verses. The features are also much better this time around, vocals from Nikki Lane and Weyes Blood meshing well with Lana's style. They make for a cohesive listening experience compared to the jarring nature of the "Lust For Life" guests.
Among her major label releases, "Chemtrails" is consistently ranked lowest on sites like RateYourMusic and Album Of The Year, but the only major flaw is its lack of originality. Indeed, the repetition can ring a little hollow for an artist like Lana to the point where it's easily the least significant of her LPs, but even a knockoff of "NFR!" is bound to sound great in her hands.
#7: "Lana Del Ray A.K.A. Lizzy Grant"
The black sheep of Lana's discography, "Lizzy Grant" is more of a prologue to her career than anything else. While "Born To Die" was her major label debut, her self-titled acts as a precursor for the soundscape that would define her early years. From the get-go, the dark and sleazy atmosphere painted by the lyrics was front and center, elevated by Lana's quiet vocal range.
In not yet having a major audience, "Lizzy Grant" feels more distinctly indie than what followed. The playful melodies of "Put Me in a Movie" and desolate string arrangements on "For K, Pt. 2" stand out especially. "Pawn Shop Blues" stands as the album's best track, which sounds like a top-tier Lana ballad being performed alongside an orchestra on the streets of Italy. Closer "Yayo" was also reworked for her "Paradise" EP, though the "old Hollywood" sound of this first version makes it the superior cut.
Holding back Lana's self-titled is how unpolished it is. Minor label 5 Points Records took a chance on her, but having to record the tracks on such a low budget, the end result is production that's a little too raw and stripped. This is also before the spelling of Grant's stage name was even changed, showing how she hadn't fully come into her own yet. Even still, the quality is absolutely comparable to her later efforts, and the tracklist here might be the only one that's concretely backloaded as opposed to peaking early or being consistent from front to back, highly rewarding for listeners.
"Lizzy Grant" sees the artist in the shop for the first time on a debut that's rough around the edges, but despite never even getting a physical release, it's a very solid project and a remarkable indicator of things to come.
#6: "Paradise"
Compared to everything else in her catalog, "Paradise" looks disposable on the surface: a 33-minute EP comprised of "Born To Die" b-sides, the release of which is sandwiched between two of her most monumental statements as an artist. But it's much more than that, and despite being the least singular project from Lana, it's short and sweet.
"Ride" remains one of her best opening tracks to date, setting the tone immediately with emotional grandeur, and no skips follow. What sets "Paradise" apart from its parent album are the lyrics, which are considerably more explicit. You needn't look further than the opening line of "Cola" or the chorus on "Gods & Monsters," the songs themselves also high points on the tracklist.
Similar to "Chemtrails," this one lives in the shadow of the album that came before, but given that most of these songs were originally written for "Born To Die" rather than as an afterthought, the quality is more comparable. "Paradise" makes for a swift listen and an excellent continuation of Lana's earlier efforts.
#5: "Honeymoon"
"Honeymoon" was originally viewed as a downgrade upon its release in 2015, many fans claiming it didn't have the quality or influence of "Ultraviolence." In hindsight, it's nothing less than her most underrated LP. The aesthetic here is full-on cinematic and Lana's dreamlike vocals mixed with the lush soundscape (probably her best album production-wise) are a match made in heaven.
The trip-hop influences on "Art Deco" and the Italian romance painted by the lyrics on "Salvatore," a track that derives immense inspiration from 1950s artists like Frank Sinatra, stick out as a couple of the album's better moments. Lana also takes to dabbling more in longer songs, "The Blackest Day" and the title track each clocking in around six minutes but still being some of the most exciting points on the project.
A spot in the top five is more than earned, but too many albums have higher highs than "Honeymoon" for it to rank higher. The quality throughout the album is consistent, a point in Lana's favor, but it also means the record is a general "really great" without many moments going far above that. Also, going back to that big fan criticism, it indeed lacks the gravity of other releases. Within her discography, it's an unassuming project, but the ship-shape production and firm handle on that aesthetic plant it as nothing short of fantastic.
#4: "Blue Banisters"
The most recent release in her discography, at least until "Ocean Blvd" drops later this month, "Blue Banisters" marks Lana's most emotionally rich performance as a vocalist. She sounds a few seconds away from crying on practically every track, and with the production taking a bit more of a backseat than usual, her voice is really allowed to shine in a way it hadn't before.
Highlights include the belting of the chorus lyrics on "Dealer" and the wailing electric guitar on "Living Legend," which is in fact not a guitar and just Lana screaming "why" with some expertly mixed audio distortion. Easily one of the most sonically creative moments across her entire discography. "Wildflower Wildfire" is a beautiful piano ballad with crunchy layers added to the production on the final chorus and "Arcadia" and "Thunder" are both worth mentioning as well, playing into the overarching tone of the album.
"Blue Banisters" is warm. The use of pianos gives the record a soulful atmosphere and Lana's take on country music is a welcome one. It's vintage all the way and puts to shame those who thought releasing two albums in 2021 was overkill. The album is clearly distinguishable from "Chemtrails" and similar to "Honeymoon," it expands upon sounds from past albums to where the evolution from earlier work might be easily traceable, but the project is undeniably its own thing. It's tough to gauge how favorable it'll be viewed as Lana continues making more music, but as of now, it's among her best.
#3: "Born To Die"
Lana's self-titled shouldn't be overlooked, but "Born To Die" is really the one that started it all for her. Early singles made her an overnight success and despite a notoriously shaky outing on Saturday Night Live (SNL) and a serious lack of celebrity beyond the music itself, it catapulted her into the spotlight and jumpstarted a brand new wave of pop music, paving the way for artists like Lorde and Billie Eilish, the latter having cited Del Rey as her biggest influence.
"Born To Die" is everything "Lizzy Grant" was, but with the artist now having much stronger control over that initial baroque sound. It's grand, glamorous, anthemic, and has a hint of nostalgia regardless of whether or not listeners even grew up with it. Lyrical references to the usual love, fame, drugs, and the rest are plentiful, and while songwriting in later records maybe talked about them with more maturity (the result of a more experienced Lana), it's more unabashedly easygoing here. The album is freeing in a way the others aren't.
Practically every song here is worth noting. "Video Games" is the one that put her on the map, a sweeping orchestral ballad of violins, pianos, and harps. Despite coming so early in her career, the mystical instrumentation and lower vocal range splash together and it still holds up as one of her best tracks. "Summertime Sadness" is the most recognizable tune in Lana's entire discography with a magnificent, bittersweet spirit and the title track is a stellar opener, an impossible combination of somber and bombastic.
The distinct indie pop sounds of "Born To Die" could make it feel dated compared to her other work, but that's precisely what makes it stick out as one of her masterpieces. The album as a whole harkens back to a simpler time when these downtempo hooks and classical elements were utterly groundbreaking for the genre. Lana stood as the trendsetting icon in the center, tightly gripped to a fully formed aesthetic that would only continue to grow in new directions. The LP is simple, effective indie pop for the mainstream, and it works wonders.
#2: "Ultraviolence"
Anyone who was on Tumblr back in 2014 has heard way too much about "Ultraviolence." Arguably Lana's most iconic era as an artist, it captured the zeitgeist of early Gen Z with a moody atmosphere that the female demographic at large found highly relatable. A team-up with producer Dan Auerbach of The Black Keys, "Ultraviolence" puts the guitars center stage for an album that's better categorized as psychedelic rock rather than the baroque pop of "Born To Die" and "Paradise."
"West Coast" rightfully stands as the record's most popular cut. The verses have a sultry momentum to them before the tempo slows into a highly sensual chorus. The lyrical content is melancholic and carefree, the synthesizers and guitars swell. The strings on "Old Money" are a euphoric high, the title track basks in its ridiculously dark subject matter with ravishing instrumentals, and the switch to rock can be felt hardest on "Shades Of Cool," specifically its maximalist guitar solo over the bridge.
"Ultraviolence" covers an array of dark material, from abusive relationships to greed and addiction, and does so with an aura of angst and longing. It's that blend of wistful moodiness, both in Lana's vocals and Auerbach's production, that made the album completely magnetic for so many upon its release. It's a popular favorite among the fanbase, as despite the cold songwriting, "Ultraviolence" constantly shows itself as an impassioned tour de force.
#1: "Norman F***ing Rockwell!"
It isn't her most sonically ambitious outing and considering it's been out for less than four years, it hasn't had time to etch itself into pop iconography the way "Born To Die" or "Ultraviolence" have, but "Norman F***ing Rockwell!" sees Lana in her artistic prime and towers high as her magnum opus up to this point.
"NFR!" is where Elizabeth Grant truly sheds the Lana Del Rey image for an introspective look at herself. The story in "F*ck it I love you" strongly mirrors her own experience in a toxic relationship, and "hope is a dangerous thing for a woman like me to have – but I have it" delves deep into her time spent at AA meetings and how her relationship with her father was affected. In working with producer Jack Antonoff, the album has a distinctly "Americana" sound. Without the baroque pop instrumentals, she isn't glorifying the sadness, and the lack of full-on psychedelic rock means she doesn't wallow in it either. Her outlook is one of maturity.
The centerpiece of the album is undoubtedly "Venice B*tch," a nearly 10-minute soft rock jam that many fan reviews have described as the perfect song to drive to on road trips. Synthesizers and electric guitars come together for some of the most stunning production in Lana's discography, and her soft vocals over the crashing of cymbals is a musical climax to be rivaled. Aptly-titled "The greatest" is another one of the artist's best tracks, palpable emotion on the chorus through tinges of surf rock.
"How to disappear" has a waltz-like quality and could probably qualify as a Christmas tune with its use of sleigh bells. Lana's vocalization on "Cinnamon Girl" levitates beautifully and her cover of "Doin' Time" is nothing short of sublime (pun intended). "Mariners Apartment Complex" is maybe the best point of reference for the "NFR!" sound, acoustic guitars and piano going strong through vivid, poetic lyrics, but there isn't a single moment on the tracklist that falters.
"Norman F***ing Rockwell!" went on to top the year-end lists of publications like Pitchfork and The Ringer, amassing billions of streams on Spotify and getting nominated for Album of the Year at the Grammys. Between the soft-rock-alt-country vibes of Antonoff's production and the highly expressive songwriting from Lana, "NFR!" is not only the best record in her discography, but one of the best of the entire 2010s decade. It's a star at the top of her game, pushing boundaries with a defined creative vision that's met on all fronts.
Where from here?
Since the release of "Blue Banisters" in October 2021, Lana has continued to make waves. She wrote and performed the original song "Watercolor Eyes" for HBO's "Euphoria" and was featured on Taylor Swift's latest album, "Midnights." She's now deep into her own album cycle, with "Did You Know That There's a Tunnel Under Ocean Blvd" scheduled to release before the month is out.
The title track was released in December as the album's lead single and is straight off of "NFR!" or "Chemtrails" sound-wise, Jack Antonoff once again producing. A second single, "A&W," was released on Valentine's Day, and instantly jumpstarted a much heavier dose of hype. The seven-minute track begins as a stripped-back piano ballad with seriously dark undertones and sharp lyrics sticking out especially. However, it's how the track builds that has people truly excited.
Around the four-minute mark, the instrumentals turn to 808s and synths in an interlude with momentum highly reminiscent of Nine Inch Nails. The final minutes go full trip-hop, the production wild and abrasive, and it's arguably her single most ambitious track to date. One of her best, too. "A&W" completely juxtaposes her earlier projects, delivering a totally new sound (multiple new sounds, really), to the point where "Ocean Blvd" no longer has a clear direction. It could sound like anything, and that ambivalent curiosity puts anticipation through the roof.
In little more than a decade, Lana Del Rey has released more than a few top-tier albums, constantly tip-toeing along genre lines and acting as a massive influence in the music world at large. She practically debuted as a key figure in pop and has only stayed there, and whatever the future holds for her, it's sure to be captivating.
For those that are interested, "Did You Know That There's a Tunnel Under Ocean Blvd" will be available to stream on March 24.
Leave a Comment
More from the contributor(s):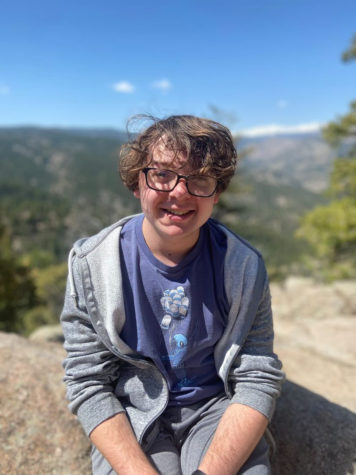 Ethan Kaufman, Arts & Entertainment Editor / Assistant Sports Editor
Hills senior Ethan Kaufman is excited to be a part of the Trailblazer staff for another year. He wrote for the publication a few times his freshman year but became more involved his junior year as a staff member. This year, Kaufman is looking forward to editing the Arts & Entertainment section and assisting in editing for the Sports section.

Fun fact: Kaufman watched 671 movies in the span of a year.