New TRON ride opens in Disney World
Disney finally unveils their new high-speed coaster.
After being announced in July 2017 at D23, TRON Lightcycle Run finally opened on April 4 in Magic Kingdom.
The long awaited coaster was based on the 1982 film "TRON" that made history with its mix of live action and computer-generated visuals. It also takes heavy inspiration from the 2010 sequel "TRON: Legacy."
Replacing the Tomorrowland Speedway, it might be the most thrilling ride in all of the parks. It's one of Disney's fastest rides, beating Rock 'n' Roller Coaster and Guardians of the Galaxy: Cosmic Rewind. At the initial launch it reaches speeds close to 60 MPH. 
The ride emulates a magical and thrilling experience with its high speeds and high tech visuals. The coaster launches guests outside as they find themselves on a thrilling chase against the orange team under a 50,000 square-foot glowing canopy. 
We asked Hills students for their thoughts on the ride and  Sophomore Robyn Song said, "I hadn't heard about it until now, but it looks like fun."  
The ride is styled after the TRON themed coaster in Shanghai Disneyland that opened back in 2016. It has a very unique design allowing guests to ride on motorcycle style vehicles similar to the Light Cycles from the series. However, this creative design might not be for everyone, so the coaster has two additional seats in the back that are more similar to normal coaster seats, allowing for more accessibility.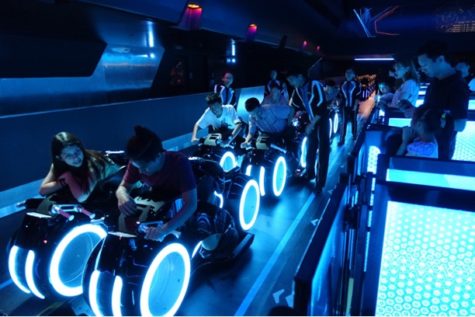 This ride is using one of Disney's new systems, Lighting Lane. This is their version of a fast past to help get through the lines quicker, however you can only purchase one a day. They also have another new option that they have started to implement into their parks, the virtual queue. 
This allows guests to wait in line via the My Disney Experience app but still have time to go on other rides. Since there is no standby queue if guests don't want to pay they will have to be ready at 7 a.m. to reserve for the virtual queue because they have a limited amount and they get booked up very quickly. 
Another perk of this ride is that while most coasters in the park require guests to purchase lockers, these seats have compartments to hold smaller belongings like phones, wallets, and sunglasses. Bigger items like backpacks are able to be stowed away in free lockers.
Pascack Hills Junior Rachel Chao was able to get early access to ride the coaster during its 'soft launch' and said that it was, "unlike any ride at Disney… definitely one of [her] new favorites."
After five years, this exciting new ride is finally able to be enjoyed and should definitely be something to look out for if you are planning on going to the parks anytime soon.
Leave a Comment