Favorite books of the month
Hills English teacher Alexandra Pfleging dives into her favorite and most memorable book titles.
Alexandra Pfleging is an English teacher at Pascack Hills High School as well as the coach for the cheerleading team. She is also an avid reader in and out of school. 
She has read titles such as "To Kill a Mockingbird" by Harper Lee, "The Catcher in the Rye" by J.D. Salinger, "The Trixie Belden Series" written by various authors, and the Harry Potter series by J.K. Rowling, especially "Harry Potter and the Half Blood Prince." She has enjoyed every one of the titles. 
Pfleging expressed that she had recently been asked by Hills history teacher Nicholas Scerbo what five books she would choose to place on a bookshelf in order to represent her life. 
"I had given Mr. Scerbo six titles and could have added ten more," she said. 
Books have played an important role in Pfleging's life. She credits the person she is today to the books she read. She said that she wants to see the Hills student body connect with books the same way she did, in a way where the books can affect them more than anything else. 
"
I believe that we read books to learn more about others, and if we are lucky, learn about ourselves.
— Alexandra Pfleging, Hills English Teacher
"All of the books I added have stayed with me," Pfleging said, "I believe that we read books to learn more about others, and if we are lucky, learn about ourselves. I hope that students at Hills pick out books to read based on this motivation." 
Pfleging expresses that she has always felt a drive to find new books. Whether from family members, other English teachers, or even just googling popular books, she is always interested in finding new titles to fuel her love for reading. 
"This is why I am so thrilled that we have two amazing librarians at Hills, Mrs. Scheck and Mrs. Pettigano, who always strive to recommend the books that students will love," Pfleging said. 
While some of the titles Pfleging recommended are part of the English department's curriculum, she recommends students check out titles such as Sylvia Plath's "The Bell Jar." The novel follows the story of a young college student, Esther Greenwood, who dreams of becoming a poet and struggles with issues such as identity and social norms during her month-long summer internship as a guest editor of a magazine. 
Pfleging also recommends Betty Smith's "A Tree Grows in Brooklyn," a coming of age story that centers around Francie Nolan's life from childhood to early adulthood with her family as they struggle to survive in the early 20th century version of Brooklyn, New York. 
If these titles interest you, both are available in the Media Center.
Leave a Comment
More from the contributor(s):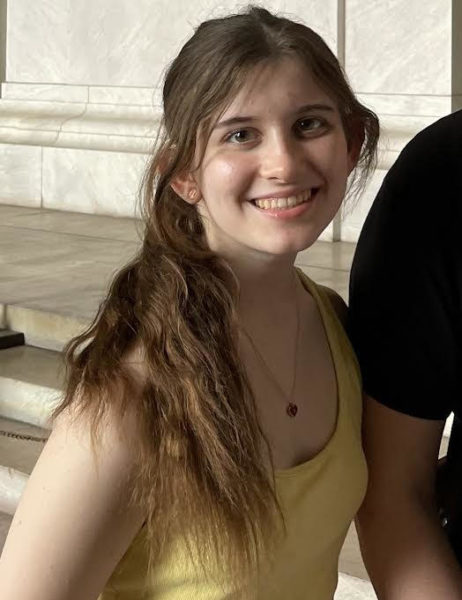 Rily Alexander, Life & Style Editor
Hills junior Rily Alexander is excited to be a part of the Trailblazer for another year. She joined the publication her freshman year as a staff writer and edited for the Arts & Entertainment section her sophomore year. This year, Alexander is looking forward to covering trending topics for the Life & Style section alongside Sammy Lazar.

Fun fact: Alexander enjoys learning new skills and is currently learning American Sign Language.