College Corner: University College London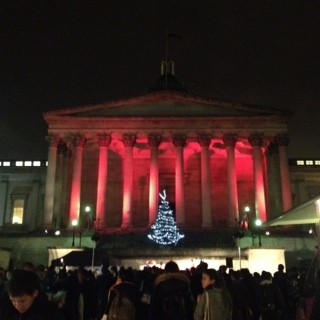 Located in the heart of British royalty, Harry Potter World, and the original Twining's Tea, University College London thrives on a diverse and always exciting environment. My sister, Gaby, returned home this December after completing her study abroad program during her junior year at Vassar College. Not only is the school ranked amongst the top schools in England, but its location also allows students to explore one of the most vibrant cultural hotspots in the globe.
After attending classes and lectures during the week, my sister spent her days in the crowded streets of London, engaging in a lifestyle both familiar and new. As she browsed through stores, bookshops, and cafes, she commented about the positive and refreshing English environment. The accents, of course, added charm to the natives that made foreigners, like my sister, feel comfortable and accepted. The schoolwork was dense but informative, and the teaching style of the English differed slightly from the US. The grading system was structured very differently, and the more lecture-based classes differed from the smaller discussions my sister experienced at school. Yet, the general environment of students and professors remained positive. In the three months she was there, Gaby visited all of the tourist attractions she put on her checklist. Ranging from Big Ben, the London Eye, a tour of the original Harry Potter set, and even the front of Annie's apartment in The Parent Trap, the opportunities were endless. Gaby often attended theater performances, including a showing of Shakespeare in Love in the renovated Globe Theater. My sister received both a fulfilling academic and cultural experience by attending University College London.
Most exciting of all were her trips elsewhere. With long weekends and school breaks, Gaby was able to visit Scotland, Italy, and more. She visited countless museums, theaters, and restaurants. In one weekend, beginning Friday night and ending Sunday evening, my sister completed a trip to Paris, France. She saw the Eiffel Tower, enjoyed the most scrumptious macaroons, and stood directly in front of the Mona Lisa. By being located in such a central location in Europe, Gaby had the ability to venture into other parts of Europe with ease.
In a few short months, Gaby was able to have the experience of a lifetime. Located in one of the most well known cities in the world, the university matured my sister, both academically and culturally. It was an experience that will never be forgotten.
Leave a Comment