From Orange & White to Maize & Blue: Rachel Samitt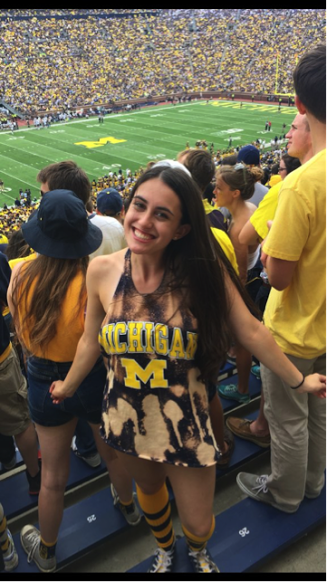 Whether you were a member of FEA (The Future Educators of America), the environmental club, or a participant in BBYO (B'nai B'rith Youth Organization), odds are you knew, or at least knew of, Rachel Samitt, Pascack Hills alum of the Class of 2015. The incredibly outgoing and industrious Samitt spent her years as a Cowboy studying hard and being involved.
It was this hard work that ultimately paid off when she got accepted into her dream school, the University of Michigan.
"I really liked the vibes I got when I was at Michigan," said Rachel about her school, located in the heart of Ann Arbor, which many believe to be one of the best college towns in the nation. "Everyone seemed to love it and every time I went I fell more in love. At no other school did I feel so comfortable and happy."
Rachel went to Michigan early in her high school career, and from the first visit, she was hooked. She spent the rest of high school up until she received her acceptance letter anxious with the hopes that she could soon call herself a Wolverine.
"The most stressful part [of the college application process] was making sure I accurately portrayed myself in the application. It's hard because colleges are judging you based on a sheet of paper so you really need to work to make sure they get a good sense of who you are."
After a near immediate commitment following the reception of the acceptance letter, Rachel spent her last few months in 'the 201' actively participating in BBYO, where she was the president at one point, while preparing for her trek to Michigan.
Though many are hesitant about applying to a school as big as Michigan – with approximately 27,000 undergraduate students – and it surely may not be for everyone, Rachel advises potential students of state universities or other large colleges not to fret. "Michigan is such a big school but it honestly never feels that big. You can always make a big school small, and at times it does feel very small. But if I need it to be bigger I can explore many options, and I love that freedom."
While many seniors have already committed to colleges, quite a few are still waiting to hear back and juniors are preparing for the college application process they're about to face in less than five months. Rachel has a few choice words for these upperclassmen, saying that you should, "…work hard but not lose faith in yourself. Odds are, you're a much better applicant than you think you are. I also truly believe everything happens for a reason and you'll end up where you belong."
Rachel has managed to keep busy in college between rigorous academics and being involved in a sorority, but will never forget her days of being a Cowboy.
Leave a Comment