Across the District: Georgetown to GWU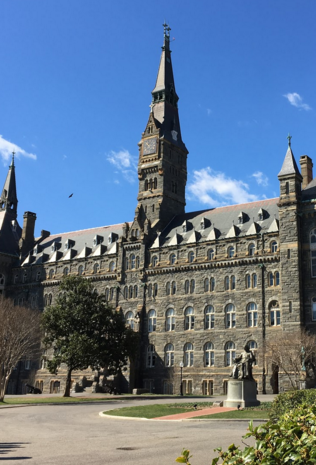 Across the nation's capitol are two distinctly different universities: Georgetown University and George Washington University.
The district is a mid-sized city that definitely doesn't feel to be as densely populated as New York City, and it has an entirely different feel. There aren't skyscrapers, at least on D.C.'s side of the Potomac river, because there is a building height limit.
Washington, D.C. is home to the head of government and almost all federal agencies from the FBI to the Department of State. Countless NGOs from the Red Cross to the International Monetary Fund and the National Institute of Health are also based in the district. These local resources allow for exciting internship opportunities, and places like National Archives and the Smithsonian museums offer valuable out of the classroom experiences.
Prominent figures often come to speak at the schools, and some from these local resources teach at the universities. A student at each school is also guaranteed to witness at least one inauguration in his or her time at the school.
The district is a city of passionate people, and you're likely to find everyone is passionate about something. There is a strong emphasis on service activities at both schools, and this passion drives the schools extracurriculars (200+ clubs at Georgetown and 450+ clubs at GWU) and required service activities.
GW's Foggy Bottom campus lies in the vibrant heart of downtown D.C., just blocks from the White House and National Mall. The Mount Vernon campus, just a 15-minute shuttle ride from the main campus, is a more traditional, rural campus and natural getaway from the hustle and bustle of D.C.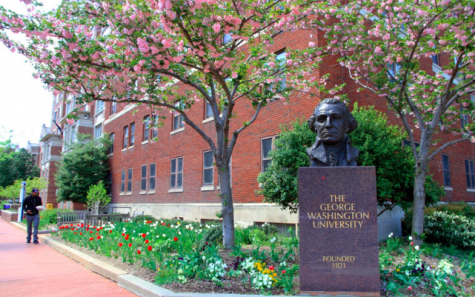 GW does not have a traditional dining facility but takes advantage of its downtown space. It has a student center with some restaurants, but GWorld cards allow students to purchase from local supermarkets, restaurants, and convenience stores using Dining Cash and to make retail purchases with Colonial Cash.
Georgetown has a relatively small but very compact 104-acre campus that is composed of both historic and modern architecture. It takes only 15 minutes to cross by foot, and it's bordered by the historic and trendy Georgetown neighborhood known for local merchants, entertainment, restaurants along the Potomac waterfront. Despite the isolation from the downtown vibe, Georgetown is still only two miles from the national mall.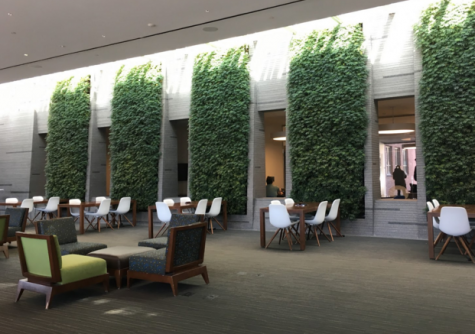 Georgetown's student living includes a state-of-the-art student center with everything from conference rooms to movie theaters and dance studios. Georgetown students, like GW students, are required to live on campus through their junior year. Most Georgetown students reside on campus housing and some students live in school owned townhouses just outside the campus.
In terms of academics, GW has a significantly larger student body and consequently larger classes for core classes or lectures. Classes tend to get smaller as a student continues their education at GW, but Georgetown classes typically start relatively small (less than 40 people). Each university has a variety of different schools with business, medical, art, or foreign service focuses that should be considered before applying.
Both schools have quite high tuitions, though, but Georgetown offers to meet 100 percent of need-based aid. Georgetown does not give merit-based scholarships, only need-based ones to certain students. GW has a fixed tuition guaranteed for 5 years, and offers merit-based and need-based scholarships. The cost of living around Georgetown is very high, as well.
Georgetown's extracurriculars are varied and unmatched from an "avocado appreciation club" to acapella groups to the largest student-run credit union in the world. Georgetown has smaller Greek life than most universities, while GWU has about 33 percent of students associated with some greek life.
GW also hosts hundreds of varied extracurriculars, and there always seems to be something happening on campus. The GW Colonials are in NCAA's Division I, but the school does not have a football team. The Georgetown Hoya's are also Division I. Both schools are known for their basketball teams, and like most schools, intramural and recreational sports are offered.
The district has a considerably higher crime than that of New York, but there are clear campus safety initiatives in both schools. Each school also has its own campus police department that supplements the district's Metro Police Department (MPD). GWU, in close proximity to the White House, is frequently patrolled by both MPD and uniformed Secret Service police.
Both Georgetown and GWU utilize "three-tap" systems to enter dormitories where a student must use their student ID to enter the front door, check in at a front desk, and enter the stairwell or use an elevator.
GW's blue-light emergency buttons provide the ability for students to have a police response to their location within 30 seconds. Each school has text emergency notification systems and nighttime transport or escort services.
Overall, both schools have a lot to offer in their location and resources but are quite expensive and in a city that may not be for everybody. While there are a lot of great features to both schools, there will be some things that attract to repel different students, and a thorough amount of research should be done before considering applying to these schools.