Is Wisco for You?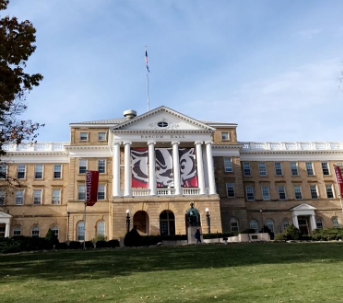 Allie Carlson
December 5, 2017
If you're looking to assert your independence and experience something totally unlike anything in NJ, the University of Wisconsin-Madison is for you! Students apply from far and wide, praying they will be able to call themselves a Badger.
Becoming a Badger is definitely not an easy task, but once you're in, you become apart of the family for life. Wisconsin has a 49% acceptance rate, meaning you have a fifty percent chance of getting in if you apply. These odds may seem against you, but if you're a motivated, goal oriented student, it may be easier to get in then you think.
UW is a public research university, offering over 200 undergraduate majors the most popular one being Journalism. Wisconsin is considered a "public ivy" on account of its tough academics. Therefore, if all you're looking for is a giant party, UW is not the place for you. Students spend a decent amounts of their time on their school work, but that doesn't mean they can't have some fun. Over 3,700 students are involved in greek life. If this isn't something you'd want to get involved in, UW offers dozens upon dozens of clubs and organizations that you could join. On top of this, the Wisconsin badgers are known for their amazing football and basketball teams, and every student, no matter who they are, do whatever they can to get to the stands.
Jackson Cianciulli, a current Freshman at Wisconsin, said "Every student at UW spends all week anticipating game day. We haven't had the best schedule this year, so even though the games may not have all been interesting, there's something indescribable about you and your friends singing along to 'Build me up Buttercup' and jumping around in a stadium with 80,000 other Badger fans."
UW Madison is quite large, with a total of  around 43,000 students (including both graduate and undergraduate). However, always remember its very easy to make a big school small, but nearly impossible to make a small school big. Students find their groups of friends and the activities they want to get involved in, and instantly they create their own world within UW.
The UW campus consists of two separate living areas. Lakeshore borders the beautiful Lake Mendota, making this area rather serene. The views are also killer!  Lakeshore is located near various shops, as well as a movie theatre. This is also the place to live if you're looking for a short walk to Camp Randall. It's also a  much quieter area than that of Southeast, which is less than a mile away (walking distance if you don't mind the cold). This part of UW is known to be slightly more social, and it's located right near downtown Madison. If you're a basketball fanatic, southeast is the better choice considering you'll be walking distance from Kohl Center.
A very popular visiting site on Campus is the Memorial Union Terrace. Students enjoy studying and chatting whilst staring out over the beautiful lake. There really isn't anything like it; the campus is truly breathtaking!
Wisco is definitely worth a visit! You won't be disappointed. GO BADGE!