Is ROTC Right For You?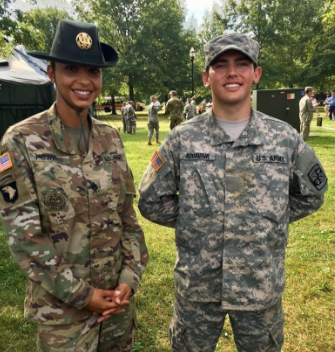 If you are a dedicated, selfless, and disciplined person who wants to enlist in the United States Armed Forces but still has a desire to attend college with your contemporaries, then perusing ROTC in college is worth considering. ROTC, or the Reserve Officer Training Corps, is a program offered by the Army, Navy, Marines, and Air Force that trains you to become an officer in the United States military while still attending college and obtaining a degree. Participating in ROTC during college takes a special type of person, so the question presents itself: is ROTC for you?
ROTC has multiple advantages over immediately enlisting after graduating high school. In a student's senior year of high school, he or she can apply for an ROTC scholarship, if interested in serving after college. If the scholarship is earned, then all of the student's tuition will be covered by the program. Aside from earning money towards a college education, it offers a chance to graduate college and enlist into the military as an Officer, which brings its own advantages. Being an Officer puts you in a leadership position with chances of higher pay and better promotions in the future. In addition, when the time comes to transition into a civilian lifestyle and apply for a job, companies will be enthusiastic to hire a veteran with a college degree and years of leadership experience. Finally, when it comes the time to enlist after four years of ROTC training, an ROTC cadet has a more influential say in where he or she would like to be stationed.
John Aquaviva, a Pascack Hills alumni and Army ROTC cadet at Salve Regina University, stated, "I will select Active Duty Infantry at Fort Bragg in North Carolina as my #1 choice, a choice I earn because of participating in Army ROTC."
Although now ROTC sounds like the perfect option to both serve your country and get an education, it entails hours of hard work and dedication. While talking with John Aquaviva, who happens to be my brother, he gave me a look into his busiest days with ROTC. On top of his regular college classes, cadets participate in physical training (PT), take a Military Science and Leadership (MSL) class at least once per week, and carry out real world labs and Field Training Exercises (FTX).
"I actually had the chance to attend a Cadet Summer Training (CST) for Basic Camp in Fort Knox, Kentucky and am hoping to attend Airborne or Air Assault School this summer," says John Aquaviva.
This was an educating and impactful experience because cadets were given skills that they will use when enlisted in the Armed Forces following graduation. ROTC is a program that offers multiple wonderful advantages, but it takes a person who is selfless, gritty, determined and disciplined. Waking up at 4 a.m to run 5 miles takes a special person who is always driven to be better than they were yesterday, but in the end knows it is worth it. So, in order to succeed you must be willing to challenge and push yourself harder and further each day because that determination and discipline will lead you to success in the future. ROTC gives students that drive to succeed that can be applied to all forms of life, from school to work to family.
Do not be turned away because of the commitment; ROTC cadets still go through their day like normal college students. They attend classes, hit the gym, and even squeeze in a quick power nap; however, the only difference is they train in the morning and attend a Military Science and Leadership class a couple times a week at night. But how bad is that if you have the desire to enlist and receive a college education following high school.
John Aquaviva states, "I highly recommend ROTC to anyone considering joining the military. It is an amazing experience that grants you so many incredible opportunities."
If you are interested in serving in the United States military and enjoy the challenge of training during your college education, ROTC is for you. It provides advantages, opportunities, and skills that are not obtained by just enlisting directly out of high school or second guessing your want to serve your country. So in the words of John Aquaviva (a.k.a Aqua) "Join ROTC and GO ARMY!"