Rolling in on the Green Tide: Tulane University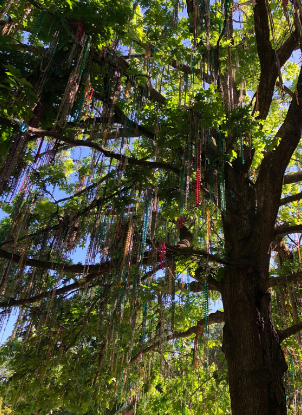 Looking down the St. Charles line from the oldest living monument in the USA, one will end up viewing the popular New Orleans Tulane Campus. The campus, next to that of Loyola- New Orleans, shows a quaint village uptown to the festival antics found downtown on Bourbon Street.
Located in uptown New Orleans, Louisiana, Tulane is a 21 hour drive or 3 hour plane trip from Pascack Hills (and even better is a 20 minute drive or 40 minute streetcar trip from Bourbon Street). Though it's New Orleans ties, the university maintains a safe and calm campus while still keeping the margin open for the college experience on festival and weekend nights.
Home to 8,452 undergraduate students and 5,129 graduate students, new faces aren't hard to come by on daily campus strolls across the multiple quads. Educating a total of 7,751 females and 5,830 males, Tulane's campus allows for all walks of life to come together and share experiences.
With over 75 majors in 5 colleges, Tulane has almost everything that a student looking for a mid sized, competitive university that is located right outside of a bustling town could want. Not only does it offer many classes on the Tulane campus, but if there is any unavailable special courses, Tulane students can look to Loyola to take these class with a Tulane credit.
When applying to Tulane, students are admitted into Tulane as a university – not individual colleges separately. This means that if a student falls in love with Tulane but has no idea what they want to major in there is no worry. No additional applications are necessary if one wants to double major in Neuroscience at the School of Science and Engineering and Dance in the School of Liberal arts (which the admissions counselor said was one of the most random, yet popular, major combos).
The university is one that is focused on two main goals: Research and community service. With millions of dollars granted to students, research can not only be found in science major, but in topics ranging from statistics to chemistry to anthropology.
Tulane prides themself on being the first private research university to make public service a requirement for graduation. In order to graduate, a Tulane student must enroll in a 1000-3000 level community service learning course before their fifth semester while also completing a second tier level service opportunity. This can be completed in the form of taking a course over the 3000 level, a service based internship, a community research project, writing a honors service thesis, or taking a study abroad community service project.
These goals were given to Tulane by Paul Tulane, a Princeton native who had a profound love for the city that he credits for making his fortune. In 1847, he donated one million dollars worth of land, cash, and securities changing the "University of Louisiana" into "Tulane." This all came after Princeton did not accept the same offer because of the disinterest in changing names. When he died, Paul was buried in Princeton, but made sure his feet would face the University and his head toward his dear Tulane University.
Not only does Tulane create a home-like dorm environment, but allows students to access top of the line libraries and spots dedicated to napping while on campus. They always have great outdoor festivities going on all year long, just like Crawfest, weekly plays, and pop up concerts.
Although Greek Life can be found on campus, those looking into living in a sorority are out of luck. Sorority housing is not of large hype on the Tulane Campus, which most blame to the past traditions of founders believing that when four or more women live together it becomes a brothel. However over twenty-four fraternities and sororities are alive on campus, which entails around 41 percent of students.
The university, as most others, has unique traditions that all students partake in. When attending freshmen orientation, it is said that every student must touch the bell in order to graduate from Tulane. Later on in the year, after Mardi Gras ends, students must throw all their beads into the main tree in the Quad and if at least one stays, the student will graduate in four years.
Tulane's series of offerings make it attractive one to students at Hills. Not only does the university allow for high level education with service and research included, but a fun four years filled with crawfish, festivals, and fun.