Joining the Tribe at William and Mary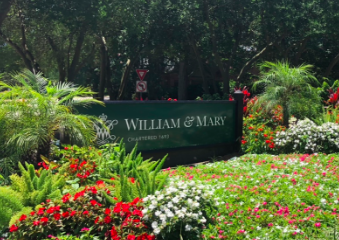 From the moment each visitor and student alike first enter Williamsburg, Virginia, they know something historical and special lays within. A few miles in the beauty and antique nature that the town is known for is showcased through the College of William and Mary's campus. Being the second instituted college in America, roots have grown deep full of memories, traditions, and education.
Chartered in 1693 by King William and Queen Mary, the college has educated many, including Presidents Thomas Jefferson, James Monroe and John Tyler. The college was also the campus where George Washington achieved his surveyor's license. Full of firsts, William and Mary has seen many historical figures come through the doors as students, chancellors, and presenters.
Although the name "The College of William and Mary" is still attached to the campus, William and Mary is actually a university who keeps their chartered name in attempts to maintain tradition. The current university is known as a Public Ivy, which is a state-assisted university with elite education, but at a far lower cost than an Ivy League school. It is often ranked first out of the other eight recognized Public Ivies.  
William and Mary is comprised of three campuses: The new, the old, and the ancient. The new campus holds departments such as Fine Arts and Business, the old comprising of student housing, lecture halls, and the sunken garden, and the ancient composed of the Wren Building and buildings dating back to 1700s.
The college itself is described as a "small public liberal arts research college," by Senior Assistant Dean of Admission, Whitney Pitschke. She explains that although these adjectives are hardly ever seen together, they all truly sum up what the college offers.
With only around 6,000 undergraduate students and 900 graduate students, the campus is fairly small. However, there is an 11:1 student-to-faculty ratio, which allows for small classes and individualized learning. Eighty six percent of classrooms will have forty students or less and fifty percent will have twenty students are less.
Research on campus is seen in every building you enter. Due to the small size of the university, collaboration and efficiency is allowed, while keeping overhead costs from expanding. The selectivity and innovation of the college allows for creative and worth wild research that solves many problems at national and global levels.
When entering, students are all considered undecided until they find a professor willing to be their major concealer and willing to allow the student to declare their major. This allows for people who love what they teach to guide students who love their major to learn at a deeper level, find careers after, and create their perfect research opportunities.
William and Mary is the first college to have a Honor System in place, which is still active today. This system allows for a mutual trust between students and professors, as it states that all students are expected to not steal, plagiarize, or any action similar. Students have expressed their comfort on campus with this in place; for hours on end students have left their belongings (ie open computer, backpack and notes) in libraries or on campus without any others stealing their intellectual or physical property. However, if the code is broken, students will be submitted to a board of professors and fellow students to work out the violation of code.
Throughout my tour, the rising senior guiding us kept reinstating how she loved her years at the college because most everyone does not look at themselves as elite students who are better than the rest. She shared stories of the outpour of help from students during research and in hard times. The initiative to lessen the strain on students' mental health has been one to lower the stress and cancel out any arrogant behavior on campus.
Although they are the second instituted college in America (second to Harvard), they hold many firsts. William and Mary was the first to have proposed for a college to be created (1619), to receive charter from the Crown under the seal of Privy Council (1693), to have a full faculty, which consisted of a President, six professors, an usher, and a writing master (1729), to have an inter-collegiate fraternity, Phi-Kappa Sigma (1776), to have an Honor System (1779), to become a University (1779), to have a School of Municipal and Constitutional Law (which was requested to be made by alumni Thomas Jefferson and was created in 1779), and many others.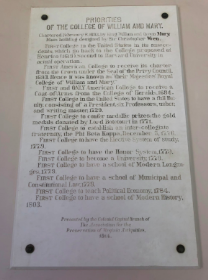 Photo by Sofia Papadopoulos
The Sir Christopher Wren Building, also known as the Wren, is the oldest higher education building still standing and the oldest operating building still in use for education. Found in the ancient campus and named after its presumed architect, the Wren was completed in 1699 and has been used as classrooms,  a library, a dining hall, and a chapel, while still currently being in use as a downstairs museum and upstairs classrooms.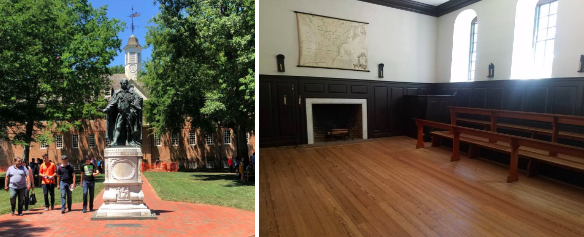 Photos by Sofia Papadopoulos
However, in 1705 the Wren was burned and a partial rebuilding was finished in the year and in 1732 has an additional chapel wing built to honor Queen Mary's wish of furthering the Church of Virginia. Within the walls, George Washington, who was a Chancellor of the College, received his Surveyors Commission (1704), Benjamin Franklin received the Honorary Degree of Master in Arts (1736), and Thomas Jefferson received his Degree of Doctor of Civil Law.
During the Yorktown Campaign, the Wren was used as a hospital for both American and French soldiers, and was used as a barrack for the militia during the War of 1812 before being burnt again in 1861. After the rebuilding, it became home to Confederate troops before being burned in war once more in 1862. Due to the intensity of the "War between the States," or Civil War, the building was not rebuilt until 1868. Later, John D. Rockefeller Jr. established a plan to restore Colonial Williamsburg and allowed for the restoration of the building to happen.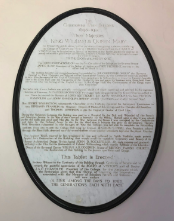 Photo by Sofia Papadopoulos
On every freshman's' first day, they become part of the tribe through the annual Opening Convocation. After a convocation speaker presents, the president of the university, staff, and upperclassmen line the steps and walkway of the Wren portico for freshmen to walk through. After, students will celebrate their start at William and Mary with a picnic dinner and live music.
However, there are more traditions than just that. Located down the path from the Sadler auditorium is the Crim Dell Bridge, which is considered the most romantic and scenic location on campus. This is due to the legend that if two people crossing the bridge while holding hands will be lifelong friends, but if they kiss, lifelong lovers. In order to avoid forever loneliness, no visitor should walk across by themself. Additionally, if you kiss the one you believe will be your lifelong lover but find someone better, you have to push them off the bridge in order to revert the legend.
Through the history and tradition threaded throughout the campus of William and Mary, students find themselves emerged in great academic journeys alongside fun within the Historic Williamsburg's town center, allowing for a safe and perfect college experience for all students looking for high level education and the history that comes in hand.