Husky Nation in Full Force at the University of Connecticut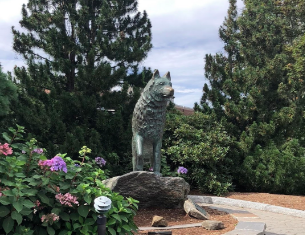 UConn and ice cream and huskies, oh my! At the University of Connecticut at Storrs, not only will you find those three, but academics unlike others. With top programs in agriculture, business, and theater, UConn has named themselves one of the best within the Northeast.
There is no wonder why UConn is ranked as the top 25 within the nation's public universities by U.S. News & World Report, when they offer twenty four division I sports teams, over one hundred and ten major and six hundred and twenty clubs and organizations. Just around two and a half hours away, this university is one not just filled with many opportunities, but top quality education.
The university prides themselves on their 16:1 student-to-faculty ratio and most freshman classes are around thirty student lectures. However, for most courses, when students are put into a rare larger classes (200+) they will have smaller discussion groups with the professor or TA moderating.
Not only this, but the university prepares all majors for later careers through their Center for Career Development, or CDC. Here all students can visit for career coaching, that makes sure you're on path for four year graduation, resume builder sessions, and internship opportunities for all majors. In addition to the main CDC, the School of Business offers an individualized Career Development branch that allows all specifications to have everything needed for both internships and jobs after graduation, while hosting networking opportunities for all Business students.
Traditions are also believed and followed by almost every student on campus. On your first day of class each semester it is believed that if you rub the Jonathan the Husky statue on the nose to ensure ending with a 4.0 (which my tour guide claims made him end the one semester he partook in the tradition with a true 4.0). Additionally, it is believed that if you walk over the UConn seal in the middle of campus, that you will not be able to graduate in four years, and even possibly at all (this one my tour guide never tried out for himself).
Ever since the 21st Century UConn grant of 1.3 billion dollars from the state, the campus has maintained and modernized their campus. All buildings are up to date with wifi, heating, air conditioning and everything else a student could need. Additionally, the main library on campus is undergoing its 5 year modernizing plan, which records all of the hundreds of thousands of books for students to access by database and physically updates each floor.
Students are never left bored for one moment on campus. With a lively downtown area, sports games almost weekly, and having the Dairy Bar on the farm makes the four years different than other schools. The downtown is filled with top dining locations, many of which take dining points from students meal plans, while all year long basketball, hockey, and football games are tailgated and celebrated. Every student at UConn raves about their amazing ice cream that is made from the milk of cows located, raised, and milked on campus, which I can attest is beyond all others.
Just an hour and a half away from Boston and two and a half away from home (and New York City), every factor that UConn has to give prospective and admitted students is unlike all other Northeastern school. Plan your trip to Husky Nation and make sure to pick up a Jonathan special at the Dairy Bar too!