RU Rutgers Material?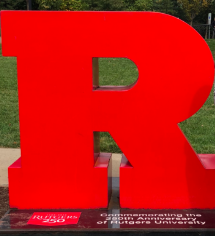 Just an hour and fifteen down I-95 to Rt 18, Rutgers University – New Brunswick stands in all their glory. With four main campuses spread out through the New Brunswick area, Rutgers offers a broad variation of course work along with a small city life filled with RU pride. Not only do they offer great academics but sports are held close to heart, with RU, Rah, Rah embraced by all students past and present.
Originally chartered as Queen's College in 1766, Rutgers University was a private institution with roots in the Dutch Reformed Church. As the Revolutionary War began, founders, teachers and leaders began speaking out against England. After, in 1825, Queen's College became Rutgers college in honor of Henry Rutgers, a Revolutionary War colonel and Rutgers benefactor. Then, during the Industrial Revolution, Rutgers began to loosen ties with the Dutch Reformed Church and tightened those with the state of New Jersey. When World War II ended, Rutgers was then recognized as The State University of New Jersey and gained their University title.
Spread between the Bush, Livingston, Cook-Douglas, and College Ave Campuses, Rutgers is able to offer students four different learning environments. This allows for the students to all have a place to fit into, while having the option of jumping from location to location.
With the football culture being as important as it is, on game days students and forever students alike can be found tailgating from the start of the morning and in full swing for the entirety of the games. Rutgers University is part of the Big Ten Conference, meaning that students are able to go see incredible games against teams like Penn State and University of Wisconsin. Additionally, students can enter a lottery before the season starts for tickets to all the games, which most everyone wins.
Not everything is based on football however, with Rutgers being home to one of the most prestige Honors College. The top ten percent of incoming students from each college on the New Brunswick campus are offered admission into the Honors College. Those following the top ten percent, are offered admission into Honors Programs, which allow for honors research and thesis opportunities. However, if Honors Programs are not for you, Rutgers has top of the line academics across all field, especially in business and the medical fields.
The student life on campus is unlike all others due to the foodie culture and downtown New Brunswick. Just a quick trip down Bush Campus, the city feel opens up and restaurants are all around. Harvest Moon Brewery and Cafe is the perfect spot for when your parents come to visit for higher quality American food and a nice restaurant ambiance. Alternately, RU Hungry? is the perfect quick stop after a long Friday night for fried food on fried food. Famous for their Fat Sandwiches, RU Hungry? sells sandwiches consisting of mozzarella sticks, french fries, chicken fingers, burgers and more.
Although most of the local foodie spots are seemingly inexpensive, part of the meal plan at Rutgers includes RU Cash, or credits that can be used toward RU Express locations.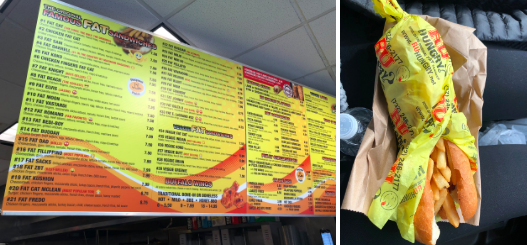 Photos by Sofia Papadopoulos
RU Hungry?'s menu along with their Fat Darrell sandwich.
Unlike other universities, Rutgers does not require students to stay on campus one of their four years. Instead, students are able to live off campus or commute with no regret. Additionally, if and when a student is applying for on-campus residency, they are able to rank from 1-4 which campus they feel best suits them. This allows for a smooth transition in a climate suitable for each student.
Now go experience being a Scarlet Knight on one of Rutgers' unique Scarlett Bus Tours, and make sure to visit the foodie scene before leaving!