UPenn v. Carnegie Mellon: Which is the college for you?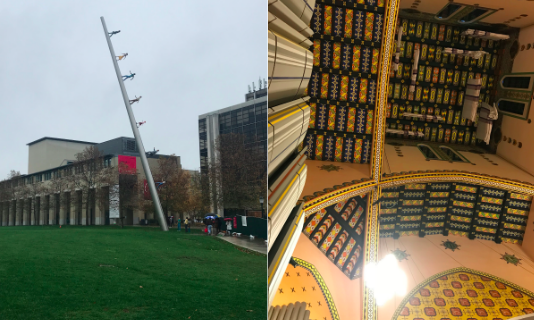 According to US News Rankings, the prestigious universities, University of Pennsylvania and Carnegie Mellon University, are ranked as the top 2 colleges in Pennsylvania. Despite being the best schools in the state, they both have their own unique opportunities and paths to offer.
Starting off with the Ivy League member, the University of Pennsylvania (UPenn) is located University City section of West Philadelphia. Originally founded by Benjamin Franklin, the undergraduate program offered is split into four different schools of learning: the College of Arts and Sciences, the Wharton School, the School of Nursing, and the School of Engineering and Applied Science. Being established in the 1700s, the school has very old architecture with brick structure and classic large-paneled windows, despite being situated in the city of Philadelphia which also allows students to experience an urban community along with old architecture.
Regarding prestige, it is ranked number 8 for best national universities, according to US News Rankings. Due to its 10 percent acceptance rate, it is known for being one of the hardest schools to be accepted in. In order to have a chance to get in, you need to have an SAT score above the 1550s or ACT score above 32, an unweighted GPA of 4.0, and a well-written college essay. In fact, one of the admission officers at UPenn who gave an information session believed in this motto: "If you can't write your own original essay, don't even bother applying here." Combining early decision and regular decision applications, out of the total 44491 applicants, only 3740 were admitted for the class of 2022.
UPenn takes pride in their wide diversity of races among their students at their schools. For the undergraduate enrollment in the Fall of 2017, 4,409 were white; 2,114 were Asian American/Pacific Islander; 1,278 were international; 1,075 were Hispanic/Latino/a; and, 729 were African American/Black. Also, the gender categories are pretty equal as well; 51.4 percent were women and 48.6 percent were male. On top of that, while visiting the campus, there were many street vendors on the street selling differents kinds of meals from different countries like burritos, fried rice, and even falafel.
Some of the more popular majors in the university are Finance, Registered Nursing, Political Science and Government, Biology/Biological Sciences, and Economics. In fact, according to US News Rankings, UPenn is number one in its business programs due to the prestige and success of the business school, the Wharton school. One impressive aspect is the option to create an individualized major of a subject that is not available readily. Along with education, the college has an impressive athletic record; winning 3 NCAA national championships in men's fencing, one in women's fencing, Ivy League titles in women's basketball 5 times, Ivy League championships for men's swimming 5 times, and many more.
On the other hand, Carnegie Mellon University (CMU) is based out of Pittsburgh, Pennsylvania. Originally founded by Andrew Carnegie, the undergraduate program offered is split into seven different schools of learning: the College of Engineering, the College of Fine Arts, the Dietrich College of Humanities and Social Sciences, the H. John Heinz III College of Information Systems and Public Policy, the Mellon College of Science, the School of Computer Science, and the Tepper School of Business. Like UPenn, CMU is situated in the city of Pittsburgh where students are offered free transportation, like buses, to the city for exploring or opportunities. However, unlike UPenn's old architecture, Carnegie Mellon has a more modern approach with construction still there and sculptures like people walking towards the sky. Carnegie Mellon also has a wide-range selection of cafeterias in most of the building, so wherever you have class, you can stop by a shop and buy some snacks or lunch.
Along with UPenn, CMU is ranked high on US New Rankings at number 25. With its 24 percent acceptance, students with SAT scores above 1500 or ACT scores around 34, GPA of 3.92, and a rank in the top 5% of the class are normally the ones admitted. For the class of 2022, only between 5 to 14 percent of the applicants were accepted into different schools at CMU, accounting for a freshman enrollment of 1,573 students.
The Class of 2022 consists of 1,028 students from 10 different states as well as 31 countries in the world. 227 students are from California; 172 from New York; 158 New Jersey; 152 from Pennsylvania and more states. Some of the more popular majors in the university are Engineering, Computer and Information Sciences and Support Services, Business, Management, Marketing, and Related Support Services, Multi/Interdisciplinary Studies, and Mathematics and Statistics. In fact, it is ranked number 6 in business programs and undergraduate engineering programs.
At Hills, some of the students applied to UPenn and Carnegie Mellon and even were admitted to the universities. Both universities are at the heart of two large cities in Pennsylvania as well as have success in directing their students towards their desired path. While University of Pennsylvania might seem like a better school than Carnegie Mellon University, both have the opportunities available to help their students grow.